---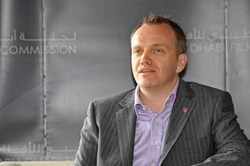 (ABU DHABI, UAE) -- Film Commission Director David Shepheard has done it before. He's started two regional film commissions and one city film commission in the UK over the past 10 years. However, while the job title might sound the same, the task in Abu Dhabi is different. In the UK, he was working in a mature market with a prominent film industry with many years of achievement. In Abu Dhabi, the film industry is less than five years old, barely more than a toddler, and the Film Commission is a one-year old baby.
The goal for the Abu Dhabi Film Commission (ADFC) is huge: to create a new industry to supply the 350 million people Arab market with content and to provide some those people with jobs. Creating a film industry is one step in the project to diversify economic activity beyond oil extraction and oil-related manufacturing outlined in Abu Dhabi Plan 2030, the document that governs most of what has been going in Abu Dhabi since it was presented two years ago.
Therefore, Shepheard says, running the Film Commission in Abu Dhabi requires "a different approach" that he calls "more like a development agency" because unlike in the UK, the industry has to be grown from the ground up. To do that, ADFC works with several partners. They include the Abu Dhabi Media Company (founded 2007), the media free zone twofour54 - where the Film Commission has its offices - founded in 2008, and the Abu Dhabi Film Festival that started three years ago, then called the Middle East Film Festival.
The Film Commission and the Festival come under the aegis of the Abu Dhabi Authority for Culture and Heritage (ADACH). ADACH has also partnered with the New York Film Academy to start what is expected to be the first accredited film school in the Middle East. Abu Dhabi Media Company and twofour54 are separate entities, but these government-owned organizations are working together to develop all aspects of the media industry.
According to Shepheard, the Film Commission is involved in "three legs" of the film industry. The first is cultural development, meaning helping local and regional filmmakers as well as potential film makers in schools and universities "tell their stories." This means whoever has lived here for at least five years, whether Emirati or expatriate.
The second is economic development, building the infrastructure of film which requires trained specialists from script writers to makeup artists, from composers of music to directors of photography. Aspiring film directors and producers will need access to financing that can be provided through existing organizations like Imagenation, part of Abu Dhabi Media Company, or through private investment. As in the developing fine arts industry in the UAE, the goal is to find and assist investors, to reach beyond government financing into the private sector, to develop film entrepreneurs.
The third leg is the most like what a film commission does in many markets, organizing logistics for film makers coming from another country or the UAE. ADFC acquires permits to film, gains access to sites that would normally not be available, and performs other kinds of liaison activities. Shepheard says the government is trying to encourage more film makers to use Abu Dhabi locations. Applications for permission are online; permissions are granted or not within 48 hours.
Several years ago, before ADFC and Plan 2030, Syriana and The Kingdom were partially filmed in the UAE. Those experiences showed how important establishing Brand Abu Dhabi could be. As a result, today a film maker who wants to shoot some scenes or an entire film in Abu Dhabi would first submit the script to ADFC. The Commission would read the script and produce a feasibility study.
The study would propose locations, suggest a budget, and identify possible financing resources. If the script contained language or scenes that could be seen as culturally negative in the UAE or the Arab world, the study would also flag that. After agreement on these issues, the script would go to the National Media Council for approval.
As part of industry development, ADFC is eager to attract film makers to Abu Dhabi and the UAE. Even if the story has no specifically Arabic content, location shooting will inevitably create jobs for local people and interns who would be exposed to professional film making.
Internships are a key focus for ADFC which is partnering with Imagenation to offer two types of internships currently available only to young Emiratis who are either working in film or broadcast or have recently graduated from a film, broadcast, or media program. Shepheard says, "they will be the producers of tomorrow."
The Production Company Internship is three months full time at an Imagenation joint venture company in New York or Los Angeles. The On-Set Internship is one month full time work during a shoot in India or several US locations. Travel and living expenses are paid by the program. Candidates must be able to travel and live independently.
To promote Abu Dhabi's ambition to become the major film center in the Middle East, Shepheard makes the rounds of the major film festivals, to support locally produced films that are shown or could be shown, to network with film makers, and to talk about the availability of funding.
Despite the funding, it's not an easy sell, especially in Hollywood and other places where the Middle East and the GCC sound scary. But with each festival, there is more good news about the film industry's growth which Shepheard emphasizes is part of a five-year plan. Today ADFC is housed at twofour54, the media zone. In five years, ADFC will follow the media zone to a brand new district near the old Meena port, with plenty of space for studios, training, and some prime upmarket residential real estate.
---
Sign Up Free | The WPJ Weekly Newsletter
Relevant real estate news.
Actionable market intelligence.
Right to your inbox every week.
---
Real Estate Listings Showcase