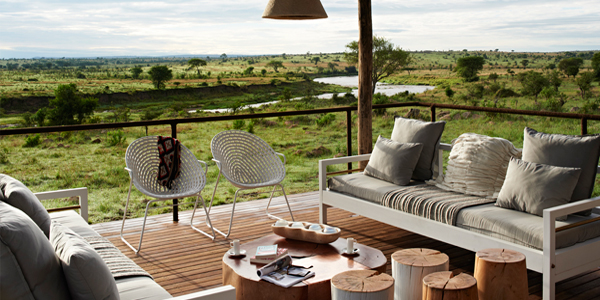 Luxury Camping in the Serengeti
Too often, when it comes to Africa, the conversation revolves around eco-friendly development... but the actions don't.
Singita Mara River Tented Camp, however, in Tanzania, is a great example of an eco-friendly tented camping experience, and a deep respect for the landscapes and wildlife and customs of the region in which it stands. Singita is actually the name of a company that owns 11 low-impact, high-luxury lodges in South Africa, Tanzania and Zimbabwe. Mara River Tented Camp is its newest property, just opening in November, and situated on the winding banks of the Mara River.
The camp is situated in the secluded Lamai Triangle, the northernmost tip of the Serengeti National Park, which is a UNESCO site with stunning panoramas, and exotic wildlife everywhere you look. The Serengeti may be the largest national park, proportionately, in the world; it takes up a full 14% of Tanzania.
The Lamai Triangle is a prime safari location, with good reason; it has one of the heaviest concentrations of wildlife in Africa. Not far from the tent camp, you can see one of the world's most amazing sights - the thundering annual wildebeest migration, in which the heart races and the earth shakes as a million of these beasts participate in the world's largest movement of animals. Here, you can also see Earth's largest zebra migration, as over 200,000 of them move in search of water. So great is these two species' instinct to migrate that no land obstacle, no matter how high or low or dry or wet, can stop them. And neither, as we've all seen in a hundred "National Geographic" specials, can crocodile-infested rivers.
In addition, the region is filled with big game such as Cape Buffalo and antelopes; big cats like lions, tigers, and leopards; rhinos; and herds of elephants. And don't even think about jumping into the Mara River to cool off...it's filled with alligators and crocodiles!
Singita Mara River Tent Camp is actually "off the grid"; it runs on solar power and rechargeable LED devices, and utilizes the prevailing breezes to keep guests cool. Only recycled and natural materials are used here.
The camp is a contemporary take on the classic East African safari, with decor in the tents best described as Bohemian Chic, and a lot of hand-spun fabrics created by local artisans, and wooden chests. (Think upscale "Out of Africa," with a dash of modern-edgy.) The décor serves to immerse visitors into the wilderness around them, with natural textures and natural light. Everything is open to the outside, ringed by wooden decks and "windows" that open wide. There are only six tents here, two of which are reserved for families.
While the tents are authentic "African-Safari," the dining area, lodge (with interesting works by local craftspeople and painters), bar tent, and plunge-pool are authentic luxury, beautifully-furnished and very relaxing.
The cuisine here is not dripping in rich sauces or creams; on the contrary, it's light and healthy, with items such as restorative fresh-fruit smoothies, iced Fair Trade coffees and teas, salads with locally-grown vegetables, and ethically-sourced ingredients such as organic eggs and grass-fed meat. A happy exception is made for the desserts, though, which are wonderfully rich.
At the Singita Mara River Tented Camp, you're not only seeing nature, and the diverse eco-systems of this region, you're living it. You're partaking of Wild Africa without taking, and without spoiling it.
And in so doing, you're leaving a piece of East African paradise for future generations.