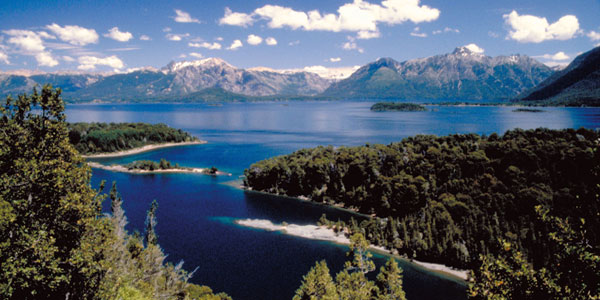 An Argentina Food and Wine Journey
Argentina. Land of gauchos and pampas. Beef and Buenos Aires. Volcanoes and vineyards. Mountain villages and cosmopolitan cities. And a food-and-wine culture that's world-class.
Everywhere you go in this country, you'll smell the aromas of wonderful regional and national dishes, and sophisticated wines that are now enjoyed all over the world. Argentina is, literally, "Foodie Heaven!"
Now, you can take a giant bite out of the Argentine table, on an 11-day gastronomic feast. An online luxury travel referral service called Zicasso, which matches travelers with top travel specialists around the world, will get you there.
The trip takes you from the sophisticated cosmopolis of Buenos Aires to the towering mountains and ice-blue lakes and glaciers of Bariloche, and on to the vineyard-filled countryside of Mendoza. Travelers have the opportunity to shop in local food markets, participate in cooking classes, enjoy home-cooked meals with Argentine families, discover new Argentine wines before the rest of the world does, dine at a trendy closed-door restaurant, and speak with emerging chefs who are creating a new national cuisine with locally-grown ingredients.
The trip starts with a food tour hosted by a Buenos Aires chef, who takes guests to a traditional bakery, a butcher shop, and a busy outdoor market. Here they'll learn about different types of Argentine pastries (facturas) and various cuts of the country's renowned meats. Later, they'll help their guide prepare crispy beef and corn empanadas - in her own kitchen. In the evening there's a traditional dinner followed by a show with one of Argentina's greatest imports...tango!
In the alpine mountain town of Bariloche, set amidst the craggy peaks and huge glaciers of the Patagonia region, guests experience a traditional Argentine barbecue - an asado - with a local family. They'll also try an age-old Patagonian curanto, in which meats, fruits, and vegetables are cooked on hot stones above an outdoor pit. And they'll cruise on Lake Nahuel Huapi, to explore glacial fjords, waterfalls, and the Valdivian rain forest. In this region, every bend in the road elicits "ohhh's" and "ahhh's."
In historic Mendoza, the itinerary includes stops at iconic wineries and bodegas to learn the origins of local wine-making. At a special cooking class, guests will prepare local delicacies using local ingredients, such as clay-oven empanadas mendocinas and caramelized fruit desserts.
The last leg of the trip is back in Buenos Aires, where guests will enjoy the pleasures of a city in which European and Latin American cultures converge in a swirl of sights, sounds, smells, and sensations. They'll visit great shopping areas and cultural centers, and government buildings such as the stunning Casa Rosada, the pinkish Presidential palace. And they'd be well-advised to sample the vibrant "La Boca" quarter, a jumble of very-funky buildings in brilliant colors, filled with atmospheric cafes and bistros where the food and wine flows into the wee hours, and where the live music is infectious.
Then they'll enjoy a final dinner at a "closed-door restaurant," one of the world's hottest gastronomic trends. At Casa Coupage, guests will dine on Argentine haute cuisine paired with selected wines, in an ambience that can only be described as pure elegance.
Guests also have the option to spend an entire day with a chef, who may take them to some favorite markets to buy food for their own private dinner. And they'll have the chance to help the chef prepare it.
This trip is truly a feast for the senses. But one of the best things about it is that you'll remember those wonderful tastes and aromas long after you leave. And - perhaps even better - you'll know how to create some of them!