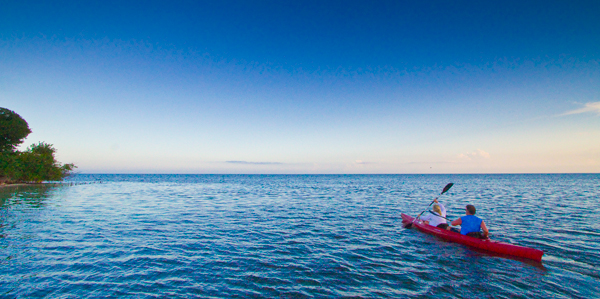 Kayaking the 'Cayes' of Belize
Belize isn't the crossroads of the world. And that's one of the reasons it's so great.
It's a natural wonderland of wildlife-filled rainforest, thundering waterfalls, isolated coves and beaches, and hundreds of offshore "cayes" - small tropical islands ranging from 200 feet to 30 miles long, all protected by the world's second-longest barrier reef. On Belize, the way it was is the way it still is. This Central American country's natural assets have not been harmed by environmental degradation. The waters off the coast of Belize are an unbelievably-clear shade of turquoise, and they're filled with an astounding variety of marine life.
As a result, the country's got one-of-a-kind spots that are so removed from civilization that you can practically call them your own. And some of these spots include ancient Mayan ruins.
Now, a company called Greenlooms can help you see them - by kayak.
You'll spend a week here, seeing the sights for the first few days, and then kayaking for the last four or five. It will afford you an intimate look at a tiny country that's still off the beaten path (except for those who've already discovered it, who tend to come back again and again).
Your journey starts in the capital, Belize City, an aging, rustic city of 60,000 filled with narrow lanes and older buildings. Perhaps the biggest attraction here is the oldest Protestant church in Central America, St. John's Anglican Cathedral. It's a British structure from Colonial days, built in the early-1800's, with bricks that had been used as ballast on ships arriving from Europe. Several "Mosquito coast" kings (from the Waiki tribe) were crowned here amidst great pomp and ceremony, the last one in 1815.
The Supreme Court Building is another reminder of Colonial days; its four-faced town clock stopped working long ago, and is now referred to by locals as the four-faced liar. At the National Arts Council, you can see relics of the Mayan age.
While you're in Belize, you might take the opportunity to take a guided foray into the rainforest, blooming with lush tropical vegetation and colorful wildlife. The Twentieth-Century hasn't touched here yet, and you'll see sights and hear sounds and smell fragrances that will stay with you forever.
You'll meet the rest of your group in Belize City, and then proceed to the charming coastal town of Placencia, where the nightlife is surprisingly vibrant and the seafood was swimming around in the ocean only an hour or two before.
Then you'll hit the water! You'll alternate between single- and double-seated kayaks, so everyone in your group gets a chance in each one, and you'll paddle from 2 to 4 hours a day...leaving plenty of time to explore those beautiful coves and inlets and marine life and coastal villages.
Because of the barrier reef, the seas here are calm and clear. You'll stop at a variety of cayes, some filled with dense mangroves and marine life. You'll also have the option to go diving or snorkeling, in the clearest waters you've ever seen. If you do, you'll see an astonishing variety of habitats and ecosystems, among them coral canyons...as well as tropical fish, manta rays, sharks, barracudas, even a gentle species of shark.
On this trip, you'll experience the Gladden Split Marine Reserve. You'll picnic on the beach every day. You'll camp out on tiny cayes with beautiful beaches, either in tents or just on a mattress of beach-sand. And you'll drift off to sleep under swaying palms and strikingly-clear swirls of stars.
Then you'll realize why so many people who've been here before seem to come back.