---
Editor's Note: This is the second installment of Rachelle and Ben Smith's series chronicling their experiences buying and selling a home in Panama. The first part of the series explained how the Florida couple found themselves buying a home on a Panama hillside in 2006. In this chapter, Rachelle describes packing up their lives in Florida to move to Central America.
As we taxied down the runway in Miami headed to our new home in Panama, I hit my melting point and the tears started flowing. It was a total mixture of frustration of the last 10 days and relief to finally be on our way to our new home. My husband just put his arm around me and let me cry until the frustration was gone.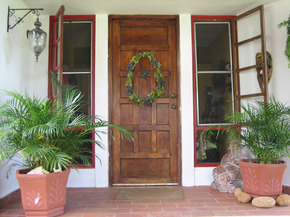 I remember so clearly the day we arrived back home from Panama. It all seemed surreal that we had opened a bank account, put a deposit down on a house and had decided to make Panama our new home, all in 10 days. It's really all so overwhelming you just don't know where to begin. But then day by day I got more organized and started searching the Internet for all the info about moving to Panama.
One big question: do you sell everything you own and start over? Or do you rent a container and take everything? We decided to take everything and rent a 40-foot container, 20-feet for our car and 20-feet for our personal items and some furniture. We decided to do it ourselves from packing it to delivering everything to the Port. I bought "moving packages" over the Internet that included shrink wrap, peanuts, tape guns and tape--and it was delivered to my door. Smitty got the measurements to the interior of a 40-foot container, so he could draw the dimensions on the floor in the garage and we stacked the boxes and furniture within the drawing to know how much room we had. Then we rented a U-Haul when it was time to take the car and furniture to the port. It is a strange feeling getting out of your car and leaving it in a parking lot hoping you will see it again in Panama.
I soon learned no matter how much you read and how organized you are, be prepared for the worst. We had made our delivery to the Port on January 29, 2007 and our plane reservations were for February 6 out of Newark, NJ. On January 30 we went to New Jersey to get the proper paperwork and blood for taking our pets to Panama, our cats and blue/gold macaw, Morgan. You can bring pet birds to Panama as long as you have test and paperwork.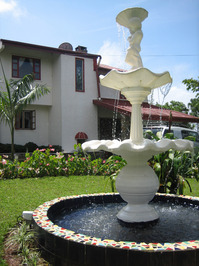 Once we had the tests and paperwork signed by a USDA vet, we had 10 days to leave the country or start all over with the blood tests. After seeing the vet we FedExed the USDA papers to Washington D.C. to have the Panamanian consultant authenticate the paperwork. On Feb. 1 I received a call from the consulate informing me I could not bring a parrot to Panama, it was against the law. I called my attorney in Panama, who assured me and the consultant that wasn't true, but she still refused to sign the papers.
So my attorney told me to get on the phone and call a consultant in Philadelphia and see if she would sign the papers. One phone call to Philly and the consultant there was more than happy to sign our papers. I really didn't know what I was going to do if I couldn't take Morgan. She is our pet and we wanted to bring her.
We decided we would take the two hour trip to Philly on Monday Feb 5 to have the consultant sign our papers and then leave on Tuesday. That Sunday evening I called to confirm our plane reservations and was told they didn't have room in cargo to take the parrot on this flight. They overlooked telling me that when you make a reservation in cargo for an animal it doesn't mean you have a reserved spot. My husband called back and asked to speak to whoever was in charge of the cargo. This guy was priceless. He suggested we fly out and whenever they had a spot they would send the parrot onto Panama. Smitty asked, when that might happen. Three weeks, he was told.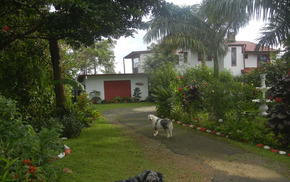 Now this guy knows paperwork is only good for 10 days. Now I'm down to five days. He actually told my husband it wasn't his problem and wanted to know whether to keep or take Morgan off the list. So we lost $2,000 in plane tickets because this particular airline would do nothing for us.
I didn't know what to do. Should I stay behind and try again in a couple of months? Or try another airline? Newark was the only city close to us that has direct flights to Panama. Most were booked or the temperatures were too cold to take pets. I called an airline that has direct flights out of Miami to Panama and talked to an agent who was so helpful. I explained my situation and told her my predicament and she got us and our animals all booked for a flight on Tuesday, Feb. 7, around 6 p.m. We left for Miami.
Our first stop was Philly to get the consultant to sign Morgan's paperwork. We made it to North Carolina that evening, but it was hard to relax. So much seemed to be going wrong; I was afraid of what was next.
We stopped in Jacksonville Florida to visit Smitty's daughter, who was in the hospital getting ready to have her second baby. It was great being able to see family before left but we couldn't stay long. We got a hotel within an hour of the Miami airport, aware that we had to be there four hours before the flight takes off to check the animals into cargo.
The cargo area is several miles from the passenger terminals, but we had plenty of time. We were actually five hours early, so we knew we were okay on time.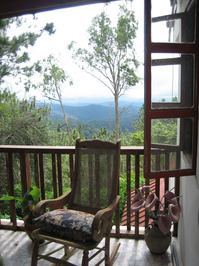 We found the building where you first check in the paperwork. Once they stamped the papers, we were told turn around and look out the window. We saw long double line of parked trucks, approximately 20 trucks in each line. You need to get in the back of one of those lines, we were told. Then the guy behind the counter tells me, good luck with getting to the warehouse before our flight left and he laughed.
It was February 7, one week before Valentine's Day. No one said anything to us about the long lines that would be there delivering flowers to the airlines. It took us 45 minutes to stand in line and have our paperwork done. Now were counting down the hours. Four hours left and we were in this ridiculously long line with no clue how fast these lines move.
We waited in line for 1½ hours and had moved up one space. Smitty went inside to look for an alternative. He was told, no, this was procedure and we had to follow it. The truckers had been waiting in line overnight and there was no way we could get in front of them. When he came back to the car, he said there was no way we were making our flight.
I took the papers and got out of the car. I didn't know what I was going to do, but I was going to do something. I went up to the warehouse where they were unloading and went inside. I just walked in, but no one paid any attention to me. Finally an employee came up to me and asked if I was lost. I told her my story from beginning to end. She told me to have my husband pull up beside the truck that was at the bay unloading and she personally would help me.
I walked back to the car and Smitty pulled the car up next to the truck. Our savior came out and helped with the animals and started stamping paperwork. She handed me a bill and said now I need to go next door and pay this and bring it back. When we finally left the warehouse, we had 1½ hours before our flight took off.
First we had to drop off the rental car. But traffic was at a standstill. We are very sorry for anyone we almost ran off the road that day, because we did bully our way to the return area. We pulled up and jumped out of the car. I jumped on the shuttle and begged the driver to wait 30 seconds for my husband as I hung out the door. Smitty jumped on the shuttle, followed by the rental car agent yelling about charges. As we pulled up to the terminal, Smitty told me to jump out and run to check in for our tickets and he would get the luggage. Post-9/11, I was afraid I would look like a maniac running through the terminal.
I found an airline agent who took me to the front of the line and had the ticket agent immediately work on our tickets. We checked in seconds before the computer shut us out. Could we make it to the gate before they closed the doors to the plane? We were down to 15 minutes. We ran all the way to the gate. When we arrived, they were actually waiting for us. I had to find out if Morgan and the cats were on board.
Sometimes you sit forever before a plane takes off, not this one. We had barely been seated and I saw they were closing the doors. But no one had told me yet if Morgan and the cats were on board. As the plane started backing out, I jumped up and went to the stewardess, who was on the phone. She was just hanging up. She turned and smiled. Yes, they were safe on board. I walked back to my seat and the tears came.
Sign Up Free | The WPJ Weekly Newsletter
Relevant real estate news.
Actionable market intelligence.
Right to your inbox every week.
---
Real Estate Listings Showcase