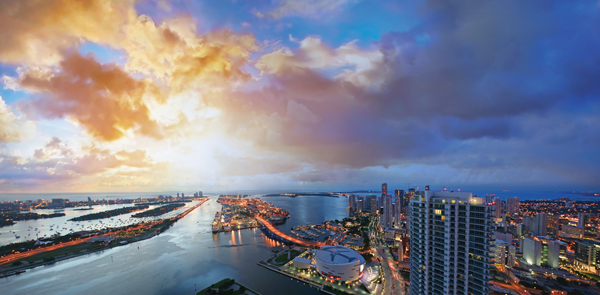 Florida Welcomes Crush of Canadian Home Buyers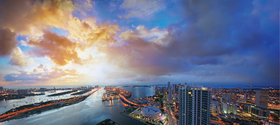 If last year was the 'Year of the Brazilians' in Florida, 2013 is shaping up to be the 'Year of the Canadians.' At least that's the attitude of many Sunshine State real estate professionals and industry experts.
This sunny sentiment was especially evident this Wednesday at a sold Fort Lauderdale event hosted by the Broward Council of the Miami Association of Realtors. Dubbed, "Doing Business with Canada," the event was attended by more than 130 association members and affiliates, including guest speakers Madame Louise Leger, Consul General of Canada in Miami, South Florida condo expert Peter Zalewski of Condo Vultures and real estate broker Michelle Farber Ross, whose MMD Realty partner is Hall of Fame quarterback and Florida resident Dan Marino.
Other featured speakers were certified accountant Mark Chaves, senior partner with DaskalBolton, immigration attorney and EB-5 expert Larry Behar and EB-5 approved real estate developer Rodrigo Azpurua of Riviera Point Holdings.
Madame Leger, former Canadian Ambassador to Panama and Costa Rica, kicked off the event enlightening attendees with a steady dose of strong economic news as it relates to Florida and Canada's long-term relationship.
For instance, Madame Leger pointed out that Florida-Canada ties represent $7.6 billion in bilateral trade and some 300 Canadian-owned companies provide high-wage employment to 24,300 people across Florida. In all, 557,100 Florida jobs are dependent on Canadian trade and investment, including airline manufacturer Bombardier, Blackberry manufacturer RIM, Cirque du Soleil retailer Circle K and tech company Citrix Systems to name a few.
On the tourism front, 3.6 million Canadians visited Florida in 2011, spending approximately $4 billion. The total number of Canadian tourists more than doubles Florida's second-largest source of tourists: Brazil. As Madame Leger said jokingly, much to the contrary, Brazilians aren't the only foreigners coming to Florida each year.
Indeed, and once Canadians get a taste of Florida, they're increasingly putting up more permanent roots. For example, Canadian buyers represented 31 percent of Florida's international real estate purchases in 2011, according to the National Association of Realtor's August 2012 report, "Profile of International Home Buyers in Florida."
That's more than the number of buyers from the next four closest countries combined: Brazil (9 percent); United Kingdom (5 percent); Venezuela (7 percent) and Argentina (5 percent).
To sum it up, Canada is Florida's No. 1 international economic development partner when measured by the combined impact of bilateral trade, foreign investment, real estate purchases and tourism.
So long as the Canadian dollar remains slightly stronger than the U.S. dollar and the Canadian economy remains on relative stronger fiscal footing, Florida should continue to benefit from Canuck-led capital seeking safe havens and strong returns in the coming year(s).
One place Canadians are clearly focused on is the value-driven South Florida tri-county condo market of Miami-Dade, Broward and Palm Beach, which was devastated during the Great Recession.
Farber Ross, broker/managing partner of Fort Lauderdale-based MMD Realty, has been specializing in Canadian buyers and investors for a couple years.
"I saw it starting really last year," Ross said, referring to the Canadian boom in buyers. "It's just on an upswing right now. It's going to peak. Beyond that, I don't see it going anywhere down really. ... I live it every day. My clients and agents are seeing it and I don't see it tapering off anytime soon. Especially if their dollar remains as strong as it is. It's phenomenal."
Interestingly, almost half of the Florida home purchases in 2011 by Canadians were condos or apartments (48 percent) and about 90 percent were cash deals. Conservative by nature, more than half of the properties purchased by Canadians were priced below $199,999 (65.4 percent).
"They don't bite off more than they can chew," Ross says, comparing them to the typical U.S. buyer. "If someone from Montreal's going to afford a $200,000 place that's what they're going to get.
"If a wealthy guy from Bay Street's getting a $5 million place, that's fine. But as a whole, Canadians are not doing everything on credit."
As for Canada's top three destinations for property, the Bradenton-Sarasota-Venice area on Florida's west coast leads the pack with 14.4 percent of all purchases in 2011. Fort Lauderdale was second with 12.9 percent and Naples-Marco Island was next at 11.9 percent.
"It's a great time to be in real estate," Ross says. "I think the worst is behind us. Knock on wood. ... But from here it looks like great things are ahead. You see it, right? It's all leveled out. You saw the correction take place. We all lived it. Now it's time (to bounce back) and it's just looking great."
It certainly looks brighter if you can find a few Canadian friends along the way.