---
For reasons not entirely clear, one of the most popular stories in
World Property Channel
's short history is a one-year-old article headlined, "Timeshare Tycoon Revs up Company."
As an attention-getting Internet headline, "Timeshare Tycoon Revs up Company" falls far below "Lindsay Lohan Nabbed in Bikini Mishap" and somewhere close to "Paint Dries in Sun." But the tale of this particular timeshare tycoon, David Siegel, and his wife, Jacqueline, is a real grabber, one of those stories that says something about modern culture and life.
"We still have the planes, we just mostly charter them out."
For those who are not familiar with David and Jackie Siegel, they are best known for their opulent lifestyle, which is on display in the documentary, "The Queen of Versailles." Filmmaker Lauren Greenfield chronicled the Siegels' daily life as they attempted to build their own 90,000-square-foot version of Versailles, while the world economy collapsed around them.
The Siegels' version of Versailles, located outside Orlando, is the equal of its French namesake, at least in terms of excess and let-them-eat-cake opulence. Routinely described as the largest private house in the country, the Siegels' version of a modern castle includes a bowling alley, a 30-car garage, a roller-skating rink and enough precious stones and rare wood to bankrupt a few small kingdoms.
Yet, it is clear America loves the Siegels, or at least America is fascinated by them. Rain or shine, we get traffic for the Siegel story. Now
CNBC
is running the movie on some sort of perpetual loop, fueling more discussions of the Siegels and their world.
On one level, it is easy to understand the interest. They are the American Dream, circa 2007. They represent a separate reality, a world we all know exists, even though we rarely glimpse it.
New York Magazine
dubbed Jackie "a Zsa Zsa Gabor for the subprime age."
Mr. Siegel, founder of Orlando-based Westgate Resorts, made his fortune in timeshares and, if nothing else, he is a guy who knows his audience.
"Our customer is the Wal-Mart customer," Siegel once said. "They pay their credit card on time. It's the truck driver from Iowa who is treated like a king. We make Middle America feel like a Rockefeller."
Those Wal-Mart customers don't seem to care too much if a guy makes some money and wants to live like the Sun King. They forgive a few flaws, especially if everybody seems to be having a good time. Whether it's a governor who was caught with a high-priced escort or the baseball player looking for an extra jolt, Americans love rogues, especially rich rogues.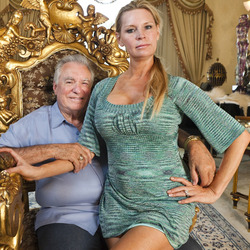 As noted in
last year's WPC News article
, Mr. Siegel is undaunted and unabashed by the scrutiny of his family's lifestyle. His message: business is still good, no matter what the movie suggests.
In recent weeks the Siegels have been back in the news.
CNBC
billed an interview with the couple as a "dramatic comeback story." Westgate is reporting record profits and hiring back employees, Mr. Siegel said.
Mr. Siegel, now in his late 70s, was asked what he has learned from his recent experiences.
"We were fat, dumb and happy," Mr. Siegel said. "Today we're lean and mean. We're operating with our own money. We're not borrowing like we used to."
Work has officially restarted on Versailles, Mr. Siegel said. It will be completed in two years and, for the record, he's completely against the idea of selling the house. "Of course, if somebody comes along and offers me a lot of money, I might change my mind," he said.
The Siegels have made adjustments. "We still have the planes, we just mostly charter them out," Jackie told
CNBC
.
Don't worry, everything is just fine, the Siegels assure reporters and viewers. They are moving forward. Jackie has her
own Web site
. There is talk of a reality series. The American dream lives on.
Video: the Siegels on CNBC

Sign Up Free | The WPJ Weekly Newsletter
Relevant real estate news.
Actionable market intelligence.
Right to your inbox every week.
---
Real Estate Listings Showcase