---
Dubai's oft-reported property rebound is a mirage, a bit of deception worthy of the emirate's well-deserved reputation for theatrics.
Dive into the recent analyst statements and it's clear that the recent uptick in residential property prices was largely confined to very specific areas, primarily high end villas and luxury apartments. Existing homeowners are simply moving up to bigger homes and investors are competing for quality properties available at bargain basement prices, pushing prices up as much as 20 percent for the best homes.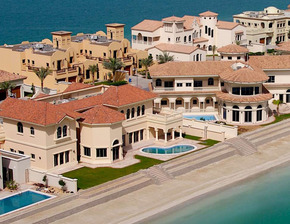 "While there has been a recovery in rents and prices... this improvement remains focused on a relatively small number of projects," Jones Lang LaSalle research chief Craig Plumb wrote in a recent report.
Clearly the Dubai market has hit bottom, but that's a long way from a recovery, after home prices fell 60 percent or more, post-2008. The pricing increases in 2012 were "driven predominantly by increasing activity from cash investors," rather than end-users, CB Richard Ellis reports. Investors looking for a place to stash cash hardly represents the foundation of a healthy, growing market. More than 70 percent of transactions in Dubai are all-cash, some industry experts say.
And Dubai is still Dubai. More than 45,000--45,000!?--additional residential units are scheduled to enter the market over the next two years, Jones Lang LaSalle reports. Yes, a good chunk of those projects won't be delivered as promised, a time-honored Dubai tradition. But these projects are in the pipeline, leaving little doubt that a new glut of homes looms on the horizon.
The majority of units under construction are in outlying areas like Dubailand and Dubai Sports City, which remain vast wastelands of partially built projects and bold dreams. Dubailand was conceived as the world's largest master planned development, a collection of theme parks, mega-malls and elaborate communities built around replicas of the Taj Mahal and the Eiffel Tower. Today it is a hodgepodge of dis-connected residential communities in the desert, where buyers hoping to avoid the traffic on Sheikh Zayed Road can find relatively inexpensive homes.
Just like in the old days, there is still limited demand in Dubai, even with the growth in interest from places like Singapore and Iran. Tourism and industrial activity are increasing, creating a more organic and self-sustaining market, but not to the point of filling 45,000 new homes in the next few years.
And the construction numbers only represent part of the supply equation. More and more investors who bought in the boom years are now eager to exit their investment, which will add more inventory to the market. Nor does the data reflect the growth of Abu Dhabi as a competitor. The Abu Dhabi government recently told public employees they would no longer receive a housing allowance if they choose to live in Dubai, as the capital looks to fill its own projects.
At the same time, the Dubai government has moved to increase the loan-to-value requirements for home loans, part of a broader move to dissuade "speculators," despite evidence these evil speculators have always been the driving force for the property market.
Even the announced price increases should be taken with a more than a small dose of skepticism. It is notoriously difficult to find accurate transaction data for the emirate. Transparency is still a moving target, despite recent reforms. It will take more than one good year of villa sales for Europeans to forget the horror stories of buyers who lost their money in the desert paradise.
Already analysts are warning about returning to the "over exuberance" of the boom years. Price increases in 2013 are expected to be "below 2012 levels," Jones Lang LaSalle tactfully predicts.
"We are likely to see a broader based recovery in 2013 but this recovery will remain challenged by the current over supply and high vacancy levels," JLL forecasts. CBRE offers a similar caveat to its upbeat report, noting "2013 is perhaps unlikely to match the performance" of 2012."
But warnings about "over-exuberance" are having little impact in Dubai, the Land of Over-Exuberance. In November the government announced plans for a massive new development that will, if ever built, include 100 hotels, a Universal Studios theme park and a public park bigger than Hyde Park, invoking fond memories of the property sector's good ol' days.
Sign Up Free | The WPJ Weekly Newsletter
Relevant real estate news.
Actionable market intelligence.
Right to your inbox every week.
---
Real Estate Listings Showcase