---
When a Spanish paper reported that the designers of Europe's tallest residential tower left out elevators, the story quickly spread across global news organizations. From
CBS
to
Yahoo
, it was the perfect outrageous tale, appealing to both
schadenfreude
junkies and architecture geeks.
There is only one issue: It may not be true.
The developer of Edificio Intempo, the 200-meter-tall project under construction in the coastal city of Benidorm, is labeling the charges "fake and insidious." Rafael Ballesta, sales manager for the project, told
Dezeen
the story is "ridiculous."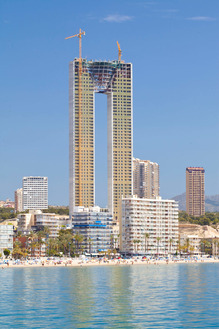 "We are constructing the highest residential skyscraper in Europe so how is it possible to build without elevators?" he said.
On
Twitter
, the preferred venue for a media counterattack, the firm posted floor plans showing elevator shafts. And a reporter from another paper visited the site and found elevators in place.
Of course, none of this means elements of the original story are not true. Mr. Ballesta is a salesman, after all, and the 47-story project is already famous for its history of troubled sales and failed financing. But, at the very least, the new reports suggest there is more to the story than the catchy headline about bonehead architects who forgot the elevators.
The original story was reported by the
El Pais
, but it quickly developed a life of its own. Within a few days
Google News
was showing more than 900 articles on the building, in many languages, with such headlines as "Long Walk: Builders of 47-story Spanish Skyscraper Forget to Install the Elevator" and "Luxury Benidorm Apartments Need a Lift." A site called Flavorwire quickly added the tale to its list of "15 Breathtakingly Bad Architecture Ideas."
"The journalist from
El Pais
issued some fake news and everyone else just copy-and-pasted it," Mr. Ballesta told
Dezeen
. "People must not believe this fake news."
This is a common phenomenon, in the modern media age. Stories with catchy headlines spread like wildfire. We all participate in this practice; it's one of the beauties of the Internet. Information is traded and shared at such a rapid rate that an investor in the U.K. can instantly learn of new rental increases in Singapore, as well as Ellen Degeneres' latest home sale.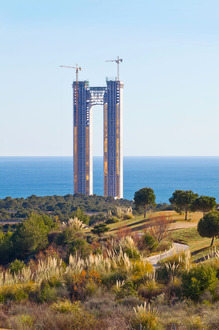 Even now I am committing the same sin by reporting on
Dezeen
's report. But the
Dezeen article
adds value to the discussion and clearly offers an element of truth - or, as Stephen Colbert would say, it ups the truthiness.
Dezeen
deserves credit for actually taking the effort to follow up on a post, even though it exposed one of their own stories as wrong.
As more information comes out, some sites might offer an update or clarification. Anybody willing to do a little research might get the full story. But most news organizations moved on long ago. The tower story was last week's
Google
bait.
More likely the original story will continue to float through the media atmosphere, part of urban lore, surviving on its own oxygen and constant retweets.

Sign Up Free | The WPJ Weekly Newsletter
Relevant real estate news.
Actionable market intelligence.
Right to your inbox every week.
---
Real Estate Listings Showcase