---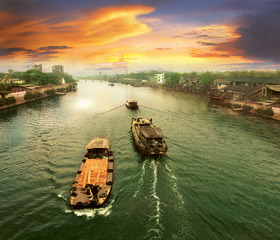 The Grand Canal, longest in the world, is aptly-named. (Courtesy Hangzhou)
In their rush to see Beijing and Shanghai, many travelers miss some of the hidden joys of China - cities like Hangzhou, only 45 minutes from Shanghai on the bullet train...but a million miles away in some ways. Here, even amidst the economic growth, the special aura of Old China is still cherished.
Hangzhou is one of the six oldest regional capitals in China, and sits at the center of the world's sixth largest economic center - the Yangtze River Delta. No one knows exactly how old the city is...nearest guesses are around 5,000 years. But it's long had a reputation for grandeur. When Marco Polo visited 800 years ago, in fact, he declared it the finest and most splendid city in the world.
The city is built around the stunningly-beautiful West Lake, a willow-tree-bordered UNESCO World Heritage Site that's inspired poets, scholars, and artists for more than a thousand years. This is where Hangzhou residents go to find serenity and timeless beauty, amidst magnificent pagodas, lush islands, pavilions, gardens, ornamental trees, and temples. The lake is considered a symbol of harmony - very important, of course, in Chinese culture. Its beauty has inspired ten poetically-named Scenic Sites, one of which, "Three Ponds Mirroring the Moon," is actually printed on Chinese currency. On spring or summer days, the lake is filled with boaters enjoying the serenity and the beauty.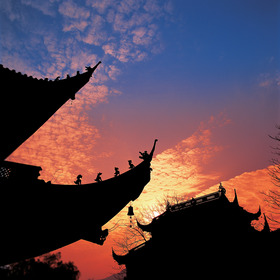 Hangzhou's known for another body of water, as well. The Grand Canal, the world's oldest and longest canal, begins here, and ends 700 miles later at Beijing. Along the way are 132 heritage sites, seven of which are in Hangzhou.
Hangzhou actually boasts 57 museums, including ones dedicated to fine porcelain, silk, and tea. The National Silk Museum pays homage to the art of silk-making, invented in China some 5,000 years ago. According to legend, a princess was sipping tea in her garden when a cocoon from a mulberry tree plopped into her cup. As she plucked it out, it unreeled into one long filament.
Hangzhou is also China's tea capital; the country's most famous tea, Longjing, is produced here.
Many other museums celebrate the culture and history of Hangzhou, including the ancient culture of Liangzhu, with 50 recently-unearthed archeological sites. And the Lingyin Temple is one of the world's most beautiful, with over 400 carvings cut into limestone.
Hangzhou hotels run the gamut from five-star to budget, including internationally-known chains. Recent openings include the Shangri-La, overlooking West Lake; Banyan Tree, in the world's first wetland reserve; Aman, close to spectacular Buddhist Temples; and the Four Seasons, located on the bank of West Lake. And a number of internationally-acclaimed festivals occur here, among them the Dragon Festival, an annual boat race said to be lucky for those who watch it.
Spring is when the city really comes alive, with blooming plants and hordes of bicyclists taking to the streets.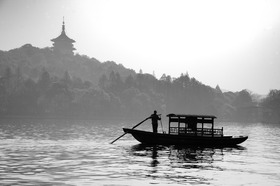 West Lake is the spiritual heart of the city. (Courtesy Hangzhou)
In recent years, Hangzhou has become known as a romantic city, as well, due to West Lake, and flowering trees, pagodas, and glowing lanterns everywhere you look. It's also the setting of "The Butterfly Lovers," one of China's most popular folk tales - about star-crossed lovers Shanbu and Yingtai, whose tragic story is evocative of "Romeo and Juliet."
Hangzhou, in fact, is filled with ancient legends and mysteries.
And when you're on West Lake, and the color and beauty and harmony of this ancient culture shine through, you'll realize you've found the Eternal China.
Sign Up Free | The WPJ Weekly Newsletter
Relevant real estate news.
Actionable market intelligence.
Right to your inbox every week.
---
Real Estate Listings Showcase