---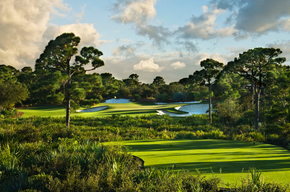 Golf legend Jack Nicklaus, affectionately known as the Golden Bear, is about to take a bigger bite out of China's future golf and resort development business.
Nicklaus Design is widely regarded as the world's leading golf course design firm, with almost 370 golf courses open for play in 34 countries and 39 states. Now, the winner of a record 18 major golf championships is expanding his golf course design and lifestyle brand even deeper into China with the recent announcement of "Nicklaus-China"
As the game and the Golden Bear's business continue to expand, the Nicklaus Companies recently announced the formation of Nicklaus-China as part of a partnership with China's Finergy Capital that will aid in the "strategic, comprehensive and responsible growth of golf in China by assisting developers with a unique opportunity and turnkey solution to golf course and residential development," according to Nicklaus Companies.
The venture will also explore business opportunities outside design and development that involve Jack Nicklaus and the Nicklaus brands. The official signing of the Nicklaus-China venture recently took place at the upscale Pasadera Country Club, a private Jack Nicklaus Signature Golf Course that opened in 2000 in Monterey, Calf.
Participating in the signing was Nicklaus and Dr. Guang Yang, Chairman and CEO of Finergy Capital, a private equity firm based in Beijing. Two years ago, Dr. Yang, in a partnership with Hainan Airlines, acquired Pasadera Country Club.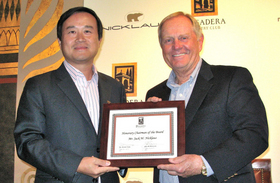 Pasadera represents the first Nicklaus-China collaboration and the opportunities the new partnership will explore in the United States. Pasadera has already been positioned as a hub and platform for US-China business relations, and has hosted a significant number of influential and prominent Chinese business leaders in a variety of economic forums.
Nicklaus-China is a natural step for Jack Nicklaus and his iconic brand, which has expanded to include more lifestyle services and products in new and emerging markets, such as China. Nicklaus Design already has 84 courses open for play in the Asia Pacific region, including 19 in China. Nicklaus Design currently has 12 courses under development in China and another 10 projects signed and in the planning process. Nicklaus has also begun to brand real estate developments in China, including projects in Beijing and Shenzhen.
The Nicklaus-China venture will operate out of Beijing, and the office will be home to both Chinese and American executives with decades of international experience in the golf industry, ranging from golf course design, development, construction, sales and marketing, agronomy, and operations management.
"As a player and then designer, my goal has always been to grow the game around the world," said Nicklaus. "At the same time, I think it is important to grow the way golf is developed. We have witnessed the passion and enthusiasm for golf in China, but we have also observed a need and desire for assistance in every aspect of the development process. A quality golf experience only begins with the design process, and developers in China are looking for leadership and expertise in the golf and real estate arenas.
"Although golf is relatively new to China compared to other markets, they want it to be positioned as the very best. That is where we can help. With over four decades working on golf courses in a variety of markets around the world, we can deliver the expertise to develop golf and real estate at the highest level, for enjoyment of the game, commitment to community, and responsibility to the environment. Our goal is to bring that to interested developers and eventually to the consumer, and put these developments in a position to succeed for future generations to enjoy. Dr. Yang and I are both committed to this goal, and I look forward to our new relationship."
Prior to founding Finergy, Dr. Yang was an executive vice president and senior portfolio manager with Franklin Templeton. He still serves as vice chairman of China Life Franklin Asset Management Co., a joint venture between China Life and Franklin Templeton in Hong Kong. Dr. Yang received his Masters in Business Administration from Harvard, a doctorate from Australian National University, and his undergraduate degree from the University of Science and Technology of China.
Much like Nicklaus has done with Muirfield Village Golf Club and The Bear's Club, his Ohio and Florida home clubs, respectively, the Nicklaus-China venture is looking to bring the same hands-on, turnkey approach to new and existing clubs worldwide. Dr. Yang, who is chairman of Pasadera Country Club, is already witnessing the input at the Monterey club in the form of renovation work, management consulting, rebranding and repositioning.
"In our opinion, Pasadera Country Club has an enormous amount of untapped potential," said Dr. Yang. "With our location, golf course and amenities, there is a tremendous amount of opportunity at this club. We feel that Jack and the Nicklaus-China team will help us get the club back to an elite status. The idea of the new Nicklaus-China venture started right here at Pasadera, and it shows the potential of Pasadera being a bridge between the U.S. and China, and how golf can serve as a social platform for business communities on either side of the world."
In addition to the Nicklaus-China announcement, approximately 200 Pasadera Country Club members and guests gathered at the club for a celebration of Nicklaus' 50-year anniversary of his first U.S. Open victory--his first of 120 professional victories --as well as the opening of the Nicklaus Lodge, a member lodging component added to the Pasadera clubhouse. The club also announced Nicklaus as its Honorary Chairman.
Pasadera founding members include business leaders such as Niu Gengsheng, former Chairman of Mengnui Dairy Group, China's leading dairy manufacturer. In 2005, Mr. Gengsheng donated all his shares to a foundation and is among China's leading philanthropists.
"It is always a thrill for me to return to the courses I have designed, because they represent a special part of my career and life," Nicklaus said. "Throughout my career, I have had a uniquely special attachment to the Monterey Peninsula, so Pasadera has allowed me the opportunity to leave a little piece of me in the legacy of a golf-rich area. We are proud of the respect and rightful place the club has earned here, and we are confident that under the umbrella of Nicklaus-China, Pasadera has a bright future."
---
White Lodging Building New Hyatt Place in Downtown Nashville
White Lodging of Merrillville, Ind., started construction in downtown Nashville on a 255-room Hyatt Place hotel slated to open in late 2013. The hotel will be owned by Host Hotels & Resorts, Inc. and White Lodging and is the first new construction, select service venture for Host.
"Nashville is such a thriving and vibrant city, and we're thrilled to help expand Nashville's convention market through our first project with Host Hotels & Resorts," said Deno Yiankes, president and CEO of White Lodging's Investment and Development Division. "Hyatt Place Nashville/Downtown marks the third urban Hyatt Place development for White Lodging, and highlights our confidence in the Hyatt Place brand and our commitment to continue growing with premium-branded hotels in the urban cores in some of the country's greatest cities."
Elsewhere in the country, White Lodging is currently building the Hyatt Place Chicago\River North, which is scheduled to open next summer, and Hyatt Place Austin, scheduled to open next spring.
The 13-story Hyatt Place Nashville/Downtown is being developed and managed by White Lodging. The downtown hotel, White Lodging's second hotel in Nashville, will complement the construction of the Music City Center, Nashville's new convention center scheduled to open in 2013 on 19 acres in Nashville's downtown and only a block away from the hotel site.
"This joint venture is an effective use of our capital to expand and diversify our investments to include the development of upscale properties in urban locations while minimizing our risk and achieving attractive yields," said W. Edward Walter, president and chief executive officer of Host Hotels & Resorts, Inc. "We view this transaction as a unique opportunity to build a relationship with an outstanding, independent operator."
Sign Up Free | The WPJ Weekly Newsletter
Relevant real estate news.
Actionable market intelligence.
Right to your inbox every week.
---
Real Estate Listings Showcase