---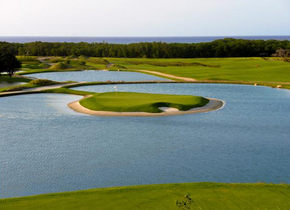 (HO TRAM STRIP, VIETNAM) -- One of Vietnam's largest foreign direct investment projects in terms of committed capital is $4.2 billion Ho Tram Strip, an integrated resort project developed by Canada-based Asian Coast Development (ACDL) started.
In a recent press conference, Asian Coast chief executive officer Lloyd C. Nathan revealed the project has disbursed $430 million since construction started more than a year ago and engaged in first phase construction which involves 541 luxury guest rooms, a spectrum of world-class restaurants and entertainment amenities, a conference centre, a retail area, and a fully operational large-scale entertainment facility slate to come online February 2013.
He said the project pace would not be changed within the next 10 years and the management have worked on expansive marketing campaigns in diverse markets such as Hong Kong, Singapore, Taipei and Jakarta.
Ho Tram Strip is divided into two zones. Zone 1, consisting of two phases, is managed by MGM Mirage Hospitality International Holdings Limited and features two upper-tier hotels with more than 1,100 rooms and an 18-hole golf course opposite to the resort. Zone 2 is managed by Pinnacle Entertainment which holds a 26 percent stake equal to $95 million in ACDL involving three resorts with 1,200 rooms (no construction within the next two years).
According to a Ho Tram Strip project representative, half of first-phase's investment capital was loans, and the remaining capital portion comes from U.S.-based Harbinger Capital, which holds ruling stake in ACDL.
Besides Ho Tram Strip, the province is home to the $4 billion, 300-hectare Saigon Atlantis Hotel, which is developed by U.S.-based Winvest Investment Company Limited. By scale, Saigon Atlantis is bigger than 164-hectare Ho Tram Strip. The project was licensed in April 2006 with just $300 million total investment. Later, Peter Luu, one of the project's major stakeholders asked to scale up investment to $4.1 billion.
The project will involve high-villas, 1,200 hotel rooms and a casino.
---
Dye Designs Picked to Design New China Golf Resort
(SHENZHEN, CHINA) -- Dye Designs Group  was selected to create a new18-hole championship golf course as the centerpiece of a multi-use residential resort development, Guilin Sports, Tourism & Leisure Center, located in Guilin, China.
Due to the recent government restrictions on golf course developments, the project's owner, Guilin XinChang Investment Group, an experienced real estate developer in the GuangXi province, took their time and dedicated substantial resources toward selecting the architect to design their first golf related development.
"This client hosted a very competitive selection process over a period of 18 months" says principal Cynthia Dye. "I feel honored to have my team and our conceptual master plan chosen from among the many first rate designers presented during the lengthy and detailed design charrette."
Guilin Sports, Tourism & Leisure Center is conveniently located on the edge of current development in the city of Guilin. The resort community development will include: an 18-hole golf course, an internationally flagged hotel & conference center, a separate natural hot spring day spa and approximately one-hundred custom villas.
Distinguishing features of the resort community will be its setting within the interlaced Karst Mountains, a rare and distinctive geological feature that is a major attraction for tourism to the Guilin area. These features form a natural backdrop for the golf course which itself is routed through a series of natural springs that will serve the golf resort and spa facilities.
"Of all the properties that I have walked in my lifetime, this is the most surreal setting," Dye said. "The interplay between the small mountains, refracted light in all directions and the natural water features has given me a wonderful opportunity to create something special here."
Under the central government's tourism plan to promote "One Province, One Island, One City," this project has been given approval to move forward. The golf course construction phase is scheduled to begin this July.
With two projects now nearing completion of construction and two of their other current design projects receiving similar expedited approvals, Dye Designs Group is confident the golf course development process in China has been given some clarity and possibly a boost from the need for localized economic development.
Sign Up Free | The WPJ Weekly Newsletter
Relevant real estate news.
Actionable market intelligence.
Right to your inbox every week.
---
Real Estate Listings Showcase