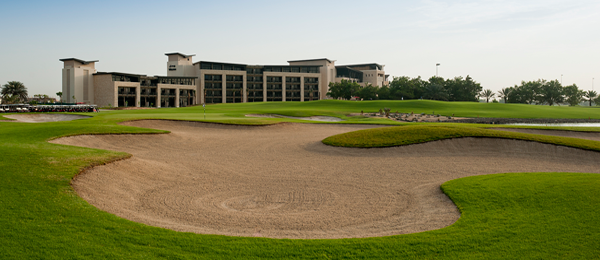 Westin Abu Dhabi Golf Resort & Spa Debuts in UAE
(ABU DHABI, UAE) -- Starwood Hotels & Resorts Worldwide announced the debut of The Westin Abu Dhabi Golf Resort & Spa.
The resort is owned by the Tourism Development & Investment Company (TDIC), the leading developer of cultural, residential and tourism destinations in Abu Dhabi. The Westin Abu Dhabi Golf Resort & Spa marks the launch of the Westin brand in the emirate.
The hotel features 172 premium guest rooms, several restaurants and lounges, a Heavenly Spa by Westin and state-of-the-art meeting facilities.
The Westin Abu Dhabi Golf Resort & Spa boasts a prime location along the fairways of the championship Abu Dhabi Golf Course, which underwent extensive upgrades in January 2011 and is managed by Troon Golf, the world-renowned luxury golf course management company. Additionally, the Westin is the only hotel in Abu Dhabi to offer sweeping views of the putting green from all guest rooms. Close to the heart of down town, the newly constructed hotel is just a ten-minute drive from the exhibition center and 20 minutes from the Corniche.
"We are excited to introduce the Westin brand in Abu Dhabi in association with the Tourism Development & Investment Company and with this opening, we hope to elevate the emirate's position as a leading tourism destination in the region," said Roeland Vos, President, Starwood Hotels & Resorts, Europe, Africa, and Middle East.
Vos continued, "We believe that the hotel will be a leading wellness retreat in Abu Dhabi s emerging centre."
The Westin Heavenly Spa consists of six treatment rooms and an outdoor relaxation area in a tranquil garden setting. Guests can experience a range of Heavenly packages and specially-developed treatments targeted at golfers such as the Golfer's Recovery.
"This is a momentous year for TDIC as we are achieving a number of significant delivery milestones, of which the Westin Abu Dhabi Golf Resort & Spa is one," said Ali Al Hammadi, Executive Director of Project Services at TDIC. "We are delighted to collaborate with Starwood, with whom we are working very closely to build this landmark destination, and we are looking forward to a successful launch."
Starwood Hotels & Resorts currently operates nearly 50 hotels in the Middle East, including five hotels in Abu Dhabi. Westin has two additional properties in the Middle East: The Westin Dubai Mina Seyahi
Beach Resort & Marina in Dubai, and The Westin Jeddah in Saudi Arabia (currently closed for a complete renovation). The brand continues to grow its presence in the Middle East with nearly 25 new hotels slated to open in the next few years, including The Westin Saraya Aqaba in Jordan and The Westin Muscat in Oman.
Tourism Development & Investment Company (TDIC) is Abu Dhabi's leading tourism asset developer and the name behind some of the world s most significant tourism projects. Its flagship development is Saadiyat Island, a 27-square kilometer natural island lying just 500 meters offshore Abu Dhabi city, the capital of the United Arab Emirates (UAE).
The island is being transformed into a leisure, cultural and residential destination. TDIC is also behind the unique Desert Islands project, one of the world s largest sustainable island tourism destinations currently under development.
---
Orascom Development Building New Red Sea Riviera Projects
(EL GOUNA, EGYPT) -- With growing demand for real estate on the beautiful Red Sea Riviera, Orascom Development is building two new developments to add to its property portfolio in the self-contained waterfront town of El Gouna.
Joubal, with its unique landscaping and elevated perspective, offers stunning views across the Red Sea marina. The development consists of signature villas and apartments which allow homeowners to escape the hustle and bustle of everyday life and be reinvigorated among peaceful surroundings.
The fully-furnished apartments range from cozy studios to spacious three-bedroom residences all with a contemporary twist featuring traditional Islamic architectural elements, such as domes and arches. Joubal residents will enjoy the exclusive clubhouse, situated in the heart of the development, which features a large community swimming pool and a range of luxurious amenities.
Just north of El Gouna lies Ancient Sands, the new luxury golf resort and lagoon project that recently launched the first build phase of luxury villas, adding to the resort's existing townhouses and apartments.
Ibis Island, set on a private island in the Ancient Sands Lagoon, has just 28 generously-sized turn-key villas, all with lagoon frontage, private swimming pools and views towards Mangroovy Beach and the Red Sea's sparkling emerald waters.
There are five choices of villa design which all follow the resort's Andalucian Arabesque architecture, blending traditional Arabic architectural features with contemporary chic design. Homeowners on Ibis Island will relish the exclusive island atmosphere while also enjoying access to the resort's five-star hotel, 18-hole championship golf course, commercial center and spa.
Prospective buyers can own a home in Joubal from £98,695, while apartments in Ancient Sands start from £120,000 ($187,000) and Ibis Island villas start from £730,000 (USD 1.14 million).
With more than 20 years experience, Orascom is a leading global developer of fully integrated towns, offering hotels, private villas and apartments, leisure facilities such as golf courses and marinas along with all related facilities and supporting infrastructure. The Group operates projects at different stages of completion in Egypt, Jordan, United Arab Emirates, Oman, Switzerland, Morocco, United Kingdom, Montenegro and Romania. Currently, the Group manages four destinations: El Gouna, the flagship project on the Red Sea Coast in Egypt, Taba Heights on the Sinai Peninsula in Egypt, The Cove in Ras Al Khaimah in the U.A.E. and Haram City, the affordable housing town in the outskirts of Cairo in Egypt.
Starting out as a simple real estate project more than 20 years ago, El Gouna is now OD\'s flagship resort. El Gouna is built on 10km of secluded coastline, has 25,000 residents spread across islands and lagoons and is the only mature fully fledged town on the Red Sea Riviera. The year-round sunshine destination boasts world-class amenities including 16 hotels, 100 bars and restaurants, marinas, an 18-hole golf course and a variety of retail spa and fitness facilities. El Gouna also houses award winning architecture and the first hotels in Egypt to be awarded the Green Star Hotel Certification.