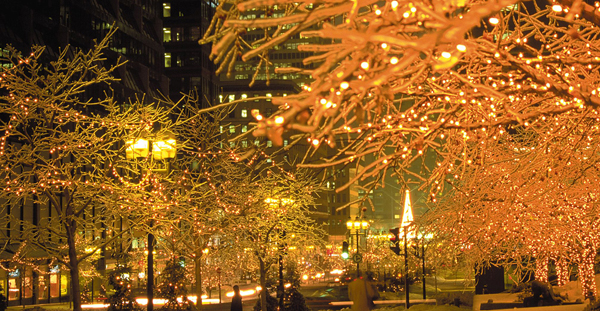 Want a Special Place to Spend Christmas; Try Montreal
Christmas in Montreal is special.
This is the capital of French-speaking North America, a city of 3,000,000 where the French language, customs, and cuisine still thrive - in harmony with new customs and cuisine established during 400 years of residence in the New World.
Generally with a blanket of snow by Christmas, the city sparkles with a special joie de vive this time of year, with the sight of beautiful lights everywhere you look, the smells of French-Canadian food drifting down every ancient alley, and the sounds of holiday cheer.
This is a city with a heart. Here, buildings are not permitted to exceed the 730-foot height of Mount Royal, for which the city is named. Here, bicyclists have priority; you can rent a bicycle, or drop it off, at any of dozens of city-owned bike stands. Here, you can still see cobblestone alleys and plazas, and window-boxes with fresh flowers, in the ancient quarter on the St. Lawrence Seaway known as Old Montreal.
Montreal is renowned as a world gastronomic capital, and this island city has some 6,000 restaurants. For classic Continental, there's Toqué! or Europea. For those who favor trendy new spots, Le Filet or Les 400 Coups. And for those who prefer local ethnic favorites, there's Schwartz's (known for smoked meats). Montrealers love their smoked meats; and they love, too, maple syrup, used for treats such as maple taffy, maple butter, mousse, sorbet, or sugar pie. Then there's the ubiquitous treat called "poutine." Poutine is a comfort food native to Quebec Province, comprised of fries smothered in hot gravy and topped with melting cheese curds, which can be adorned with everything from sausage or mushrooms to sautéed onions or foie gras.
At Chrismastime, the baroque Bonsecours Market, on the waterfront in Old Montreal, is filled with hundreds of shops offering gifts and crafts to celebrate the season. The cozy cafes in Place Jacques Cartier are bathed in festive lights and warm ambience. And the city's alive with special events.
For example, until Dec. 23, you can actually travel back in time. The Sir George-Étienne Cartier National Historic Site stages Christmas in the Victorian Age - which is when the wealthy Cartier family lived in this house. The house is decorated in the furnishings of that era...and so is the staff, which brings to life many of the holiday traditions of those days. .
If it's December (and early-January) in Montreal, it's time for the Old Montréal Extravaganza, a celebration incorporating some twenty sites (indoors and outdoors), in the Colonial quarter of Old Montreal. There are Open Air Christmas Carols on Place Jacques-Cartier, skating on the ice rink, wonderful Quebecois foods for sale (and tasting) at the old Marché Bonsecours, and exhibits in museums all over the area. On January 31, you can trip the light fandango at the New Year's Eve Grand Bal and fireworks.
The holiday spirit's alive and well, too, at the Ecomuseum Zoo, a great place to get up-close-and-personal with the 115 species of animals native to Québec's St. Lawrence Valley. You'll be able to make toys for the animals, and get acquainted with one of Santa's reindeer.
There's nothing like a crisp winter walk among the trees to put you in the holiday spirit. But why freeze while you're doing it? At the Montreal Museum of Fine Arts, you can do it indoors. In the Michael and Renata Horstein Pavilion, you can take this walk in the lobby and Hall of Mirrors, past some 35 beautifully-decorated trees, while listening to holiday music performed by local choirs.
At the Montréal Botanical Garden, an exhibit called "Winter Creations" invites you to wander among whimsical artworks crafted from recycled materials. And you'll have the opportunity to whip up some whimsical creations of your own at the craft workshops.
And all this is just the tip of the iceberg.
Montreal glows with a warm, welcoming, festive aura at Christmastime. It's the Holiday Season in "New France."