---

Benchmark Hospitality Adds Villas of Grand Cypress Resort to Management Portfolio
(THE WOODLANDS, TEXAS) -- Benchmark Hospitality International recently added The Villas of Grand Cypress Resort to its portfolio of distinctive resorts, conference centers and hotels. The announcement was made earlier this month by Greg Champion, chief operating officer of Benchmark Hospitality, and Michael Iwuc, senior vice president of Grand Cypress Florida, LP.
"We are delighted to welcome The Villas of Grand Cypress to the Benchmark Hospitality family," Champion said, referring to the top-rated Orlando golf resort. "This widely-acclaimed resort is renowned for its exceptional accommodations, recreational amenities and service, and is a welcome addition to Benchmark's growing portfolio of award-winning golf resorts."
Iwuc expressed equal delight with the transition.
"Grand Cypress has built an excellent reputation for providing world-class service, accommodations and golf to our guests," Iwuc said. "With their expertise in the meetings, travel, and golf industries, Benchmark Hospitality International complements all of our successes and is the perfect choice to take The Villas of Grand Cypress to the next level."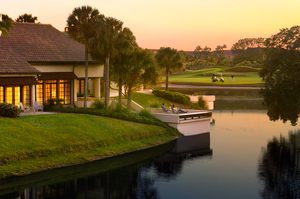 The Villas of Grand Cypress is a Four-Diamond property located in the Lake Buena Vista area of Orlando, adjacent to Walt Disney World and just minutes from Universal Studios and Sea World. The resort is a member of Preferred Hotels & Resorts, a global brand with 185 of the finest independently owned luxury hotels and resorts. The 1,500-acre resort complex features 146 elegantly-appointed accommodations comprised of Club Suites and one-, two-, three- and four-bedroom villas with full kitchens, living rooms and dining rooms. The resort also offers guests a variety of dining alternatives.
The award-winning Executive Meeting Center at The Villas of Grand Cypress provides 7,200 square feet of distinctive conference and event function space, as well as meeting support services. This space increases to 10,400 square feet in season, which includes an air-conditioned pavilion.
Widely-acclaimed as offering one of the nation's most inspired golf experiences, the resort's Grand Cypress Golf Club features 45 holes of Jack Nicklaus Signature Golf with varying degrees of play difficulty. The 27-hole North, South and East Courses are designed to challenge the most skilled golfer and provide three unique golf experience.
The Grand Cypress Golf Club's New Course provides another dimension of play at the resort with steeper and more challenging bunkers and slopes. Set in the midst of an open meadow, the New Course is Nicklaus' homage to the famed Old Course at St. Andrews in Scotland. The links masterpiece was designed with double greens, stone bridges and walls, gorse mounds, burns, and pot bunkers as deep as 12 feet, all reminiscent of the Scottish original.
The resort's Grand Cypress Academy of Golf is rated one of the Top 25 Golf Schools in America by GOLF Magazine. Additionally, The Grand Cypress Racquet Club features 12 Har-Tru and Deco Turf II courts for both casual and championship play.
Benchmark Hospitality International is a leader in the management and marketing of resorts, conference centers, hotels, and Personal Luxury Hotels™. The privately held company, launched in 1980, is a founding member of the International Association of Conference Centers.
---
IMI Signs Agreement to Manage Innsbrook Golf and Marina Community
(GREENVILLE, SC) -- Luxury real estate specialist IMI announced Nov. 19 it inked a multi-year agreement with Rial Corporation of North Carolina to manage the Innsbrook Golf and Marina community located on the Albemarle Sound in northeastern North Carolina. In taking over the management role at Innsbrook, IMI will have responsibility for the full spectrum of services that include the community's planning and development work, real estate marketing and sales and amenity operations.
The private, master-planned golf and boating community of Innsbrook is located in Merry Hill, N.C., approximately 20 minutes from the historic towns of Windsor and Edenton. Innsbrook is just a two-hour drive east of Raleigh and just over an hour from the Outer Banks and Tidewater, Va. Situated on a 1,000-acre parcel with over three miles of waterfront on the Albemarle Sound, the master plan for Innsbrook features a collection of top-tier amenities. Among the completed, proposed and planned amenities:
A completed Arnold Palmer Signature Design 18-hole championship golf course with five holes bordering the Albemarle Sound and two holes backing up along Salmon Creek
A proposed 107-slip boat basin and marina with fuel dock (permitting in process)
A planned family club retreat that includes swimming pool and bathhouse, pavilion club grill, and event and sports lawn (construction planned to commence January 2010)
A planned golf clubhouse featuring the full complement of clubhouse amenities that include lounges and locker rooms, golf pro shop, fitness center, dining and other gathering spots
A planned Kid's Adventure Camp with playgrounds
A planned Outdoor Pursuits Program designed for members to take advantage of the abundance of outdoor recreational and educational opportunities in the surrounding area.
"Following five years of planning and development work and a capital investment that exceeds $50 million, Innsbrook is now ready for introduction to the market at a time when buyers are looking for communities that are more than just a vision," said Wilifried Niederkofler, senior vice president of Rial Corporation. "Given the current economic environment, we felt strongly that having a company with IMI's reputation and credentials was critical in helping us meet our development, sales and operational goals for Innsbrook."
IMI has specialized in the sales and marketing of resort real estate in North America and the Caribbean since 1990. Working with premier developers in some of the most sought after destinations, IMI has generated over $7 billion in property sales representing a wide array of realty products. In addition to success at managing their client's real estate marketing and sales efforts, the partners at IMI have considerable experience in the planning, development and operations of realty products, infrastructure and amenities. In assuming these responsibilities for Innsbrook, IMI intends to assemble a team of senior managers and directors to work full time on the project. Additionally, IMI will rely on its strong network of industry experts and professionals as well as strategic allies to assist its senior management team. The first full-time positions at Innsbrook are in the process of a national search. Intentions are to fill the highest priority positions immediately.
"Innsbrook represents perhaps the most exciting opportunity in the 20-year history of our company," said Mike Collins, chief executive officer and co-founder of IMI. "With its major recreational amenities either complete or underway, a location that's easily accessible to major urban markets on the eastern seaboard and very little debt, we feel that Innsbrook is uniquely situated for success even within this challenging time in our industry."
According to Dan Collins, IMI co-founder and partner in charge of marketing operations, IMI will use the first 30 to 45 days of their involvement with Innsbrook to conduct a thorough review of Innsbrook's position in the marketplace and consider how to develop a unique brand identity, including "re-naming the community to reflect the property's rich history and spectacular waterfront setting."
---

Robert Trent Jones II President/Chief Design Officer Bruce Charlton Talks Growth Markets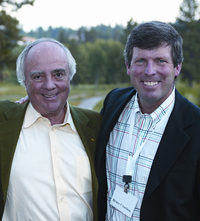 (PALO ALTO, CA) -- Bruce Charlton is the man behind the curtain at Robert Trent Jones II, one of the premier golf course design firms in the world. Charlton also was a key member of the RTJ II design team at Chambers Bay Golf Course, outside Seattle, which has been chosen to host the 2010 U.S. Amateur and 2015 U.S. Open. Charlton recently sat down to talk about the golf course development industry.
When asked to describe the current state of the business in the U.S. and worldwide, Charlton, president of the American Society of Golf Course Architects, said there's a difference between the U.S. and rest of the world.
"In the U.S. there are projects to be had out there with people who have the wherewithal and the cash," Charlton added. "There's a movement within the industry for people to say, 'Hey, this is a great time to build because you'll never get a project done more inexpensively.' And these people will have product ready to go when the economy changes. Enthusiastic people are getting projects ready and even under construction during these down times because they recognize the advantages of building now and getting ahead of the rest of the market.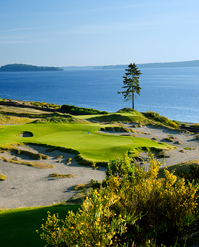 As for the "current action," Charlton said his design firm has several Native American projects of note in the U.S., including Sequoyah National that recently opened in North Carolina and another near Niagara Falls. The RTJ II firm also is busy working on The Patriot Course in Tulsa and finished several renovations at Makena and Princeville in Hawaii, and at Mission Viejo, known as "Mission Impossible," in California.
"Internationally, I think there is more reliance upon typical financing models and going to a bank for a construction loan," Charlton pointed out. "But international banks aren't releasing money very easily. We have seen a lot of projects fold their hands and say, "We're going to wait," on even those projects already approved. Some international courses with financing components are having big problems because people will put an initial deposit down on a lot, but the banks won't give them the money to finance the rest of the deal. International banking markets are in disarray and causing projects to be delayed. But we'll see how things go in a few months."
Still, Charlton noted there's action in India and South America, and he believes Central and South America are "currently untapped markets."
"There was a lot of action in the Middle East, but that goes up and down with oil prices," Charlton said. "Our firm continues to be very active in Scandinavia, with a second course at Bro Hoff, in Sweden, GB4 near Copenhagen, and we recently announced another project with Poul Anker Lubker in Denmark. We're also under construction in Portugal, Italy, Greece, Poland, South Korea and Vanuatu. Money and projects are out there -- you just have to be courageous, utilize your networks, and be more creative to find them."
---
Sign Up Free | The WPJ Weekly Newsletter
Relevant real estate news.
Actionable market intelligence.
Right to your inbox every week.
---
Real Estate Listings Showcase