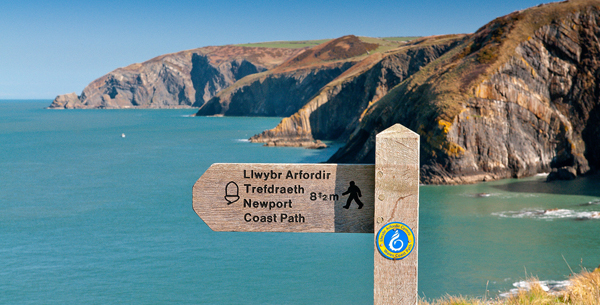 Walking in Wales
Wales is a small country with a big mystique.
Clouds roll over a countryside of verdant meadows; mountains; and picturesque villages from another time, dappling it all in gray shadows one minute and bright sunshine the next. Foreboding fortresses from the Middle Ages stand watch from the heights, as they did a thousand years ago. And cliffs laden with fields of heather plunge down sharply to isolated white beaches.
All of which makes Wales a walker's paradise. The Wales Coast Path, just opened in May, winds for 870 miles along the borders. Combined with the Offa's Dyke Path National Trail, it creates a loop of 1,030 miles of countryside, and a continuous walking route around the entire country.
Certain sections of the Coast Path are open to bikers, and there are also spots for horseback riders. Along the way, you'll come to two National Parks, 11 National Nature Reserves, 14 Heritage Coasts, 23 sites on Britain's Register of Historic Landscapes, 42 beaches - and scenes of astounding natural beauty. The Coast Path is a way to see the real Wales, and to get lost in the villages and meadows that you'd fly by when travelling by car, bus or train.
The Path will take you through Wales' varied regions and ecosystems. On the North Wales Coast & Dee Estuary area, you'll find beaches and friendly villages. On the Isle of Anglesey, you'll find a rich history and stunning landscapes. In the region of Menai, Llyˆn & Meirionnydd, you'll pass through Wales' most magnificent natural setting, in Snowdonia National Park.
You'll see of variety of wildlife you've probably never seen before. You'll come upon mudflats that are feeding grounds for wildfowl and waders, including oystercatcher, knot and dunlin, Striking carboniferous limestone formations cliff carved by the Ice Age. Coastal dune systems. And dolphins, porpoise, seals, and a host of marine birds.
You can't walk very far without bumping into something of historical significance. In the North Wales Coast & Dee Estuary area, you'll come upon the walled town of Conwy, with 22 Medieval towers. Constructed by the English monarch Edward I between 1283 and 1289, the castle here is a World Heritage Site, and considered the most magnificent of Edward I's Welsh fortresses. In the village of Rhos-on-Sea, you'll walk into St. Trillo's, Britain's smallest church - unless there are already six people in it, in which case you'll have to wait for one of them to leave. The chapel was built in the 6th-Century, on the site of a pre-Christian holy well. .
You can also take in parts of the Wales Coast Path on horseback. The Gwynedd region offers beach rides against the stunning backdrop of Snowdonia National Park. And in the Pembrokeshire area, you can visit Britain's smallest city, St. Davids (pop. 1600), and ride out into the surrounding countryside on a magnificent Gypsy Vanner, a horse with a body like a Clydesdale and a coat of fur of which a sheep would be proud.
The Welsh themselves are inveterate walkers. And they celebrate the walking culture with no less than a dozen major walking festivals throughout the year.
You'll also be exposed to one of the world's most colorful languages, as the country is festooned with arrow-shaped road signs with village names that generally have ten or more letters, a boatload of l's, r's, d's, and th's, and a beautiful, lilting rhythm.
If you're lucky, along the way you'll hear one of those Welsh tenors belting out a song from a neighborhood pub.
By all means, stop and go in. You'll be welcomed like an old friend. And you'll get a genuine "Diolch!" - Thanks for stopping in!