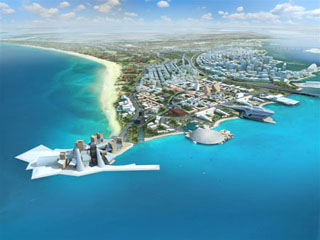 Abu Dhabi Primed to Take Off with Louvre, Guggenheim in Tow
Now it's time for Abu Dhabi, Dubai's huge oil-rich neighbor to the south, to burst onto the world scene. And make no mistake that Abu Dhabi's emergence will be every bit as big, elegant and high-profile as its fellow emirate.
In fact, with 87 percent of the UAE's land mass (32,000 square miles) and 90 percent of the federation's oil and natural gas resources, Abu Dhabi is positioned to consume this part of the world in unprecedented fashion.
Case in point is the recent announcement that the Tourism Development & Investment Company (TDIC), the development arm of the Abu Dhabi Tourism Authority, has lined up the renowned Louvre and Guggenheim Museums to anchor Saadiyat Island Cultural District. The Jean Nouvel-designed Louvre Abu Dhabi, and the Frank Gehry-designed Guggenheim Abu Dhabi Museum are just two of the high-profile developments being built on the 10.4 square-mile natural island that lies less than 1/3 of a mile off the Abu Dhabi mainland.
Other featured projects on Saadiyat Island, projected to be the Arabian Gulf's largest single mixed-use real estate development: the Sheikh Zayed National Museum, a Lord Norman Foster-designed tribute to the late president and founding father of the seven-state United Arab Emirates; Saadiyat Beach Golf Course, which features the UAE's only Gary Player-designed course set to open next March and a soon-to-be named second layout; and the Arabian Gulf's first St. Regis Resort, a $600-million, 380-room resort with 292 additional St. Regis residences scheduled to open May 2010.
In all, Saadiyat Island, located 15 minutes from the Abu Dhabi International Airport, will comprise 150,000 residents and 9,000 rooms in 29 mostly 5-star hotels when the project is completed around 2018. In one of its first U.S. interviews, TDIC marketing and public relations director Alan Gordon told the
Real Estate Channel
that Saadiyat Island's mix of palace homes, smaller single-family homes, and townhomes start at around $1.5 million.
"Our goal and objective is we are a master developer who is charged with creating major destinations in Abu Dhabi only - to support the tourism growth with a strong focus on culture, leisure and the environment," added Gordon, whose emirate is more than four times the size of Dubai in gross domestic product at approximately $163 billion. "Saadiyat Island is thought thru holistically so it comes together as a complete destination. It's very much tied to who Abu Dhabi is. That is a strong point about Abu Dhabi and its identity.
"We're looking back to look forward; Respectful of the past from a cultural perspective. Not so much heritage, but more from a cultural perspective. That then, allows an identity to move forward."
In some respect, while Dubai is the glitzy Las Vegas of the Eastern Hemisphere, Abu Dhabi is becoming the cultured New York City.
The world is taking notice with the
Wall Street Journal
recently naming Saadiyat Island one of the top 10 future destinations in the world.
"Where else can you walk from the Louvre to a Guggenheim to the Sheik Zayed Museum, go and play golf on a Gary Player ocean-facing golf course, then go and stay a night in the St. Regis that sits here overlooking the ocean," says Gordon, whose TDIC has some 100 real estate projects in the works. "Saadiyat island will be home to an incredible array of offerings that will create this cultural center if you like - one that will support the cultural exchange of culture and the mutual understanding of culture both ways. This is very much a case of the cultures being shared. Sort of a gateway if you like for cultures."
In some respect, Abu Dhabi's signature Saadiyat Island is also the gateway to a whole new Arab World, one that has all the makings of even more marvelous Arab destination than Dubai.