---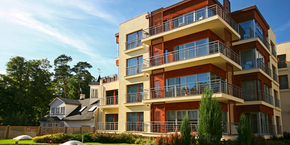 The apartment market in the US has been doing quite well over the past year, with the national vacancy rate the lowest in a decade, according to a second quarter 2012 report by Marcus & Millichap, The Apartment Outlook. Meanwhile, rent growth and inflation continued to outpace consumers' income growth.
Current apartment occupancy levels are running about 95%, on average nationwide, says John Sebree, vice president and national director of the national multi-housing group at Marcus & Millichap in Chicago. This encourages development, he says.
The availability of capital and low interest rates have also made it easier to build apartments, says Sebree. Apartment development is dominated by the large developers, especially REITs, which have cash to put into deals, he says.
Avalon Bay, which focuses on coastal, high-barrier-to-entry markets, reportedly is in the process of developing $1.6 billion worth of apartments and Camden Properties, another REIT, is developing $550 million worth of apartments in high-growth, affordable markets like Dallas-Ft. Worth and Atlanta. Dallas, Houston, Austin, New York, Washington, D.C., Seattle and San Jose will get the bulk of the new supply in 2012, but it is only San Jose, New York and Washington, D.C. that may end up with a higher than long-term average number of units. Still, these markets are expected to absorb the new supply quickly, according to Marcus & Millichap.  
In 2011, the number of apartment units completed was a record low of less than 40,000, according to Marcus & Millichap. In 2012, 85,000 units are scheduled to be completed, but less than 15% were finished in the first quarter. Delays, due to issues with construction loans, among other things, could affect the final tally of finished units.
In 2013, about 150,000 units may be delivered, says Sebree.  But even with that number, demand is expected to outpace supply. Most of the units planned are in larger projects, properties with 10 units or more, says Sebree.
"We have been in an economic slowdown and even as the economy does better, we still have a sizeable unemployment rate," says Sebree. "But as people become employed again, the demand for apartments will increase. Also, the Echo Boomer population, which accounts for 2.4 million residents between the ages of 20 and 34, will come into the market over the next five years, so the expectation is that the market will remain healthy for the next several years.
Rents have increased recently, but as developers bring more units to the market, this growth may not continue, at least not in all markets, says Sebree. "The effective rent growth in 2012 is a little above 4.5%, the average across the country, but it is impractical to assume that nationally, there will be high rent growth every year," he says. 
The markets with the highest, year-over-year effective rent growth in 2012 will be in places where the economy is doing the best, like San Francisco, where rents will rise an average of 7.3%; in the New York metro area, the average increase will be 6.3%, and Austin, Texas will see a 5.5% average increase, says Sebree.  
Average rental rates for 2012, taking into consideration A, B and C quality product with one, two or three bedrooms, vary greatly, but in New York City, the average is $2,975 per month and in San Francisco, the average is $1,928 a month; in Houston the average is $745 per month, and in the Chicago Metro area, the average rent, in 2012, is $1027 per month. 
Sign Up Free | The WPJ Weekly Newsletter
Relevant real estate news.
Actionable market intelligence.
Right to your inbox every week.
---
Real Estate Listings Showcase