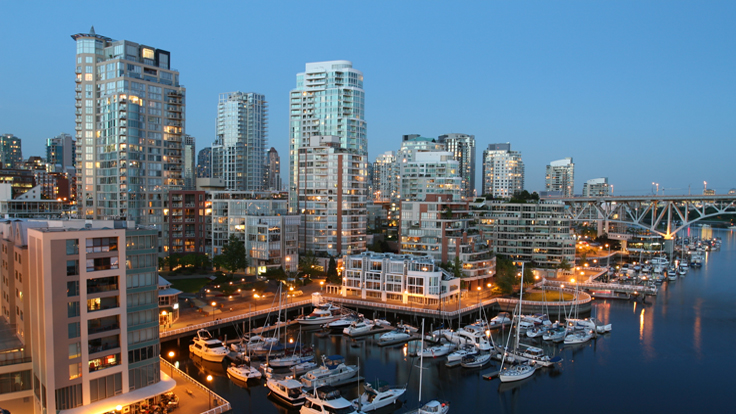 Vancouver Home Sales Soar
The number of home sales in Greater Vancouver increased by 52.5 percent in August compared to last year as rising mortgage costs helped push potential buyers off the fence.
A total of 2,514 homes were sold in August, up from 1,649 last year, according to latest data from the Real Estate Board of Greater Vancouver. Although the number is 14.7 percent lower than the previous month, it is just 4.6 percent under the 10-year sales average for August.
"We've seen a healthy amount of demand in the marketplace this summer compared to the number of homes listed for sale," Sandra Wyant, REBGV president said. "The market today is much stronger than we saw last year and is consistent with our long-term averages for this time of year."
The
national home sales
numbers for August have not been published yet, but sales will probably be consistent with the high marks seen in July. In Toronto, home sales increased 21 percent in August compared to last year, according to latest data from the Toronto Real Estate Board.
There were 7,569 home sales in August, compared to 6,249 last year, with strong sales reported for all major home types in Toronto.
"Many households have accounted for the added costs brought on by stricter mortgage lending guidelines and have reactivated their search for a home," Toronto Real Estate Board president Dianne Usher said in the release. "These households have found that a diversity of affordable ownership options exist throughout the GTA (Greater Toronto Area)."
The average home price in Toronto reached $503,094, increasing 5.5 percent from last year.
In Vancouver, the home price index sits at $601,500, representing a 1.3 percent drop from last year, REBGV reports. The number represents a 2.3 percent increase from the beginning of the year, providing further proof that
the market
is unlikely to experience sharp price drops, analysts say.
"People entering the market should not confuse stronger sales activity with rising prices," Ms. Wyant said. "Home prices have been quite stable and consistent for much of this year."
The sales-to-active-listings ratio is 15.7 percent in Greater Vancouver, a number consistent with a balanced market, REBGV reports.