---
According to a new luxury residential property report from CBRE that compares world's key global cities favored by high net worth individuals called
Global Living Survey: Global Cities Compared
-- the rising surge of urban living is leading to heightened demand of prime residential properties in key global cities.
The report reveals that London leads the way in average prime residential new-build prices, which has now reached $3,380 per sq. ft., closely followed by Hong Kong and New York where the average prices are $3,290 and $3,040, respectively.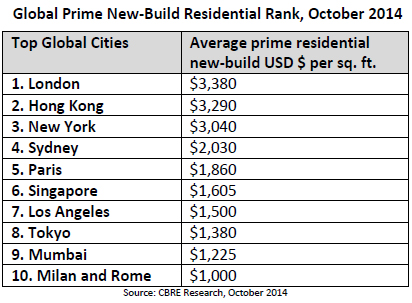 Depending on respective market trends, Hong Kong and London regularly oscillate between first and second place in the residential rankings. However, following the introduction of sales taxes in Hong Kong, transactions fell to a 17 year low last year, and as a result, prime property prices fell by 5-10% over the year.
See related story: London Enjoys Record-Setting $237 Million Penthouse Sale
In spite of this, there are signs that the Hong Kong market could be picking up. Marcos Chan, Head of Research for CBRE Hong Kong, Macau and Taiwan says that there have been price rises in the mainstream markets, reflecting strong pent-up demand buoyed by speculation of further easing from the government--including favorable stamp duty tax for first time buyers and low lending rates. "Improved sentiment related to recent capital market activity has also boosted the market," said Mr. Chan.
"The residential sector in Hong Kong remains very much under the influence of market cooling measures. This has stripped out many would-be speculative buyers, and also acted as a mild deterrent for overseas buyers, thus the mass market is now mostly led by local buyers who are upgrading," Mr. Chan adds.
With the surge in urban living and the subsequent massive upswing in population--Beijing and Kuala Lumpur's population grew by 18% and 25%, respectively--this has led to heightened demand for property. While Tokyo and Beijing managed to build an adequate level of housing, construction rates often fail to match these booms in population growth.
Elsewhere, in Bangkok, the overall condominium market was affected by the political unrest since December 2013, and with the completion of more than 100,000 condominium units in 2014 and 2015, this is a crucial test for the midtown and suburban market at a time of reduced demand.
In Vietnam, estimates suggest that around 300,000 people are looking to buy property in Ho Chi Minh City, however, supply remains focused at the high-end of the market and demand in the mass market outstrips supply. In contrast there are approximately 17,000 unsold condominiums.
Meanwhile, domestic demand is being driven by huge population growth in Sydney--the population is expected to continue to grow at 1.7% per year up to 2029, or 25% in total over this period. At 0.2% per year above previous historic levels, this puts further pressure on housing. Although there are over 26,600 apartments currently under construction across the city, this is set against a considerable back-log--the city is notably restricted by land availability through geographical limitations, zoning, planning restrictions and suitable infrastructure.
In Hong Kong, the housing demand is particularly low, with one house built per four new residents in a population of 7.2 million.
The Imbalance of Supply and Demand in Hong Kong
Private housing supply in Hong Kong for 2014 is projected to increase by around 17% year-on-year, which equates to an additional 2,270 units, compared with 2013 estimates. This would bring the total housing supply for the year to 15,820; however, this figure is still well below the government's target of 20,000 new units per year.
Even though this additional supply may have limited impact on the overall mass market prices this year, its geographic concentration is likely to have a noticeable impact at a sub-market level, with a focus on the New Territories--in particular Yuen Long, Tsuen Wan and Sha Tin--which combined will assume 40% of all new supply. Slight price movements could be reflected in these specific areas.
Whilst various stamp duty measures introduced last year were aimed to dissuade overseas buyers from the market, there is still continual interest in Hong Kong from the global elite. Jennet Siebrits, Head of Residential Research at CBRE says, "UK buyers are increasingly active in overseas markets. Those most popular locations with wealthy ex-pats include Hong Kong and Dubai."
Looking forward, CBRE expects the divergence between different segments of the Hong Kong market to continue, both in terms of sentiment and underlying dynamics. The luxury end of the market is likely to be relatively resilient, given the limitations on existing stock and future supply, whilst in the primary market, activity levels is anticipated to increase, reflecting a pick-up in supply, as well as the fact developers are still offering discounts.
Sign Up Free | The WPJ Weekly Newsletter
Relevant real estate news.
Actionable market intelligence.
Right to your inbox every week.
---
Real Estate Listings Showcase