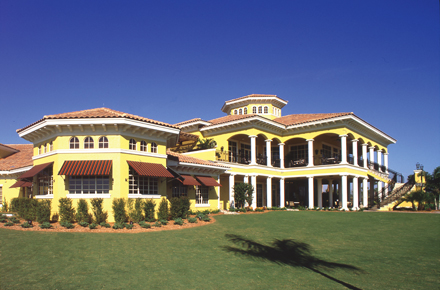 Canadian Buyers Flocking to Florida and other Sun Belt Real Estate Markets
Now, with Canada's national currency running at near-record levels against the U.S. dollar, Canada's oil and natural gas industries booming and America's real estate prices on the decline, many experts are calling for even more Canadians to head south and invest their newfound wealth in Sun Belt real estate communities.
In other words, while the current state of the U.S. real estate market might be a crisis for many, it's a great opportunity for others - particularly Canadians.
That's precisely how David Mazurkewich feels about the increasingly attractive Sun Belt lifestyle to his south. Mazurkewich, an avid golfer from Canada's western province of Alberta, already owns a 2,400-square-foot home at the Lake Las Vegas resort-style community in Henderson, Nev.
The home, located on the 11th hole of the renowned Reflection Bay resort course, was purchased in June 2007 for $749,000. A similar house back in Alberta, if one could even match the luxurious mixed-use nature of Lake Las Vegas' golf, casino, shops, and Ritz-Carlton-anchored resort features, would probably cost $1.5 million to $1.75 million, according to Mazurkewich.
That's why Mazurkewich wants another piece of America's Sun Belt -- soon, while the picking is ripe.
"I'm looking to buy more property," says Mazurkewich, who mainly lives in Grande Prairie, a mid-sized city located about 288 miles northwest of Edmonton. "You can't afford to buy it in Canada right now so I'm going to head South and buy some more."
To many in the real estate business, this attitude is not a passing fancy. For instance, several communities in Southwest Florida are experiencing a wave of interest from Canadians. One is the Club at Renaissance, an upscale private golf and country club community in Fort Myers. According to director of sales Trisha Kent, many Canadians already own homes in the low-density development and the numbers continue to grow.
"Canada is a very strong market," says Kent, whose community has 394 residential units planned for 500-plus acres. "Through the first five months this year, nearly 50 percent of our sales (7 of 17) were to Canadians."
Kent says her developer, The Worthington Group, hasn't done any special marketing or advertising focused on Canadians other than staying keenly aware of their existing members and residents.
"We're just focusing on some of the key members in our community," adds Kent, whose luxury coach homes start in the $300s and homesites range between the high $200s to low-to-mid $600s. "Our resident referrals and the backing of our Canadians already here has been tremendous. They love it here and love sharing it with people as much as we love selling it."
According to a recent survey conducted by the Florida Association of Realtors on international buyers, Canadians made up the largest market by far for the yearly period ending August 2008. For instance, Canadian buyers represented 27 percent of total home sales in Florida, up significantly from only 7 percent in 2005.
More than one-third of these sales were for homes priced at $200,000 or less, and 78 percent of buyers purchased real estate for personal vacation use, with nearly half of the homes located in resort areas.
Magnolia Private Residence Club, a fractional ownership project in Seacrest Beach, Fla., between Destin and Panama City, is precisely positioned for the incoming wave of Canadian buyers, according to developer Alan O'Neal.
"Fractional ownership appeals to Canadian residents because insurance, maintenance and taxes are shared amongst multiple owners," adds, O'Neal, whose units start at $159,000 for one-eighth shares. "This alleviates the expenses second home owners typically incur even though their residences are unoccupied during much of the year. Families may use their residences as often they wish, subject only to a reservation process, and they avoid the burdens often associated with whole ownership vacation homes."
In many ways, Mazurkewich is the model for Canada's latest growth export to the States. At 39, he is active and young; as an operations consultant to six oil and gas companies, he is flush with disposable income, and, like many North Americans, he appreciates the relative year-round warmth of the Sun Belt.
"Everybody likes heading south," adds Mazurkewich, who has relatives that live in Palm Springs. "It's so attractive now financially, it makes so much sense. So it's enticing even more people. I have a neighbor looking in Florida. And I'm looking at another home in Nevada. I'm also looking at Palm Springs and the Phoenix/Scottsdale area."
Besides the strength of Canada's Loonie, which matched the U.S. dollar last September for the first time since 1976, another thing fueling the newfound Canadian pipeline is ease of air travel. For instance, Canada's low-cost carrier WestJet now offers daily non-stop flights to Palm Springs, Phoenix/Scottsdale and Las Vegas.
Meanwhile, during the peak winter seasons, Toronto is offering 19 direct flights to Southwest Florida International Airport, making the Fort Myers-Naples area more accessible to Canadians than ever before. Thus, the convenience of hopping on a plane and leaving behind inclement weather for a spur-of-the-moment getaway to one's Phoenix or Fort Myers vacation home has become even more attractive.
"In December and January when it's miserable here (in Alberta), I can hop on a plane and within three hours be in the States golfing," Mazurkewich notes. "The parents of one of my neighbors in Alberta bought a place in Scottsdale and they just love the lifestyle. They especially like all the great golf they can play for $25-$30. Ironically, they do more golf in the fall and winter in Scottsdale than they do in the summer in Canada."
"It's funny because my relatives used to come up here and play all this first-class golf for $65 Canadian and it would only cost them say $40 U.S. They would say things like, 'Wow, isn't this great to be American.' Now guess what? The favor is returned."