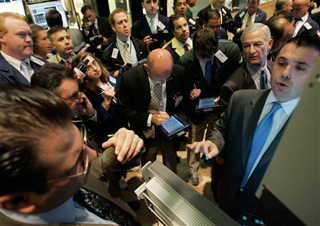 Ex-Federal Reserve Chief Paul Volcker Cautions About Unbridled Debt
Speaking before a packed conference hall that featured more than 1,000 real estate developers, builders, lenders, architects, planners, engineers and other experts, Volcker said the U.S. economy will eventually rebound but it will "take a few years to unravel this crisis and 2009 will be a bumpy year."
Volcker, who was the Fed chairman under presidents Jimmy Carter and Ronald Reagan from 1979-1987, did offer a glimpse of optimism by saying, "when we rebound, we will be set up for a 15 to 20-year era of economic expansion."
If attendees were looking for clues on how to climb out of the collapse of the global real estate market, what they got instead from Volcker was a good-old fashion lecture. His basic message: Americans need to get out-of-control consumption "in line with our capacity to produce," save more and have more confidence that the government is doing the right thing.
Volcker, now a high-level consultant supporting presidential candidate Barack Obama, went on to say America has become a nation "built on credit and a country that consumes far more than it can afford."
"Our ability to sustain unbridled consumption" he added, "could only been maintained as long as we had access to cheap and easy credit. Those days must end, evident by a chart Volcker presented that showed U.S. consumption has shot up from about 63-64 percent of gross domestic product in the 1960s to 72 percent of GDP in 2007. Meanwhile, U.S. savings have dropped during that same period from a high of 8-10 percent to zero today.
That, in turn, has led to total debt in the economy jumping from less than 50 percent of GDP in the 1960s to 110 percent today, according to the presentation.
According to Volcker, the country's current state of economic affairs is now far more a "crisis in confidence" in both the financial markets and our government doing the "right thing to fix it." He said "less than 20 percent of Americans today believe and trust their government to do the right thing most of the time."
Volcker added that many Americans contributed to the historic economic downturn, not just Wall Street, saying this financial crisis is a direct byproduct of unbridled consumer spending using unbridled credit and Wall Street's "financial engineers" creating and peddling new and very sophisticated financial instruments and products that almost nobody can understand.
On that note, relaying a story that several major universities are retiring esteemed engineering department heads, it's time for America to focus on graduating more "structural engineers" to help solve the country's growing and aging infrastructure problems and less "financial engineers" to send to Wall Street and concoct the next generation of financial products.
Other keynote speakers at this year's ULI conference were Vicente Fox, the former President of Mexico and James Rubin, former assistant Secretary of State under President Bill Clinton. The Urban Land Institute is a non-profit educational and research organization that works to promote responsible land use and development. Based in Washington, D.C., its members include developers, financiers, architects, public officials, property managers and real estate investors.