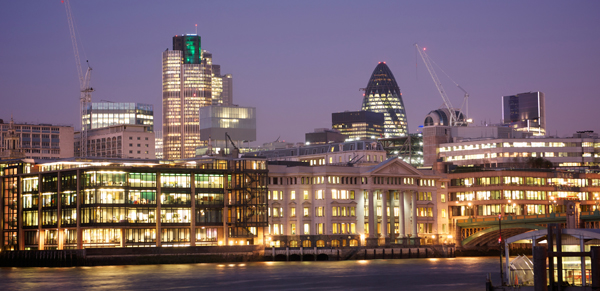 London's High-end Residential Prices Up 40% Since March 2009
London-based real estate firm Knight Frank tells
World Property Channel
that prices for prime central London residential property have risen more than 40% above the post-Lehman low reached in March 2009. This recent surge in growth means prices are now more than 7% higher than their March 2008 pre- Lehman peak.
Demand for prime London property in 2011, despite uncertainty resulting from the Eurozone debt crisis and on-going global economic uncertainty, outpaced supply and led to strong price performance.
Knight Frank's Head of Residential Research Liam Bailey reports that price growth continued through December with a 0.8% rise, taking total growth over the last 12 months to 12.1%. Price growth over the past year has been particularly healthy in the £1m to £2.5m bracket, reflecting strong demand from European and Asian investors for investment properties. Prices in this bracket rose by 14.1% in the 12 months to December.
London Prime Market Highlights for December 2011 include:
Prime London property prices rose 0.8% in December 2011, contributing to annual growth of 12.1%
Prices have risen more than 40% since their recent post-credit-crunch low in March 2009
Prices are now at a record high, 7% higher than their previous peak in March 2008
The volume of new sales instructions has fallen by 6% over the past year, while the number of new applicants is higher by 10%
The number of exchanges and the volume of sales being agreed have risen by 31% and 43% respectively over the past year
Areas that have seen particularly strong price growth over the course of the year include Chelsea (16.6%), Hyde Park (14%), Kensington (13.9%) and St John's Wood (13.3%).
Price performance is an important indicator of the health of the market, but it is also important to take note of activity levels.
Knight Frank's analysis of market activity in the three month period to December, compared to the same period in 2010, paints a positive picture of demand and sales activity, confirming that the Eurozone crisis, which appeared to reach something of a crescendo in the pre-Christmas period, had little impact on the prime London property market.
Sales volumes, represented by exchanges, were 31% higher than the previous year. The lead indicator of properties going under offer (sales subject to contract) points to an even healthier position, with a 43% improvement year-on-year.
On the demand side, new applicant registrations were higher by 10% over the year (-2% for the sub-£5m market and +67% for the £5m+ market).
Overall stock volumes were higher by 6% over the year, although this headline figure hides the fact that the sub-£5m bracket only saw a 1% rise in stock, compared to 18% for the £5m+ bracket.
Despite rising stock levels, the ratio of new applicant registrations to new instructions improved, from 3.5 in late 2010 to 4.3 last month.
As 2012 begins, Knight Frank's view is that the prime central London market will see slower but still positive price growth. Knight Frank expects to see 5% price growth in 2012.