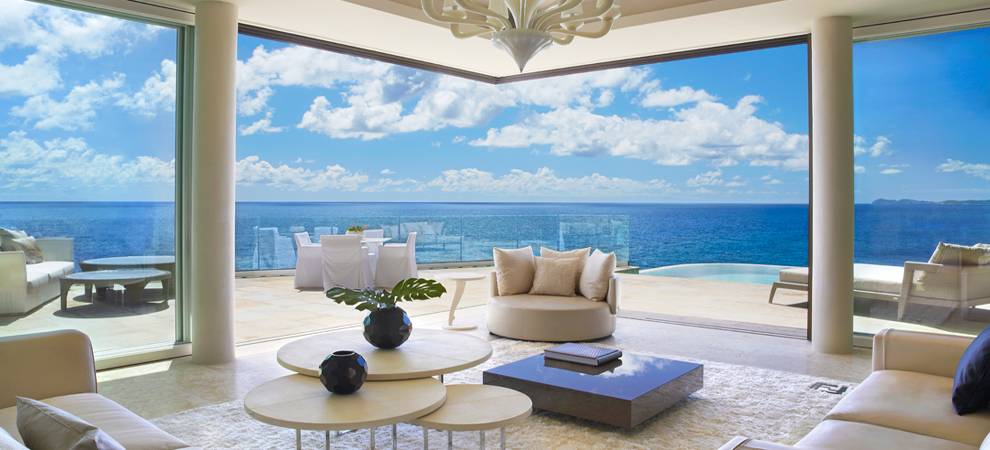 British Virgin Islands Developer David Johnson Talks Success
In a career spanning nearly 40 years, David V. Johnson has built 43 residential developments in the USA through his company Victor International. Initially he focused on mass housing developments in the Mid West and set himself an early goal to be involved in 10 per cent of all US home building. A swimming pool accident in 1978 when he was just 28 changed everything. Johnson was left paralysed after breaking his neck and told he would never walk again.
Within a year he had defied medical opinion and was back on his feet but the time spent recuperating also gave him the opportunity to re-evaluate his goals. He turned his back on mass-market projects to focus on low density, luxury projects that were environmentally sustainable.
He has won several international awards. In 2003 his project at Bay Harbor in Michigan, the largest land reclamation project in the US, won the award for excellence in design, planning and development from The Urban Land Institute and in 2009 he won the GEM Visionary Award from Global Electric Motors.
His latest project is Oil Nut Bay in the British Virgin Islands where 88 land plots are for sale from $1,990,000. Johnson and his wife Pam divide their time between their home in Michigan and Oil Nut Bay, spending over half the year in the BVIs.
How did you select the British Virgin Islands for your latest project?
After my accident I changed the type of developments I built. I didn't want to be simply the biggest builder but rather wanted to create unique family communities in harmony with nature. Having done that in the USA I looked at how I could translate that into another country with a different government.
In 2000 I built a boat, a 130-foot yacht, to tour the Caribbean and find the best place to build a warm weather resort. The essential criteria was to find somewhere with a ten-month season, a stable government, no corruption, great physical beauty and safe water for sailing and boating.
I looked at Cuba and met Fidel Castro in 2002 but he wouldn't guarantee clear title. Pam and I spent two years touring the Bahamas. They are beautiful but the shallow waters make the water temperature very warm from April onwards which influences the air temperature.
What were the main challenges to building in the BVIs?
The BVIs fulfilled all my essential criteria but there were certainly problems. The villa rental market was well established but the process of buying property was painful. It took two years to get permission to build a new property, there were poor air links and mobile telecommunications were very expensive.
When I looked at building my project here I needed the BVI government to do four things: to transfer title within 90 days, to build a new hospital, to break the monopoly on telecoms and to look at extending the existing runway to enable direct flight access from cities like Miami and New York. All of these are now done or about to be done.
How would you describe your vision for Oil Nut Bay?
Once I had chosen a destination I asked myself how many houses do I have to build to give the feel of a private island but with the advantages of a top resort. I wanted to provide the best chefs, the best facilities, the best yoga teachers, spa and water sports and at the same time, also provide value.
It seemed that the answer was between 50 and 100 homes. Oil Nut Bay has permission to build up to 400 homes on the 400-acre site but we will only allow 88 homes. Half of the land will be kept natural.
Oil Nut Bay is on the eastern tip of Virgin Gorda, the third largest BVI. It is an exceptionally blessed location with an amazing reef surrounding it. The water between the beach and the reef is only 3 foot to 3 foot 6 inches deep so very safe. It is a very special site.
What stage is Oil Nut Bay at now?
We have spent $100 million on infrastructure. All the roads are in place, we have three desalination facilities, we make our own water and electricity and completed sports facilities include tennis courts, gym, Children's Center and Nature Center which will provide community-based activities. The main restaurant with bar and beach club including three pools is fully open. By Christmas this year the marina village will be open with 91 berths, shops and a second restaurant open to the public.
We have used only LED lighting throughout the resort which gives a gorgeous glow. We have lowered building costs by 40 per cent through clever recycling. We have a newly opened Henry Ford Medical Center that is open 24/7 with a helicopter for medical emergencies.
Five houses are built and occupied with two nearly finished and we have the Cliff Suites, one-bedroom suites to rent that sit above the sea and from where you can spot whales. So far 28 homes of the 88 total are sold.
The policy has been all about adding value and making everything we touch better. Now we have no debt and no partners.
How would you sum up the appeal of living in the BVIs?
From my own daughter I learned that you need something to do in a holiday home, big and small events that bring the community together. I want people to go off and enjoy the BVIs but have a special house to return to. So we create activities and places to do this.
There are 2,000 chartered sailboats here, the largest fleet in the Caribbean. People come to the BVIs to enjoy boating. Victor International built YCCS, the Yacht Club Costa Smerelda, in North Sound on Virgin Gorda. It opened in January 2011 and is the only super yacht marina in the BVIs with berths for 42 boats up to 300 feet. North Sound is where Sir Richard Branson (of Virgin) and Larry Page (co-founder of Google) own private islands and I think it is the new St Barths.
We own the floating dock and the Aga Khan owns the YCCS Clubhouse with its links to the 40-year old sailing club in Sardinia. It hosts regular regattas including the Loro Piano Superyacht Regatta and New Zealand sailor Russell Coutts, five times winner of the Americas Cup, came this year.
What personal attributes have made you so successful?
I am a relentless sort of a guy. I don't give up. I have a passion for the environment and for educating kids and want to build sustainable and high quality communities. That's been the backbone to all my projects.
What are you most proud of at Oil Nut Bay?
It would have to be my relationship with the people of the BVIs and creating the quality of homes and facilities that have never been here before. I am proud that we have completed the infrastructure already because the complexity of logistics can't be over emphasised. We are the new brand for the BVIs. They have great hotels but they are all fairly old.
Solar power was illegal when I arrived and now it is not. It took three years for the government to provide electricity here and three hours for us to connect it. These are all significant improvements.
What plans do you have for future projects?
I married a saint. Pam has put up with my work for years but even she says she would divorce me if I started another major project after this one!