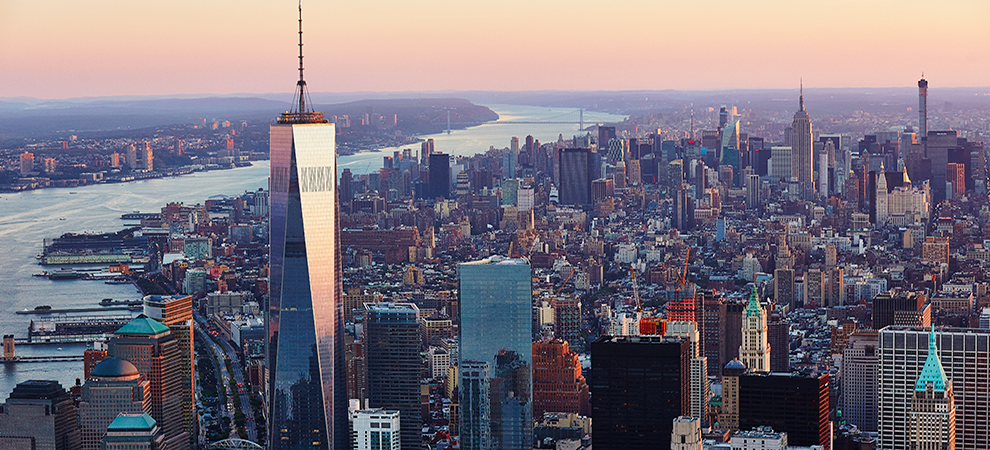 One World Trade Center Announces New Amenities Program for Tenants
This week the Durst Organization and The Port Authority of New York and New Jersey today unveiled its plans for One World Commons, One World Trade Center's fully amenitized 64th floor, which will feature an eclectic mix of programming and resources available to all tenants and their guests.
The Gensler-designed One World Commons, slated to open in the first quarter of 2017, is expected to become an asset reaching far beyond the scope of a standard amenity program, transforming it into the heart of the building. The world-class corporate and social hub will help build a community within the iconic tower, and inspire cross-collaboration among the diverse industry types who call One World Trade Center home.
Occupying approximately 25,000 square feet of the 31,288-square-foot floor, One World Commons will be a place to conduct informal and formal meetings, socialize over coffee, listen to a series of guest speakers, network and collaborate with like-minded peers, and play a quick round of video games or billiards.
"One World Commons further enhances the program of world-class amenities One World Trade Center offers," said Jody Durst, President of The Durst Organization. "Modern tenants want modern amenities and we are proud of these new lifestyle offerings, which reflect our commitment to the people who work at One World Trade Center."
"One World Trade Center is already a special address, but now its tenants can point to One World Commons as yet another perk/benefit that makes it the world's pre-eminent office building," said Beth Wolfowitz, Port Authority Director of Leasing and Development for the World Trade Center Redevelopment Department. "Existing and prospective tenants have said that being able to share the amenities package at One World Commons with their employees and guests was an important differentiator in selecting this property."
"One World Trade Center continues to redefine the office experience, setting the standards globally of design, efficiency, and lifestyle amenities," said Cushman & Wakefield Executive Vice Chairman Tara Stacom. "Firms of all industries seek spectacular, inspiring work environments that transcend their expectations. One World Common further elevates One World Trade Center as being in a class by itself."
Complementing the sweeping, panoramic views of greater New York City, the double-height sky lobby will be joined by a work café with 70 seats and available Wi-Fi. Featuring artisanal inspired décor, the café will offer some of the finest micro-roasted coffee blends, and fresh, locally sourced "grab-and-go" food and beverages.
One World Commons will also include a game room featuring billiards, shuffleboard, and table tennis, as well as video gaming consoles and TV screens. The wood-floored game area will be decorated in warm, dark hues and framed by floor-to-ceiling paned glass, flooding the space with natural light.
The floor will also feature a state-of-the-art, multi-purpose meeting room, designed to flexibly host a variety of large corporate events, meetings, town hall sessions, wellness programs, and/or social receptions both day and night. This room will contain built-in projection screens and a sophisticated A/V system, and professional service and event production staff will be offered.
One World Commons will feature various wellness classes, including the already established Yoga program, all held in the inspiring, harbor facing multipurpose room.
In tasteful contrast to the darker hues in the café and game room, the sky lobby adjacent to the floor's elevators features dramatic double-height ceilings and brightly colored walls and floors.
The 64th floor's remaining 5,000 square feet will be reserved for use as a reception area by a to be determined large tenant.
Developed at the highest levels of sustainable development, One World Trade Center was recently awarded the LEED Gold rating for its industry-leading standards across multiple categories, including energy, water, lighting, materials, transportation, air quality, and people.
Now more than 70 percent leased, the 3 million-square-foot office tower includes a roster of more than 25 tenants representing such business sectors as media, technology, financial services, FinTech, advertising, and biotechnology.
Anchored by global publishing giant Condé Nast, One World Trade Center is directly connected to the World Trade Center concourse that provides convenient access and weather enclosed connections to anywhere in the metropolitan area via the Santiago Calatrava-designed World Trade Center transit hub, connecting to 11 NYC subway lines, PATH and Westfield World Trade Center's 450,000 square feet of new retail shops, restaurants and to the entrance to One World Observatory.
In addition, the West Concourse pedestrian walkway connects the World Trade Center campus to Brookfield Place, Battery Park City and Hudson River ferries. The building also provides access to dozens of retail shops being managed by Westfield, including restaurants and services, in the new MTA Fulton Transit Center on Broadway.