---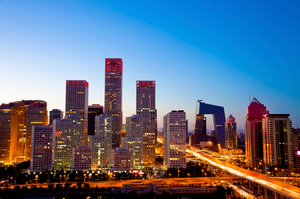 Based on a new global office market report by Cushman & Wakefield, Asia-Pacific - most notably Beijing - is experiencing a boom in office rents fueled by rising demand and increasingly limited supply.
As the Chinese calendar moves into the Year of the Dragon, prime office rents in Beijing have risen year-on-year by 75%, a steeper increase than 2010 (48%) and the highest increase of any city in the world during 2011.
Beijing is now more expensive than Shanghai and is the third most costly city in Asia for occupiers taking office space behind Hong Kong and Tokyo. The two fastest-rising locations in terms of rental growth in Asia Pacific after Beijing were Shanghai (27%) and Singapore (24%).
On a global basis, Hong Kong remains the most expensive city for office space in terms of total occupancy costs, followed by London (West End) in second place, and Tokyo in third. The top three locations remained unchanged from last year. In 2010, Tokyo held the top position with London second, and Hong Kong third.
Key Findings:
Prime office rents in Beijing up over 70% in 2011.
Hong Kong remains the world's most expensive office market for the second year running.
Asia-Pacific recorded highest rental-rate growth globally.
Global office market saw positive rental growth of 3% in 2011, up from 1% in 2010.
On a regional basis, Asia-Pacific saw an 8% rise in rents in 2011, the highest rate of growth in the world. The most expensive location in the Americas region was New York (Midtown), which moved ahead of Rio de Janeiro to claim the number one position in the Americas, despite dropping in the global ranking to sixth in this year from fifth last year.
"From a broad global perspective, rental rate growth has been driven primarily by modest economic improvements in an environment of limited new supply," said Glenn Rufrano, President and Chief Executive Officer of Cushman & Wakefield.
Globally, 2011 saw office demand improving, availability falling and rents rising by 3% - an increase on 2010 (1%). The uplift in rents is a reflection of the declining balance of Grade A availability in a growing number of countries. Last year was the second consecutive year of positive rental growth following a year of declining rents in all regions in 2009.
However, the recovery remains restricted to prime office space, and is most visible in major gateway cities. While the year began strongly, economic uncertainty on a global level resulted in a drop in leasing activity during the third quarter and a slow recovery is expected through 2012.
The World's Most Expensive Office Locations 2012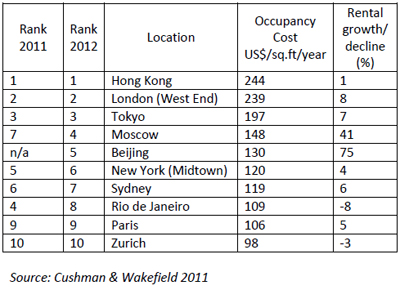 Americas
The markets with the highest office rental growth in the Americas in 2011 were Sao Paulo and Brasilia with increases of 24% and 21% respectively. Rents in the most expensive location, New York (Midtown), rose by 4%. Rio de Janeiro's exceptional rental uplift in 2010 (almost 50%) was not repeated last year, with the city experiencing a drop in prime office rents of 8%. As a result, Rio de Janeiro fell back behind New York as the region's most expensive office market in 2011.
Overall, occupational demand in the Americas was strong in 2011. Some markets saw exceptional growth, most notably San Francisco which saw a 20% increase in rental levels on the back of a renewed boom in the technology market. Other locations which performed robustly include Toronto and Houston as a result of the growth in technology, healthcare and energy.
Europe
Moscow experienced the steepest increase in rents of all European markets in 2011 (41%), making it the fourth most expensive office location this year. The second highest rental growth was seen in Oslo (15%). London's West End held its position as the most expensive in Europe and the second most costly location globally for occupiers taking office space for the second year running, with a rental uplift of almost 8%.
Looking forward, while Europe's overall economy faces more headwinds, at least in early 2012, Moscow, Frankfurt, Munich, Paris, Istanbul, Stockholm and London are expected to outpace other European markets over the next one-to-two years.
Barrie David of Cushman & Wakefield's Global Research Group said, "Despite economic difficulties, office rental performance across the globe was largely positive with most countries showing growth over the last year. However, the picture was mixed and, given the increased caution and uncertainty as the year progressed, the outlook for 2012 is for more muted growth and occupiers to remain in the driving seat."
John Siu, Executive Director Hong Kong, Cushman & Wakefield, commented, "The Hong Kong office market, especially the activity in Greater Central (CBD) was very much affected by the credit crisis in Europe in the second half of 2011. Banking and finance occupiers in particular have become very cautious about their office expansion and relocation plans. As a result, landlords are now more willing to offer additional rental incentives to retain tenants in their buildings and attract new tenants. Rents in Greater Central are expected to adjust downward by 10 to 15% over the next 12 months."
Andy Zhang, Managing Director of Cushman & Wakefield China, commented on China's office market, "We noticed an upward trend in office rents in most major Chinese cities in 2011. The unprecedented urbanization process in China and strong economic growth will continue to drive up the demand for office space. Beijing and Shanghai have relatively mature and international office markets and will lead the rental growth. With a single-digit record low vacancy rate and not much quality supply foreseeable in the coming years, we expect Beijing and Shanghai to maintain the landlords' market position in 2012, but the rental growth will slow down. Tenants have to be prepared with a strategy to live through this high-rental, low-vacancy period."
Guy Taylor, Head of West End Office Agency, Cushman & Wakefield, said, "Businesses searching for space in the West End will be faced with a limited choice because available supply is much tighter than in the City of London. Many of these occupiers are less tied to location and are increasingly price sensitive. They will consider good quality low-cost space, as long as it is attractive to staff, in alternative locations. Although decision making is being delayed as a result of economic conditions we are still seeing new inquiries emerging even in these challenging times as a result of the continued appeal of the West End."
Sign Up Free | The WPJ Weekly Newsletter
Relevant real estate news.
Actionable market intelligence.
Right to your inbox every week.
---
Real Estate Listings Showcase