---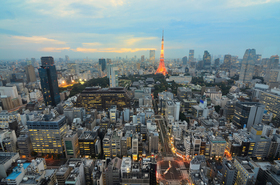 According to a new report by Jones Lang LaSalle (JLL), global direct commercial real estate investment declined 21 percent year on year in Q1 2012 to US$77 billion, compared to the US$97 billion recorded in Q1 2011. Cross border capital flows in the quarter dipped to be just 39% of overall transactional volumes, the lowest since Q3 2010.
Key JLL Report Highlights Include:
There was US$20 billion of direct investment volumes in Asia Pacific in the first quarter 2012, compared to US$28 billion in Q4 last year and US$27 billion in Q1 2011.
Asian investors dominate in the region: US$5.7 billion was invested from Asian sources elsewhere in the world, whilst just US$400 million was invested in the region from Americas and EMEA.
Japan's renaissance: Q1 2012 saw a big increase in cross border capital flow into Japan (mainly in two large logistics deals) and we also saw the first signs of Japanese investors starting to look outside of Asia Pacific.
Stuart Crow, head of Asia Pacific Capital Markets at Jones Lang LaSalle tells
World Property Channel
,  "Although interest in Asian real estate remains high, the last quarter saw some investors on the side-lines taking a "wait and see" attitude. We see this turning around significantly in the second half of 2012 with a huge amount of liquidity looking for exposure. We are seeing investors focused on the high yield markets of Japan and Australia together with the retail and logistics sectors across Asia Pacific. We have seen over USD 2.5 Bill committed to Japanese logistics Real estate in the past 3 months alone, including the portfolio of assets transacted by Jones Lang LaSalle for USD1.6 Billion."
Alistair Meadows, Director, International Capital Group Asia Pacific commented, "'We continue to see an increase in investment activity from Asian investors in core markets in Europe and the US. This interest comes from a cross-section of institutional and High Net Worth (HNW) investors from Korea, Malaysia, Singapore, Hong Kong and Indonesia. Interestingly we are also seeing a re-emergence of Japanese investors internationally with strategies to increase allocations for European and US real estate investment."
Solid volumes in the Americas as EMEA and Asia Pacific fall
The Americas overall saw a solid $29 billion of transactions over the quarter. Although down 6% on Q1 2011 due to the stellar activity in Brazil last year not repeating this time around, the USA commercial property market was up 15% and Canada 52%.
The $28 billion total recorded in Q1 2011 in Europe, Middle East & Africa represented a fall of 27% compared to a year ago. The largest recorded year on year fall was seen in the Asia Pacific region with $20 billion of transactions, down 28%, despite rises in transactional activity in both Japan and Hong Kong.
Europe benefits from inflows, Asia Pacific sees outflows
The majority of inter-regional capital flows remains focussed on Europe with 67% of relevant transactions targeting the larger more liquid markets. In Asia Pacific, $5.7 billion was pulled out of the region, whilst only $400 million was allocated to it, continuing the 2011 trend. Growing Asian pension funds are executing their global diversification strategies away from their home markets.
London dominates New York and Tokyo in Q1 2012
In Q1 2012, London also reclaimed its position as the most active global city from Paris, which had seen considerable investment activity in Q4 2011. This change was in part due to significant support from Middle Eastern investors in the London market and the end of a favourable tax arrangement in France.  Toronto and Oslo were new entrants into the top 10 traded cities in Q1 2012 due to major one off transactions.
Arthur de Haast, Lead Director International Capital Group, Jones Lang LaSalle said, "Despite the fairly quiet start to 2012, we remain upbeat and maintain our full year forecasts at $400 billion. Although the recent economic indicators from the USA offer encouragement for global real estate, there remains much to do, as there does across the Eurozone. The year ahead will continue to be dominated by government reaction to on-going economic uncertainty, which global investors will watch with interest. We also expect continued bank deleveraging to attract more private equity funds as they target debt and distressed opportunities in the USA and Europe."
Office sector liquid, whilst industrial gains more interest
The office sector was the most liquid and gained 54% of all investment due to sustained interest in major global cities. The recent trend of retail taking an increasing share of overall transactional activity stalled for this quarter.
The industrial sector attracted significant activity including large portfolio deals in Japan and recorded 15% of all transactions, one of its busiest quarters on record. In contrast, this quarter is likely to be the low point for both retail and hotel volumes, $15 billion and $5 billion respectively, with a number of transactions globally having just closed or in the final stages of due diligence, which will impact positively on Q2 volumes.
David Green-Morgan, Global Capital Markets Research Director, Jones Lang LaSalle also said, "We expect investor interest in the industrial sector to continue throughout 2012 as yields in the office and retail sectors have compressed globally in the last two years. We also expect closer scrutiny of value-add opportunities including previously neglected secondary markets as pricing in prime markets remains firm. However, transactions will take longer as many investors undertake additional due diligence."
Direct commercial real estate volumes, 2011 - Q1 2012Most active cities in Q1 2012
Sign Up Free | The WPJ Weekly Newsletter
Relevant real estate news.
Actionable market intelligence.
Right to your inbox every week.
---
Real Estate Listings Showcase