---
As China's growth slows and the country attempts a tricky economic restructuring, Indonesia is proving a popular second choice for real-estate investors in Asia. Its 6 percent growth rate is not far off China's 7.5 percent, and the two rates are likely to come closer next year, according to economist's forecasts.
Jakarta residential property has been a prime beneficiary, and its high-end homes have led the world in price gains for nine months in a row, according to Knight Frank's Prime Global Cities Index. Home prices were 27.2 percent higher at the end of the second quarter, compared with a year ago, well ahead of second-placed Dubai's 21.6 percent.
The Indonesian capital's office property is also leading Asia in percentage-gain terms. Capital values rose 10.2 percent in the second quarter, compared to the prior three months, according to Jones Lang LaSalle's Asia Pacific Office Index. The gain is an eye-popping 46.4 percent, compared with the same time in 2012.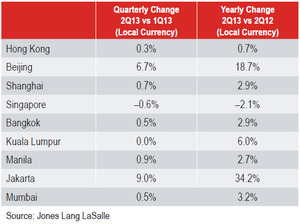 That is feeding into higher rents, with Jakarta's 9.8 percent gain in the second quarter again leading Asia. Jones Lang LaSalle attributed the rise in rents to strong underlying demand and a lack of high-quality office space. Office rents are still some of the cheapest in the region, though, equating to US$309 per square meter per year, a far cry from Hong Kong's US$1,486 rate.
The architecture and engineering company Aecom put out a report in mid-August stating that Jakarta, "perhaps surprisingly," is the top-rated city for both potential market growth and profitability. Chinese cities scored poorly on those fronts when compared with the Indonesian capital.
The rapid advance of home prices led to the central bank tightening lending rules in July. Bank Indonesia raised the minimum down payment to 40 percent of the purchase price for second homes, and to 50 percent on third homes, up from the previous 30 percent threshold.
It remains to be seen if the strong gains in property values can be sustained, given the recent volatility in emerging markets. Jakarta's stock market has been hurt by U.S. investors repatriating money as the United States economy recovers. After declines in August, the Jakarta market is looking at a 23 percent fall over three months.
The tumult has led some market watchers to draw comparisons with the Asian financial crisis of 1997. Indonesia's short-term obligations are equal to almost 90 percent of its foreign-exchange reserves, Gary Dugan, the chief investment officer for Asia and the Middle East at the bank Coutts noted. That makes it very hard for the Indonesian government to endure currency deprecation without being required to raise interest rates more aggressively, or put measures in place to impede capital outflows.
Indonesia's central bank left interest rates unchanged at 6.5 percent on its August 15 meeting, and has so far only raised them by 75 basis points this year. The government has forecast economic growth of 6.4 percent to 6.8 percent next year, not far behind China's current rate. But Indonesia may fall short of that prediction if the central bank is forced to raise interest rates more significantly, which would help attract overseas investment and stabilize the Indonesian rupiah.
Still, Dugan does not see any repeat of 1997, when Asian central banks defended their currencies to the point that massive recessions resulted after those efforts failed. Credit subsequently evaporated. This time around central bankers are making no stand to defend their currencies. Asian nations also have far lower levels of debt owed to foreign creditors than in 1997, when their debts skyrocketed in U.S. dollar terms as their home currencies crumbled.
The rating agency Standard & Poor's said Indonesia was the only property market in Southeast Asia with a positive outlook, in a report at the end of the first quarter of this year. The market "will benefit from continuing economic growth, low mortgage rates, increasing household incomes and growing urbanisation," analysts Christopher Lee and Bei Fu wrote. "Infrastructure improvements are likely to spur property development, while condominium sales have proved resilient and property sales are strong."
That is likely to feed into continued gains in property prices, although S&P doesn't expect the heady pace of the last 12 months to continue. Property developers will find 2013 another good year, the agency said, but they will increasingly face a challenge in balancing growth with financial discipline, since rising land prices will make it harder to maintain healthy land banks and pipelines of development property.
Asia Office Markets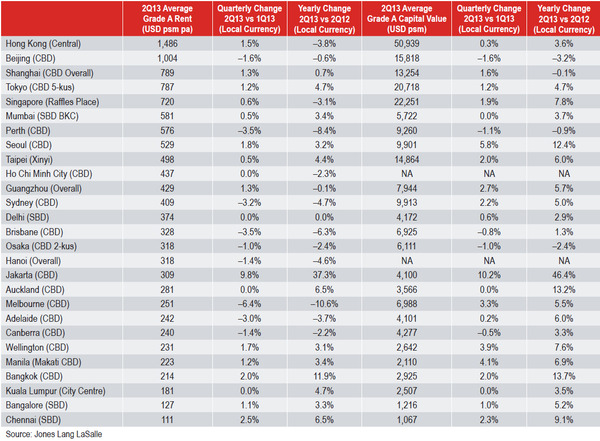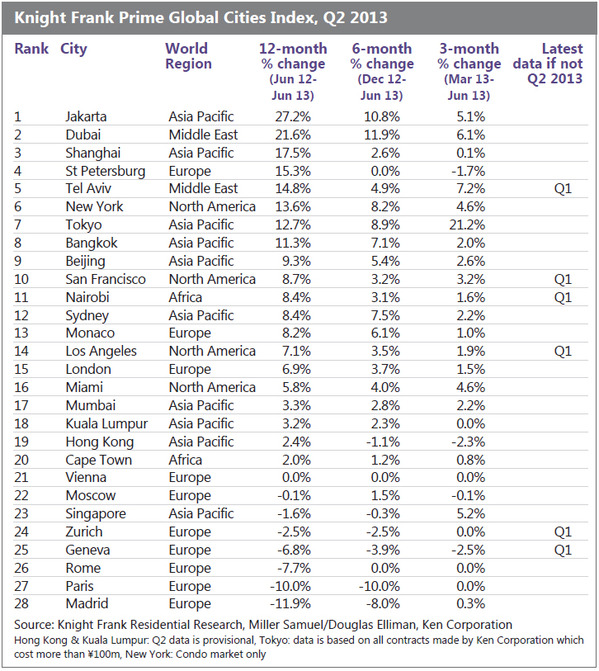 Sign Up Free | The WPJ Weekly Newsletter
Relevant real estate news.
Actionable market intelligence.
Right to your inbox every week.
---
Real Estate Listings Showcase