---
Despite government measures to restrict the property and a languishing Chinese stock market, Chinese developers have seen their stock prices race away.
The sector leaped 11 percent in May alone, five times the pace of the overall market - all in the face of the new restrictions. China Overseas Land & Investment, the largest luxury housing developer, has seen its shares leap 47 percent in the last year. Country Garden, one of the best-known mass market developers, is up 59 percent in the last 12 months.
The performance is a sharp contrast to China's stock markets, which have been the worst performers among major indexes over the last three years. China shares failed to participate even in the most recent international rally, which has driven Japanese stocks up an eye-popping 83 percent since mid-November.
There was a 15.5 percent pop in Chinese shares in December, but they've lost 5 percent since then as Chinese economic growth lags, and continue to trade at levels similar to 2009.
So what's going on with developer stocks?
The truth is that since the government started its tightening measures two years ago, the market has learned that there's more bluster than bite in the restrictions.
Prices have continued to rise
.
While Beijing may be set on checking price growth, local governments - which get a large chunk of their revenues from land sales - have largely let them slide.
"People priced too much negative news in with the new measures," Alan Jin, an analyst who covers Chinese property stocks for Mizuho, said. "The real impact is very limited. The local governments have very little incentive to implement it."
Developers, which saw sales slow dramatically 12 months ago thanks to tightened credit and concerns about global growth, are now posting large leaps in sales. Many of the Chinese developers listed in Hong Kong are expected to post earnings growth of 15 to 20 percent as a result, even 30 percent for the best performers.
"Since early last year the sales number has been continuously surprising on the upside," Jin noted. "This first quarter is probably the best first quarter ever," he added, despite the normal seasonal lull that comes in winter and over the week-long Lunar New Year holiday.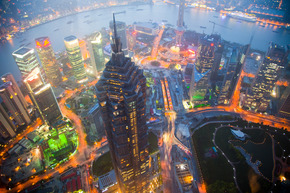 Alvin Wong and Jianping Chen, China property analysts with Nomura, expect stronger sales in the second half of the year. Supply is particularly short in the Tier 1 cities of Beijing, Shanghai, Guangzhou and Shenzhen, where there's under six month's worth of stock on hand, 53 percent of the tally in the smaller Tier 2 cities, they note.
China Overseas and China Resources Land are viewed as the blue chips among the sector, with more expensive properties. Besides those bellwethers, both Nomura and Mizuho favor Country Garden, which saw strong sales over the recent Labour Day holiday in China and sells cheaper property. Nomura also likes Shimao Property, and it recently upgraded Sino-Ocean Land, which recently signed a partnership to develop
senior-care facilities
with a Seattle company.
Some analysts caution against highly leveraged companies such as Evergrande Real Estate Group, the country's second-largest developer by sales, which as of last year had a gearing ratio of 96 percent - a red flag to many investors since the company could be forced into selling properties at inopportune times to pay down debt.
It is difficult for most investors to play Chinese property stocks. Many of the biggest names are listed in Hong Kong, where liquidity is deep, access is easy and it is possible to short stocks. But names such as China Vanke, the country's biggest developer, and Gemdale are only listed on the mainland's stock markets - either in Shanghai or Shenzhen - meaning they are off limits to all but local investors and qualified institutional investors, which have very small quotas to invest domestically in China.
There are tools, though, such as exchange traded funds that allow broader participation in the industry. Deutsche Bank's db x-tracker CSI300 Real Estate Index is listed in Germany, Luxembourg and Hong Kong, for instance, following the property listings among the 300 largest Chinese stocks.
Analysts see this as more of a long-term story after the rally in May, though, and caution that hedge funds and short-term traders may soon take some money off the table.
"I still think it's one of the best sectors -- it has high visibility, it is still growing and the valuation is not that expensive," Jin said, with most developers trading at single-digit price-earnings ratios, and companies like Country Garden providing dividend yields of around 4 percent.
But there are warning signs that the developer stock rally has limits.
"For short term investors, there's no catalyst in the next few months, so it is quite natural to take some money off the table" Mr. Jin said. "Over the short term, the rally probably is done."

Sign Up Free | The WPJ Weekly Newsletter
Relevant real estate news.
Actionable market intelligence.
Right to your inbox every week.
---
Real Estate Listings Showcase