---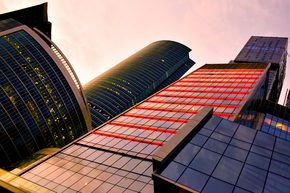 According to a new report by Cushman & Wakefield, the total volume of investments in Russian commercial market in Q2 accounted for as much as $ 2.8 bn, which is 15% higher than volumes achieved in Q2 2011.
In total, since the beginning of 2012, the Russian real estate market has seen $ 4.18 bn of investment, which is 7% lower than in the first half of 2011 ($ 4.5 bn). Russian domestic investors were more eager in Q2, the ratio of investment thus being 50%-50% between foreign and domestic investment in real estate. Increasing interest in regional investments has produced a 72% / 28% ratio between investment in Moscow and the Russian Regions, which has, so far, met our expectations for 2012.
Total investments split by sector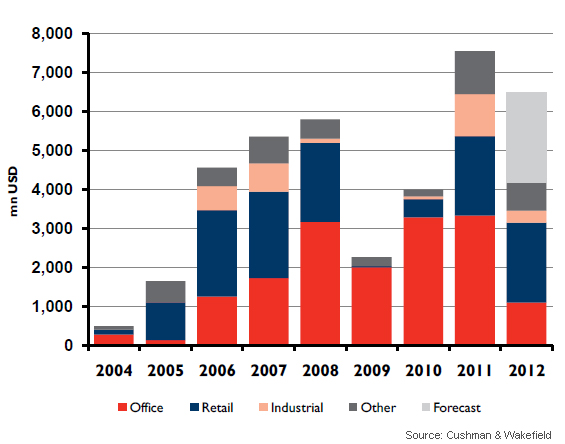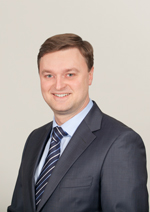 Zinkovski Alexander
Due to unstable currency and bond markets, investors are showing greater confidence in the real estate market as a tool for risk diversification.
Alexander Zinkovski, Senior Analyst, Research Department at Cushman & Wakefield tells
World Property Channel
, "We have, consequently, increased our investment forecast from $6.5 to $7 bn, based on of the performance of the investment market so far in 2012. Thus, the current year could achieve investment levels close to those of 2011."
Total investment split by regions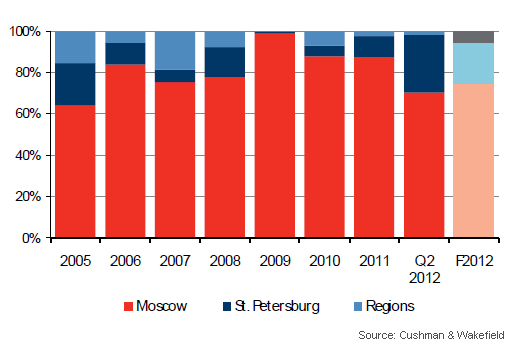 The retail segment is the leader in the investment market this year, with total investment volumes of $2.05 bn, which is almost 50% of the total investment in real estate made in H1 2012. Investor interest in quality retail remains quite strong, with investment volumes in Q2 accounting for $880 mn. Obviously, the experience gained by investors during the market slowdown in 2008 - 2009, when only quality shopping centers had both large and stable footfall and cash-flows has informed their decisions to invest in the retail segment. And now, during the present economic slowdown, investors are demonstrating their interest in retail objects of different categories; for example quality, prime centers like Galleria (St. Petersburg), Vremena Goda and Golden Babylon Rostokino in Moscow and in regional projects with higher yields, like Bashkortostan Mall in Ufa, Gorizont in Rostov-on-Don and Gostiny Dvor Kronstadt in St. Petersburg. Stable rental rates and low vacancies backed by strong consumer spending are maintaining investment interest levels.
The office segment accounted for 26% of total investment in H1 2012: that is $1.09 bn, of which $1.01 bn occurred in the second quarter. Investment demand for quality offices is less volatile and unstable compared to the other segments and remains high: the Q2 volume is similar to the average quarterly volumes of 2011 and 2008 at $1.03 bn (excluding the traditionally low first quarter). Investment preferences are the same: quality office buildings (prime, class A and B+) in Moscow. As with the retail segment, investment interest is backed by a high level of tenants' activity: take-up in H1 2012 is more than 1 mn sq m as construction activity remains at 2000-2001 levels. Negative economic sentiment plays in favor of increased investment market performance: as quality tenanted assets are considered to continue to perform well, even in a period of economic turmoil.
The industrial and hospitality segments have shown only modest performance in 2011. Deferred demand accumulated in 2009-2010 was largely released in 2011 when investment volumes reached historic levels and now investors are experiencing a lack of quality supply in these sectors.
Investment volumes in the Warehouse and Industrial (W&I) sector, in the first half of 2012, accounted for $311 mn (7.4% of total investment), with $215 contracted in Q2. The short W&I development cycle supports strong demand for owner occupier, built-to-suit transactions, which we believe will continue to be the trend for the future.
Investment volumes in the hospitality segment accounted for $280 mn in H1, with about $210 mn contracted in Q2. The lack of investment quality properties is still a problem, even in the most developed markets like Moscow and St. Petersburg, which has caused an increase in investment interest in regional assets, where investors can gain higher yields with a shorter investment horizon.
Sign Up Free | The WPJ Weekly Newsletter
Relevant real estate news.
Actionable market intelligence.
Right to your inbox every week.
---
Real Estate Listings Showcase