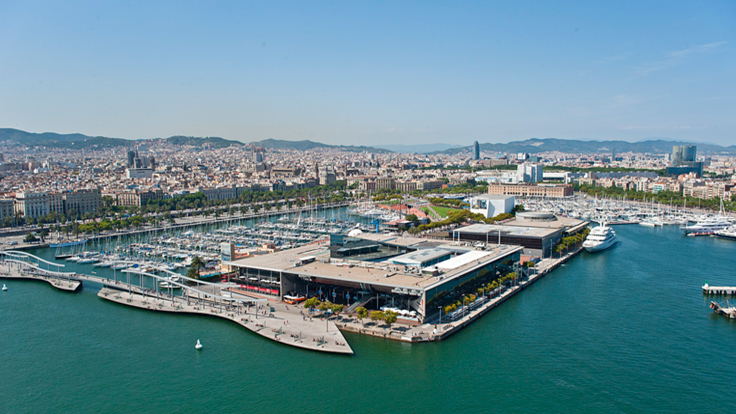 Marina Port Vell, Spain's City Marina Takes Shape
The first berths at Marina Port Vell, Barcelona's new super yacht marina, are due to be delivered this spring according to owners Salamanca Group. By the end of 2014 Port Vell should provide 167 fully serviced berths and be Europe's first city centre super yacht marina.
Barcelona's deep-water harbor in the former fishing village of Barceloneta was first developed as a marina for the Olympics in 1992. Salamanca Group, a London-based Merchant Bank and Operational Risks firm, bought the site in 2010 and have spent €30 million ($41 million) transforming it into a modern, ultra high-tech facility with the unique benefit of an appealing lifestyle in the heart of the Catalan capital.
"Barcelona offers the charm and year-round amenities of a vibrant, world-class city yet is surrounded by beautiful beaches and crystal blue waters," says Uri Nachoom, VP of Salamanca Marina. "Port Vell is only a few hours cruising from the Balearic Islands and one day from the Riviera. For the sailing community you could hardly ask for better."
Nachoom says the project is on track with building coming to a close.
"Construction of our 430 by 11 meters drivable pontoon on Spanish Quay is complete allowing the marina to be the home port for yachts up to 160 meters" he comments. Early buyers have come from Russia, the Middle East, Europe and USA.
Salamanca Group predicts Marina Port Vell will add as much as €300 million in increased revenue to the local economy annually and already the difference is apparent in the immediate vicinity. Barceloneta has a prime location in Barcelona bordering both the Gothic Old Town and the sea but its working class roots are obvious in the tall, narrow buildings divided into mainly old, small apartments, often without lifts. Property buyers historically preferred the high-ceilinged, airy apartments and Gaudi charm around Eixample, fifteen minutes walk to the north.
That's changing now says Alex Vaughan of agents Lucas Fox. "In 2009 The W Hotel with its iconic sail-shaped design opened in Barceloneta and started the transformation of this side of the city," says Vaughan. "Overseas buyers have realized that Barceloneta is perfect for part-time living thanks to its central location and proximity to the beach. The development of Marina Port Vell should only increase interest."
Marina Port Vell has no residential property for sale but apartments in Barceloneta overlooking the yachts start from €150,000 for tiny studios to €1,000,000 for a large unrenovated apartment of 230 square meters. New one- and two-bedroom apartments with underground parking, a rarity in Barceloneta, start from €260,000.