Poland, Ukraine Hotels Preparing for UEFA European Football Championship Event
STR Global tells
World Property Channel
that in light of the upcoming
UEFA European Football Championship
taking place in Poland and the Ukraine this summer, local hotel inventory is expected to increase by 9.4 percent in Wroclaw, Poland, 8.7 percent in Kiev, Ukraine, and 1.7 percent in Warsaw, Poland, compared to the previous year.
No additional branded supply is expected in Gdańsk and Poznań, both in Poland, before the start of the tournament. The daily room inventory of the hotel cities will stay below that of the past host cities such as Amsterdam, Vienna, Brussels, Belgium, and Lisbon, Portugal.
Host cities daily room inventory (at the time of the event)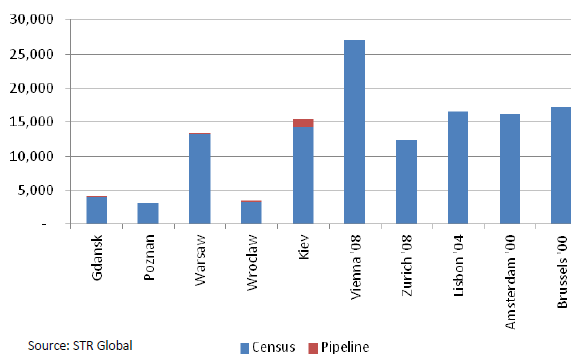 "The limited supply increase, the media coverage of the event and the hospitality experienced by the teams and the supporters should benefit the host cities", commented Elizabeth Randall, managing director of STR Global. "This is highlighted in our latest forecast for Warsaw, predicting occupancy to reach 80.1 percent in June 2012 compared to 77.7 percent the previous year, and average daily rate to reach PLN 350.41".