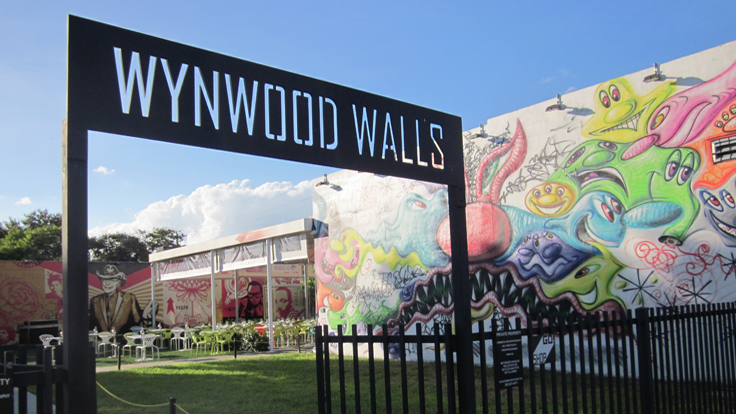 In Miami, Local Vibe Drives Wynwood Market
Wynwood, Miami. It's raw, edgy, much hyped, but at its core, Wynwood is still a neighborhood. They say, "It takes a town" and I like the town of Wynwood.
Wynwood sits north of downtown and Overtown and adjacent to Edgewater. Once referred to as "Little San Juan" and "El Barrio," the area was home to many Puerto Ricans immigrating to Miami from the island and northeastern cities in the 1950s. Puerto Rican-owned restaurants, shops, markets and other businesses line the streets of Wynwood.
Recently, however, the neighborhood has seen a push towards gentrification and the push has become an all-out rush. The transition from a historically commercial neighborhood to a vibrant work-live-entertainment hub is well underway. The new Wynwood is actually split into two sub-districts: the Wynwood Art District in northern Wynwood, and the Wynwood Fashion District along West 5th Avenue. The Art District is home to more than 70 galleries, museums and art collections.
On any given day at any given time (trust me) Panther Coffee in the Arts District is a good place to be. Call it the new heart of hip, a seat outside of Panther, under the tree, is ground zero. The international buzz is palatable - just close your eyes and listen. Embrace the aroma of gourmet coffee and money.
On a recent afternoon, I listened to conversations in French, Spanish, Portuguese, Italian and German. The sparsely decorated Panther Coffee space is full of resident hipsters and guests seated at community tables, iPads and MacBooks in hand. The dress code is casual. Brokers and visitors stand out due to crisp shirts and blouses. A suit or even a suit jacket is a dead giveaway.
The neighborhood has a healthy day population but few full time residents. Most of the local workforce is tied to the arts, industrial uses, wholesaling and warehousing. There are numerous galleries, footwear wholesalers and industrial supply companies scattered among the new retail uses that comprise restaurants, bars and boutiques. Theaters, technology start-ups and small breweries have all found new homes in Wynwood.
Once a month, Wynwood throws its recurring coming out party. The second Saturday night of every month is "ArtWalk" in Wynwood, and the art galleries and studios open their doors to the public for viewing. The "ArtWalk" has grown in popularity and regularly attracts crowds estimated at more than 15,000 persons. Wynwood is also home to Wynwood Walls, an outdoor mural permanent exhibit featuring some of the world's most renowned street artists. There are hundreds of other street art and graffiti murals around the district, making it one of the biggest street art districts in the world
Wynwood has quietly cycled through and adapted to a predominately artistic and industrial tenant profile. The national and international real estate community have taken notice. New tenants including Ralph Pucci, Fantini Mosaici and Ducati have committed. Leasing activity is at a fever pitch. Never has the new Wynwood seemed so possible.
The old Wynwood seems ready to embrace the new velocity of change. In fact, things have been changing for a while in Wynwood. Early pioneers include the Rubell Family, which has displayed its extensive art collection on 29th Street since 1993. The Margulies Collection at the Warehouse opened in Wynwood in 1999 and houses the extensive art collection of Martin Z. Margulies.
Local broker and developer David Lombardi began purchasing buildings in Wynwood in 2000. Lombardi developed the 36 unit Wynwood Lofts condominium project in 2005 - to this day the premier residential address for Wynwood.
Legendary urban developer Tony Goldman also discovered Wynwood and helped guide and foster its early transformation. The late developer told the New York Times in 2010 that "Wynwood spoke to me right away." Beginning in 2004, Goldman purchased two dozen buildings for $35 million. In 2010 New York-based businessman Moishe Mana (Moishe's Moving and Storage) bought eight acres for $5 million, or $23 per-square-foot. The deal was brokered by Tony Cho of Metro 1 properties, which maintains its offices in Wynwood. Mr. Cho also had a hand in bringing the new Ducati showroom to the corner of 29th and NW Second Ave. Joe Furst of Goldman Properties has offices in the Wynwood Building at 2750 NW 3rd Ave. -- a successfully redeveloped 45,000-square-foot former warehouse mall, where the tenants include Del Toro Shoes and Miami New Times. Goldman Properties brought Panther Coffee to Wynwood and Mr. Furst negotiated the lease with Ralph Pucci whose new gallery opens at 343 NW 25th Street on December 7.
It's the new speed of change that is making the commercial real estate community take note of Wynwood. Many seasoned local investors have been joined by the recent addition of New York and foreign investors in a micro land grab as buildings and parcels trade weekly. Many long time owners have recently agreed to sell their property for the first time in generations. The transition is complete and any emotional ties to property are erased by economic opportunity.
One of the more notable transactions was the $6.3 million purchase in December 2012 of 2621 NW Second Ave. -- the entire block that fronts NW Second Ave. between 26th and 27th Street. This 37,800-square-foot parcel traded for $167 per-square-foot. The former warehouse is being converted to approximately 26 retail bays and two restaurant spaces and is renamed Wynwood Block. The asking rent is $35 net-net-net and up for this new shop-meets-studio concept. The developer says the tenant mix will be gallery to garments and fashion to furnishings.
The buzz is here in Wynwood, the cool factor intact. But what is lacking is full time residency. The comparisons to New York's SoHo end when talk shifts to residential. Wynwood is a warehouse district and the warehouses are for the most part unsuited for residential conversion. Unlike SoHo, many warehouses have contamination from previous uses and most are two stories or less. The current zoning falls under Miami 21 and commercial-only use restrictions have been lifted.
However, the zoning is primarily D-1 (36 residences per acre) and T-5 (65 residences per acre). With the current price of land over $200 per-square-foot and escalating, it is simply not feasible to develop residential with the current zoning density. To date, the gentrification of Wynwood has not displaced the longtime residents. The side streets of Wynwood are still peppered with shabby single family residences and small apartment buildings mostly untouched by gentrification and renovation. This is changing quickly as some residents have relented to sizable offers from local and foreign investors. Simultaneously the new investors are seeking ways to have the area up-zoned in order to maximize the return on their investment.
And amid all this action is a neighborhood. A neighborhood in flux hanging on to its hipster identity and entrepreneurial spirit, but facing a new reality as the money pours in. What will keep the integrity and spirit of Wynwood alive are the efforts of the local stakeholders: residents, investors, retailers, businessmen, artists and, yes, brokers getting involved through organizations like the BID (business improvement district). It takes a town and in Wynwood, the town is on board to make things right.
John Ellis is an Associate with the Miami office of RKF, the retail leasing and investment sales brokerage firm.