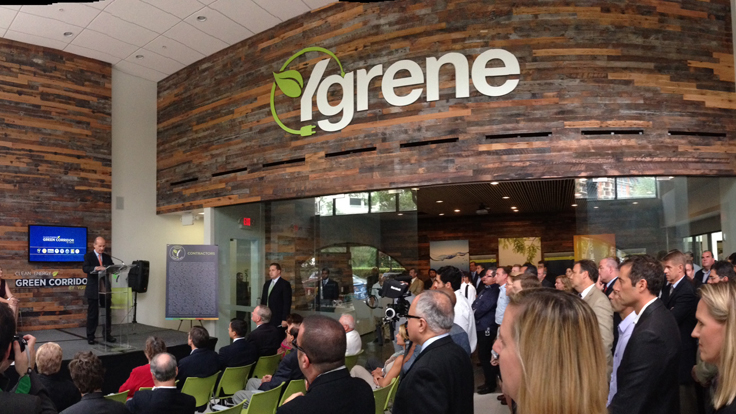 Miami Embraces Innovative Green Program
An important public-private partnership was quietly launched last month in Coconut Grove at a reception hosted by Ygrene Energy and attended by corporations, local landlords, top elected officials and the media.
The event was called the Green Corridor Launch Event and was the coming out party for a very savvy move by the City of Miami. On July 19 -- my birthday, for the record -- Miami and six other municipalities in Miami-Dade County partnered to create the Clean Energy Corridor Program. This date, always important to me, is now important for Miami.
Within the City of Miami, the Clean Energy Green Corridor was created as a
PACE
program. Property Assessed Clean Energy Programs allow local government entities to offer sustainable energy project loans to eligible property owners.
Through the creation of financing districts, property owners can finance renewable onsite generation installations and energy efficiency improvements through a voluntary assessment on their property tax bills. The assessment district approach adds a powerful new option to the clean energy finance landscape.
The real power of the program is how smart it is. Simply stated, the program provides 100 percent financing, with no upfront costs for property owners, to finance a variety of commercial and multi-family residential property upgrades, including hurricane protection, energy efficiency and renewable energy projects. These improvements, in turn, may reduce insurance and energy bills, increase property values, and improve the building's comfort and safety. The program offers fixed interest rates and is repaid through annual assessments on a property tax bill that is linked to the property verses the owner for periods of up to 20 years.
"The Clean Energy Green Corridor Program makes it possible and affordable for property owners to access funds to upgrade buildings for hurricane protection and energy efficiency" Miami Mayor Tomas Regalado said in a press statement. "With insurance and utility costs rising, I am proud that we have been able to make this program a reality and the positive impact it will have on our community."
The Clean Energy Green Corridor is a collaborative effort by the City of Miami, Coral Gables, Cutler Bay, the City of Miami Shores, Palmetto Bay, Pinecrest and South Miami. Ygrene Energy Fund Florida, LLC has been selected to administer the program on behalf of the municipalities, and has already received more than $20 million in project applications from local property owners.
Now all of us skeptics are thinking this is too good to be true and local government is not set up to properly administer this program. I told you it was a smart program and this is because of companies like Ygrene.
Ygrene offers unlimited private financing for its energy districts, allowing property owners to finance projects without finding their own loans in a difficult market. Ygrene manages every aspect of a community's clean energy district, with supervision from government staff -- a true turn-key operation that won't impact the local budget.
It gets better: because Ygrene pays for all costs including district implementation, staffing, marketing and financing costs, there is zero cost to local taxpayers.
I spoke with Chuck Mc Ginnis, the U.S. director, commercial energy solutions for Johnson Controls, who has been instrumental in setting up clean energy green corridor districts throughout the United States. He offered real life examples of the PACE program and its benefits to the commercial real estate community.
Chuck's most recent public-private success story is happening right now in Sacramento, California. Johnson Controls is administering the largest contract of its kind to help Seattle-based Metzler Real Estate cut energy use at one of its commercial properties in Sacramento's Metro Center Corporate Park. The $3.16 million project is funded through Clean Energy Sacramento. The energy efficiency upgrades will reduce Metzler's annual utility costs by $140,000, a 27 percent decrease, and create nearly 50 local jobs during the construction phase.
Johnson Controls is the energy services general contractor of the Sacramento project providing engineering, administration, technology services and project management. Additionally, the upgrades are an important part of the leasing and marketing program at Metro Center Corporate Park. This contract was financed over a 20 year term by the Ygrene Energy Fund -- the same company that is developing the market in South Florida.
I get it, in fact, I believe this type of energy efficiency financing is a "no brainer."
"PACE is gaining momentum throughout the United States, connecting private capital with building owners to make improvements that result in substantial economic and environmental rewards," Chuck said, when I asked for his overall feedback on the program. "Energy efficiency creates better buildings for owners, saves them money, delivers comfortable work environments for tenants, and brings new jobs to cities."
To date, 30 states have PACE enabling legislation. Miami's commercial real estate community can feel good knowing the city had the foresight to execute on this program. With $20 million-plus worth of project applications in the pipeline, the local community has embraced this and rightly so.
John Ellis is an Associate with the Miami office of RKF, the retail leasing and investment sales brokerage firm.