---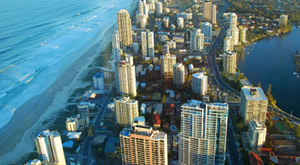 According to global real estate firm Jones Lang LaSalle, the changing face of the region - urbanisation, population growth, output of commodities and manufactured goods and cost competitiveness in the services sector - are the main economic drivers for Asia Pacific to continue to outperform other regions. Capital inflows from Asia and other regions will continue to also propel the Australian commercial market in 2012.
The strong economic drivers in the Asia Pacific region are expected to continue to keep fuelling commercial property markets across the region, supported by growth in consumer spending as well as increasing urbanisation and corresponding housing needs.
At a recent research event in Sydney - Top of the World: Australia's place in the Asia Pacific landscape - Jones Lang LaSalle's Head of Research for Asia Pacific, Dr Jane Murray outlined a number of compelling high levels trends that would shape Asia Pacific property markets and drive growth forward:
Urbanisation and housing requirements - Each year an additional 30 million people are added to cities in Asia Pacific;
The changing wealth of the region means that by 2020, Asia Pacific will account for 50% of the world's middle class (from its current level of 25%).  This will increase to 66% in 2030, equating to 3.2 billion consumers;
4 countries in Asia Pacific will rank in the top 10 globally in terms of middle class consumption - China, India, Japan and Indonesia;
The growth in exports of commodities and manufactured goods is driving growth in the logistics sector, which will lead to increased take-up of industrial warehousing space;
Already 8 out of the top 10 container ports in the world are based in Asia Pacific;
Increasing urbanisation is seeing Asia Pacific economies move up the value chain, with rapid expansion in the service sector;
Asia Pacific is producing 15 million new graduates a year, almost 3 times the number in the US and Western Europe;
This new workforce, including bankers and lawyers, will need offices to work in and as a result we are witnessing an explosion in office stock in Asia Pacific.
Dr. Murray tells the
World Property Channel
, "The scale of population growth and urbanisation is enormous.  If you assume an average of 30 square metres of residential space per person, then it is estimated Asia Pacific will need the equivalent of 45,000 Empire State Buildings over each of the next 10 years to house the additional people who will be living in cities.
"Over the last 20 years, the area of Grade A office space in Asia Pacific has increased from just 15 million square metres to 70 million square metres.  The next 4 years alone will see an additional 35 million square metres of Grade A stock.
"At the same time, the region has seen strong take-up of space, particularly post the GFC. This year we are expecting a record level of net absorption, much of this attributable to the rapidly growing markets in China and India. Next year, the Asia Pacific economy should continue to outperform the rest of the world and grow by around 5.5% in aggregate, with many of the emerging economies likely to grow between 6 and 8%. In turn this is expected to drive continued take-up of space, although we are likely to see a moderation from the record levels of this year.
"We are currently forecasting further increases in rents and capital values of between 5%-10% in 2012 for most office markets in Asia Pacific," said Dr Murray.
Australia
According to economic forecasts, Australia is expecting a pickup in growth from 1.7% this year to 3.4% in 2012.
Australasian Head of Research at Jones Lang LaSalle, Dr David Rees said Australia was positioned well as an attractive destination for capital.
"Australia is fortunate to be able to capture the benefits of two major flows within the Asia Pacific region.  We are on a two-way street - sending commodities to Asia and receiving strong capital flows back into the country from increasing foreign investment levels.
"The capital flows are complementary to the commodities flows into Asia.  Both flows are driving the real estate sector in different ways. Commodity exports support economic growth and drive the demand for office and industrial space directly and indirectly stimulate consumer spending. The capital inflows are finding their way into real estate investment and development.
"During Q3 and for the nine months to September, Australia recorded the fourth highest commercial real estate investment volumes in the Asia Pacific region, behind Japan, Hong Kong and China.
"Foreign buyers accounted for one third of all transactions (>AUD 5 million) in Australia for the first nine months of 2011. This is by far the highest proportion on record.  The previous record was 24% in 2010.
"Inflows of capital have been aligned with trends in exchange rates. The US Dollar is no longer the main game despite a tendency to focus on this metric.
"A high proportion of investment has been sourced from countries with exchange rates that have been even stronger than the Australian Dollar.  This includes Canada, Switzerland and several Asian countries.  Asia has been a prominent source of investment into the Australian real estate markets for decades but the source of funds has changed. During the late 1980s and early 1990s Japan was an important investor in the local market. In recent times Singapore, China and South Korea have become more prominent.
"Foreign buyers are setting the pace and setting the price and we don't expect that to change while the incentives to invest in Australia remain so strong.  Australia is attracting foreign capital because of the strong and stable economy, relatively high property yields by global standards, highly transparent and mature property market and the supply/demand balance in office markets. Most of these drivers are likely to persist into 2012," said Dr Rees.
Key trends for the Australian commercial property market in 2012
The office market will continue to perform in 2012 despite a large supply pipeline - vacancy rates will remain low;
While all office markets were adversely affected by the slowdown in 2008 to 2010 the correlation is now breaking down - different markets are recovering at different rates;
Industrial markets are attracting a growing proportion of offshore investment. 2012 will likely see further growth in rents as demand growth comes up against tight supply;
The retail sector is in the early stages of a slow recovery. Appetite for institutional grade assets remains high but weak retail spending will limit rental growth;
Demand/supply is in balance for the majority of Australian markets - there is no big overhang of stock and conditions are likely to remain this way in 2012.
"While the outlook for 2012 is positive, there is no doubt that conditions have recently become more challenging against a backdrop of slower global growth and continued financial market volatility. Some of these trends were evident in Q3, with a slowdown in leasing activity in some markets, continued weak retail spending growth and fluctuating business and consumer confidence. The manufacturing and financial sectors are both particularly vulnerable to an economic slowdown.
"We are still seeing the finance sector under pressure and bank lending remains an issue for some investors.  Macroeconomic issues will continue to trouble these areas of the market in 2012," said Dr Rees.
Market Risks and Opportunities for Asia Pacific in 2012
Dr Murray cautioned that financial centers are still an area of concern in the region for a slowdown in 2012.
"The financial centers of Hong Kong and Singapore are more exposed to global trends and we expect a moderate slowdown in rents and capital values for both in 2012.  Rents across the region have moved quickly from the downturn two years ago.  Hong Kong and Singapore have moved so quickly that they have hit their peak already.
"At this stage we are forecasting that the world will manage to avoid a recession, in which case Asia Pacific should continue to outperform on the global stage.
"While growth in rents and capital values is forecast for most markets in the region, we expect the rate of growth to slow in some of the emerging markets including China and Indonesia in 2012 while in the advanced economies rents and capital values will continue to move ahead in Australia and should start to increase in Japan.  This is a reversal of what we have seen to date in 2011.
"We saw a strong rebound in investment volumes in Japan in Q3 following a weak Q2 that was severely impacted by the March earthquake.  Japan regained its top spot in the region with close to $5 billion of investment recorded in Q3. In 2012, markets such as Japan and Australia should be beneficiaries of investment capital looking for relatively stable returns.
"All of the forecasts for 2012 will be highly dependent on what happens in the global economy in the next few months. There is no doubt that the world is facing a more challenging environment as we head into 2012 but at this stage we remain optimistic about Asia Pacific's outlook," said Dr Murray.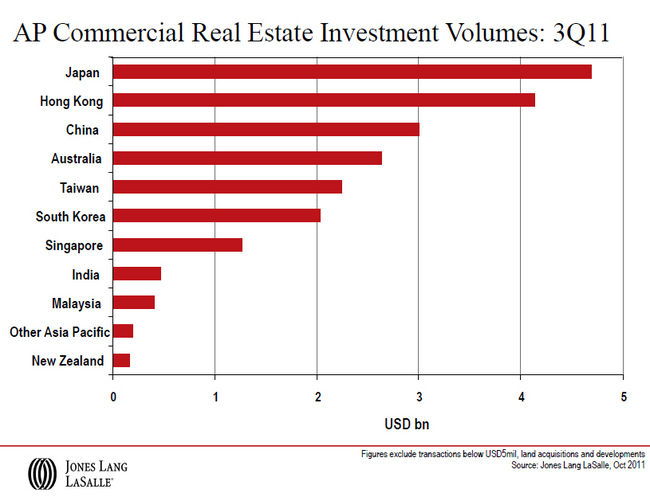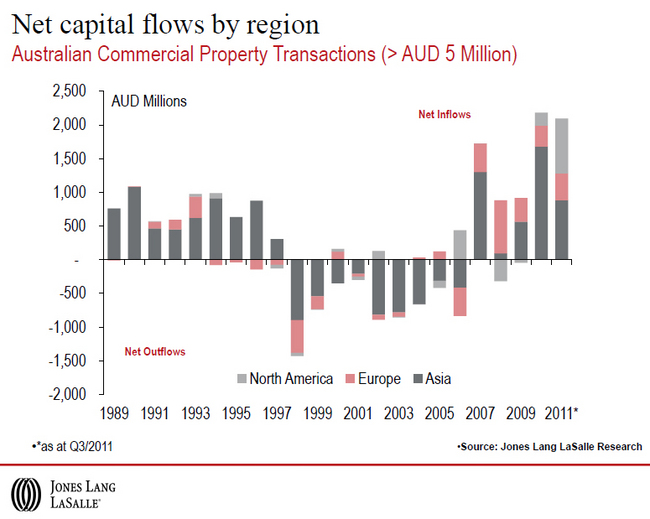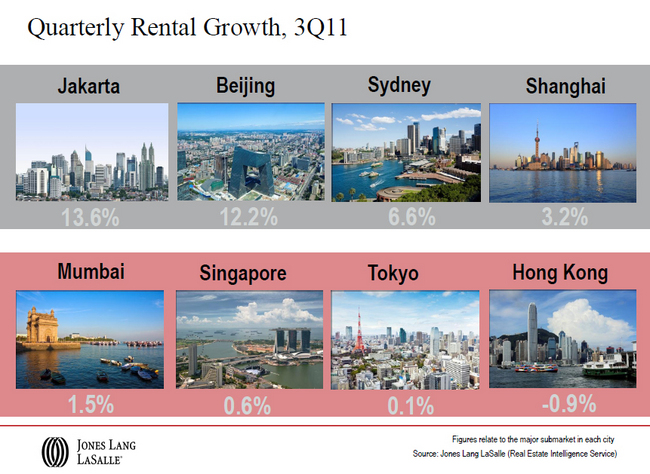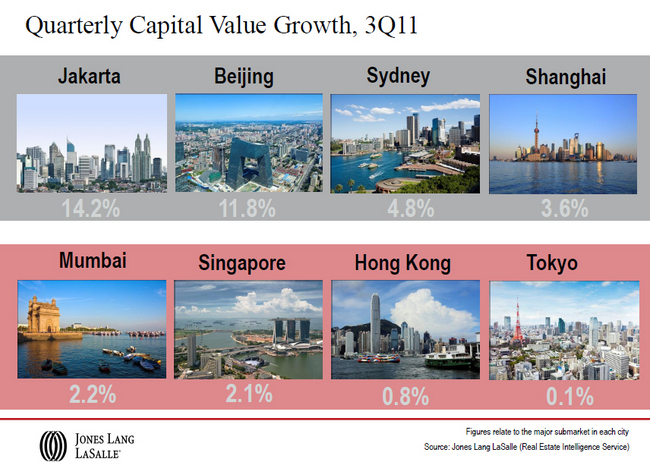 ---
Sign Up Free | The WPJ Weekly Newsletter
Relevant real estate news.
Actionable market intelligence.
Right to your inbox every week.
---
Real Estate Listings Showcase