---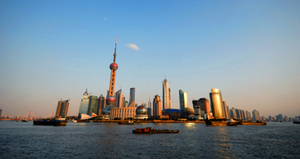 Based on Jones Lang LaSalle's 3Q Mainland China property report, average rents in the Grade A office market rose 2.5% q-o-q as expansion demand from both MNC and domestic tenants remained strong.
"Over the past few quarters, newly completed buildings have been filled quickly by demand from both foreign and domestic companies. With future supply limited, particularly in Puxi, landlords will be able to maintain strong bargaining power in the coming quarters," noted Anthony Couse, Managing Director of Jones Lang LaSalle Shanghai.
The retail leasing market remained strong as city-wide retail sales continued growing and a number of new retailers entered Shanghai.
In the en-bloc investment market, a number of office and retail properties were transacted this quarter. In the non-bonded logistics market, rents rose 1.6% q-o-q due to high demand in the supply-constrained West Shanghai submarket.
MNC Office Markets
Rents continued to rise across Shanghai in 3Q11 as expansion and upgrade demand from both MNC and domestic tenants remained strong.  Average Grade A rents reached RMB 8.6 per sqm per day, a 2.5% q-o-q and 14.3% y-t-d increase.  With limited available supply and sustained demand from MNC tenants, the Puxi market saw stronger rental performance than Pudong as the rental gap between the two sides of the river widened slightly. Puxi rents grew by 3.4% q-o-q to reach RMB 8.9 per sqm per day while rents in Pudong grew by 1.1% to RMB 8.3.
In Puxi, expansion demand from MNC tenants drove the market for Grade A space - with new buildings and future projects enjoying active leasing and pre-leasing inquiry. For example, AkzoNobel leased approximately 15,500 sqm in Eco City, expanding its office space by 40%. Omnicom also reserved 7,500 sqm in the project. In ICC Phase I, a Premium Grade A building which was completed in 2Q11, the commitment rate reached 57% with approximately 40% of the remaining space under serious negotiation.  In Pudong, the financial sector continued to drive net take-up, with MNC banks the most active in Premium space.  Two international investment banks took up 10,400 sqm and 3,900 sqm, respectively, in Two ifc, showing that their expansion plans in China were not hampered by concerns about the global economy.
Four new Grade A buildings were delivered in the CBD in 3Q11, three of which were in Pudong. Taiping Finance Tower in Lujiazui added a total GFA of approximately 90,000 sqm and has enjoyed strong leasing activity with 76% of its space already committed. In Zhuyuan, two new Grade A buildings, Lujiazui Investment Tower (34,020 sqm) and Lujiazui Fund Tower (32,060 sqm), were both completed. In Puxi, Yes Commercial Building, adjacent to the Zhongshan Park Metro station, reached completion and added 65,100 sqm to the Grade A market.  Despite the new completions, strong pre-leasing activity in new buildings meant that the vacancy rate in both Pudong and Puxi only increased slightly to 9.5% and 7.0%, respectively. In the decentralized office market, five buildings with a total GFA of 312,270 sqm were completed this quarter.  Net absorption in the decentralized market reached a record high of 195,725 sqm as new completions were handed over with high pre-commitment rates and existing buildings saw strong net take-up over the quarter.
MNC Retail Markets
Across Shanghai, mid-range fashion and F&B retailers, including many new entrants to the market, were the main drivers of leasing demand this quarter. The Brazilian shoe brand Melissa opened stores in Xintiandi Style and Grand Gateway. On Nanjing East Road, Plaza 353 and Hongyi Plaza continued to attract more upscale tenants. Plaza 353 is bringing in Hollister to replace an existing tenant whose lease will expire, while Hongyi Plaza has leased out 1,000 sqm to Gap. In Raffles City, a months-long upgrade and reshuffling process is nearly complete and Japanese fashion retailers Cross and Beberose both entered the Shanghai market by securing 100 sqm spaces in the project. F&B retailers also remained active in 3Q11. The popular Hangzhou restaurant chain Grandma's Kitchen expanded quickly in Shanghai by leasing spaces in Channel One, CRC Times Square, Hongkou Cloud Nine, and New Road.  Average ground floor rents in the prime retail market remained basically unchanged at RMB 50.2 psm per day, up 0.5% q-o-q. Decentralised ground floor rents increased 1.7% q-o-q to RMB 25.1 psm per day.
Henderson Metropolitan held a soft-opening on 6 September, adding 35,000 sqm of space to the prime market. The project's commitment rate has reached 85% with anchor tenants including an Apple store, Sasa and Azul by Moussy. The project also has many F&B tenants, filling a gap in the market along East Nanjing Road. In the decentralised market, Minhang Cloud Nine, Kerry Parkside, and Tianshan Parkson department store were completed with near 100% occupancy, contributing 165,000 sqm to the decentralised stock. Minhang Cloud Nine relieves pent-up demand for mid-range retail in Shanghai's highly-populated southwest area and has already seen heavy foot traffic - well above average for a newly opened mall.
MNC Investment
Preliminary figures indicate that the total sales value of en-bloc transactions reached RMB 7.8 billion in 3Q11, slightly higher than in 2Q11. Through the first three quarters of the year, the total transaction volume in Shanghai has reached RMB 28.5 billion, more than RMB 5 billion higher than in the year ago period. In 3Q11, a number of large deals were completed in both the office and retail sectors. In September, Hong Kong New World Development signed a sale and purchase agreement to acquire the decentralized Channel One shopping mall from Blackstone for RMB 1.46 billion, representing the first time that a nearly fully occupied, traditional shopping mall has been transacted in the Shanghai market. In the office market, demand was strongest from domestic investors looking for space both for investment and for self-use. SOHO China continued making purchases in Shanghai when it acquired Jiarui International Plaza, a Grade A building in Zhuyuan, for a total of RMB 1.89 billion or approximately RMB 44,000 per sqm. The project will be renamed SOHO Century Avenue and is due for completion in 2Q12. In SWFC, Huabao Investment, a subsidiary of Bao Steel, purchased 3 floors (57F-59F) for approximately RMB 83,000 per sqm. In Puxi, a domestic buyer purchased an office building in the Shanghai Port International Cruise Terminal for around RMB 60,000 per sqm. Despite concerns over the direction of the global economy and difficulties in obtaining financing due to the government's tight policy stance, yields were flat on the expectation of continued rental growth due to strong demand and falling vacancies.
MNC Industrial Markets
In the non-bonded market, two new projects with a total of 133,908 sqm of space were completed in 3Q11. In West Shanghai, Vailog Songjiang Logistics Park Phase III added 37,890 sqm of space to the market. Elee Logistics and Vancl pre-leased the entire project earlier in the year, reflecting the high demand for space in supply-constrained West Shanghai submarket. In Pudong, GLP Park PVG was completed this quarter, adding 96,018 sqm of space to the market. With less demand for non-bonded space in Pudong, it is the only area in Shanghai with large amounts of vacant space available. The non-bonded vacancy rate rose to 9.4% from 7.2% in 2Q11 due to the completion of the project. Driven by strong demand and the tight market in West Shanghai, average non-bonded rents rose by 1.6% q-o-q to RMB 1.12 per sqm per day. Rental growth slowed from last quarter because the large amount of vacant space and limited demand in Pudong prevented rents there from rising.
In the bonded market, a logistics company leased 6,000 sqm in the Phoenix Bonded Logistics Centre in Waigaoqiao, pushing the bonded vacancy rate down by 0.6 percentage points to 22.0%. No new projects were completed this quarter in the bonded market and rents remained flat at RMB 1.06 per sqm per day.
MNC Business Parks
With the recent growth of the financial and IT sectors in Shanghai and the surrounding region, companies are increasingly demanding high-quality data centers to provide essential support services for their businesses. Having sufficient data centre capacity is essential for Shanghai to attract businesses, especially financial companies, to relocate and expand in the city. As the telecommunications industry is highly regulated in China, the supply of high-quality data centers run by experienced operators is extremely limited. Because of the large amount of power and resources that they consume along with the small amount of employment and tax revenues that they generate, existing data centers have been spread around the city in multiple business parks rather than concentrated in one area. Foreign operators must enter a joint venture with a domestic company that has a license, leading many to lease space rather than build their own data centers. With the supply of high-quality data centers quite limited, operators who are able to gain access to the market can achieve high margins, so the market has become increasingly attractive to many operators.
MNC Manufacturing
In Shanghai, demand for space continues to be driven by companies that need high-tech and capital-intensive space. Due to the limited amount of space designated for manufacturing, only companies seeking small spaces are able to find manufacturing sites within Shanghai. With land supply limited and costs high in Shanghai, companies seeking large manufacturing sites in eastern China must search for suitable sites in other cities across the region. Companies in a variety of sectors including consumer goods, machinery, pharmaceuticals and medical devices are currently searching for manufacturing space across eastern China. In a trend that has become evident across many sectors, companies are increasingly seeking space to produce for the domestic Chinese market rather than for export. Reflecting this trend is the pharmaceutical company AstraZeneca, which will build a USD 200 million manufacturing facility in Taizhou in Jiangsu Province in the company's largest-ever investment globally in a single manufacturing facility.
---
Sign Up Free | The WPJ Weekly Newsletter
Relevant real estate news.
Actionable market intelligence.
Right to your inbox every week.
---
Real Estate Listings Showcase