---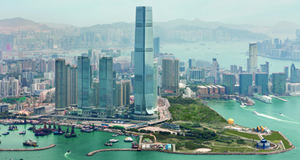 According to Jones Land LaSalle, U.S. and Singapore investors have emerge as the most active cross-border sources of capital.
Cross-border transactions rose 50 percent to comprise half of the $103.5 billion of direct commercial real estate investment transactions completed in the second quarter of 2011, according to Jones Lang LaSalle's new Global Capital Flows report. Given the strong start to the year, Jones Lang LaSalle still expects market volumes to reach its full year forecast of $440 billion, so long as current market volatility and uncertainty abates and there are no further significant economic setbacks. In an era of instability, good quality commercial property will benefit, but deals, particularly larger ones, will take longer to complete.
"In the first half of this year, we saw firms investing domestically and the private equity and unlisted funds investing across borders," said Arthur de Haast, Head of the International Capital Group at Jones Lang LaSalle. "Funds are being more cautious with a focus on investing primarily at home and trusting experienced managers with their cross border investments. This trend should continue through the second half of the year if the economic environment remains uncertain."
In net investment terms, global funds were by far the most active investors with net purchases of more than $13 billion. Singapore was the next most active with $2.1 billion and Sweden third with $800 million of activity.
Alongside the global funds, which by their nature led net cross-border activity, Singapore was the second most active net cross-border purchaser in Q2 2011 as investors looked abroad for returns due to the capital appreciation occurring domestically. Kazakhstan and Indonesia both accounted for around $550 million of net purchases in the quarter; the latter was almost exclusively made up by the purchase of Aviva Tower in London.
Top 10 Cities in Q2 2011 (Investment Volumes)
New York City $6.3B
London $6.0B
Toronto $2.7B
Hong Kong $2.4B
Singapore $2.2B
Seoul $2.0B
Washington DC $1.8B
Shanghai $1.8B
Frankfurt $1.7B
Paris $1.6B
The top ten markets globally which attracted the most investment included four markets in Asia (Hong Kong, Seoul, Shanghai and Singapore); three in the Americas (New York and Washington, D.C. and Toronto) and three in EMEA (London, Frankfurt and Paris).
De Haast added: "Risk aversion has risen over the past few months, meaning large deals are taking longer to close. While we're seeing more transaction flow, in the second quarter there was a notable absence of big ticket, single asset transactions. There were fewer than ten $500 million-plus single asset sales this quarter which is roughly the same number as the second quarter of 2010. There were over 20 big deals in the first quarter and while a significant number of large transactions are in the pipeline for H2, the volatility of markets could cause further delay."
Sources of Capital
Capital around the globe is targeting both domestic and foreign investments. This quarter, the United States was once again the greatest source of capital purchasing $27.1 billion in direct commercial real estate, up $7 billion from first quarter, but the increased volume was mainly spent domestically. The United States was also the third most active cross-border purchaser at $2.6 billion. The booming U.S. investment activity is largely home-grown with more than 110 US cities appearing in the firm's database in the second quarter versus less than 90 in first quarter and just 60 in the second quarter of 2010.
TOP 10 US CITIES in Q2
New York City $6.3B
Washington DC $1.8B
Los Angeles $1.5B
San Diego $1.4B
Chicago $1.3B
San Francisco $0.9B
Seattle $0.9B
Boston $0.7B
Houston $0.7B
Miami $0.7B
In addition to surging U.S. capital, the second quarter saw a doubling of acquisitions by the global funds to $20.6 billion and significant jumps in British, Canadian and German-sourced capital. Interestingly in these three countries most of the new capital was also spent domestically.
In the second quarter there was a total of $38 billion in cross-border purchases, up from $22.9 billion in the first quarter representing a 66 percent increase. This was driven by a doubling of foreign-bound Singaporean capital, led by several major acquisitions in China, and by a huge surge by the global funds. Purchase levels by the other top cross-border investors (the US, Germany, Canada and the UK) were broadly unchanged.
Preferred Sectors
The office sector was dominant in the second quarter, accounting for just over 40 percent of total volumes, down from 45 percent in the first quarter 2011. Retail's share rose to 33 percent from 28.5 percent. The upsurge in hotels volumes (including casinos) led that sector to overtake industrial as the third most liquid sector globally with a share of eleven percent. Industrial meanwhile accounted for ten percent.
---
Sign Up Free | The WPJ Weekly Newsletter
Relevant real estate news.
Actionable market intelligence.
Right to your inbox every week.
---
Real Estate Listings Showcase