Chinese Hotel Growth Continues
According to a new report from STR Global, the importance of the Chinese hotel market both in terms of performance and hotel stock is growing.
The Chinese hotel market shows continued year-on-year growth in revenue per available room (RevPAR) for the first four months of 2011 with a 7.7-percent increase to CNY462. As can be seen in the table below, all cities but Suzhou reported RevPAR increases.
YTD RevPAR results in local currency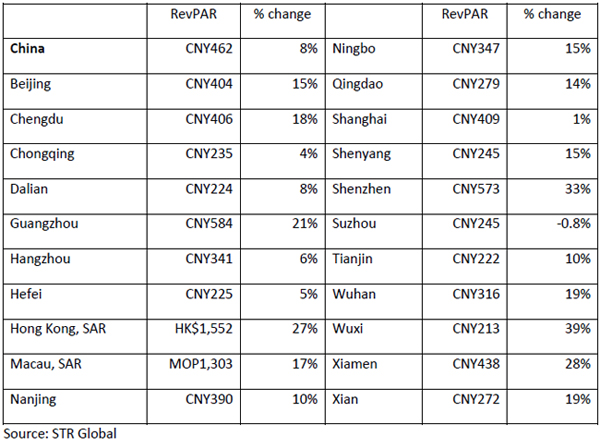 The STR Global Pipeline Report for April 2011 indicates significant development growth with 502 hotel projects in construction, final planning and planning across the country. This represents more than 164,900 rooms and is an expected increase of 13 percent on the existing room stock.
"There is no underestimating the significance of the Chinese market both domestically and, as the Chinese start travelling, beyond its borders", said Elizabeth Randall, managing director of STR Global. "Developing our relationships with the major domestic players in China has added to our already good links with the internationally branded hotels. We are delighted to have been able to increase the size of our sample in China by some 23 percent over the last year. Our office in Beijing helps to make us the go-to resource for performance data in China".
---