---
Festival reflects the determination of the Capital to lead the world in cultural understanding
Festival is a platform for world-class performances, commissioning works, world premieres and cross-cultural debates
Festival will deliver the highest calibre visual art exhibitions
Festival committed to rich community programs in the UAE's seven emirates
Festival dedicated to education programs in those emirates
Leading global artists to gather to celebrate Chopin Bicentennial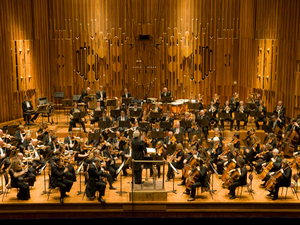 (ABU DHABI, UAE) -- The Abu Dhabi Music & Arts Foundation (ADMAF) today revealed details of its most ambitious festival to date - The Abu Dhabi Festival 2010. Offering a unique platform fusing world-class performances from the masters of the arts world today, cultural vision and a depth of community spirit, this year's Festival will take place from March 20th to April 7th.
Held under the patronage of His Highness General Sheikh Mohamed bin Zayed Al Nahyan, Crown Prince of Abu Dhabi and Deputy Supreme Commander of the UAE Armed Forces, the Festival will be a feast of arts and culture with more than 40 events. It is a two-week manifestation of world-class performances in traditional, classical and jazz music, drama, fine arts, and ballet.
An important visual art exhibition and rich community and education programs will assert the position of the festival as the emirate's premier celebration of cultural expression and one of the first "Home Grown" brands with international cultural impact. The Festival has ambitious aims, not only to provide entertainment, but to be a platform where commissioning works, partnerships, world premieres and cross-cultural debates take place.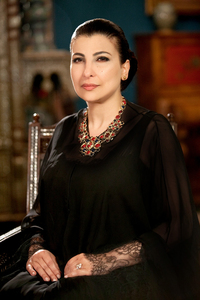 HE Hoda I. Al Khamis-Kanoo, Founder of the Abu Dhabi Music & Arts Foundation
HE Hoda I. Al Khamis-Kanoo, Founder of the Abu Dhabi Music & Arts Foundation, comments, "Year after year, the Abu Dhabi Festival has developed, and as well as having the world's most prestigious performers, it now involves the whole community - not just in Abu Dhabi but across the seven emirates. Underpinning it all are the education and community programs which assert the festival legacy and a deeply rooted cultural strategy. The Festival has reflected over the years the determination of the Capital to lead in cultural understanding. Rapidly becoming an anchor for the cultural elite of the world, the festival will see the world's most prestigious performers share the stage. Dedicated to arts education and knowledge and committed to community outreach, this year's festival offers a vast program spanning performances to commemorate Chopin's Bicentennial; traditional, classical and jazz music, drama, opera, ballet, Middle Eastern artists and a striking contemporary art exhibition".
Opening the Festival will be the National Polish Radio Symphony Orchestra conducted by Grammy Award winning 20th century world-renowned composer, Krzysztof Penderecki, and one of the greatest piano virtuosos, Chopin award winner Krzysztof Jablonski. This opening concert is carried out in association with the Ludwig van Beethoven Association (Poland). The Festival will also present two piano recitals featuring Chopin masterpieces with Nobuyuki Tsujii, the acclaimed 22-year-old pianist from Japan giving a breathtaking concert and China-born Yundi Li, the youngest musician to win the International Frederick Chopin Piano Competition, making his Middle Eastern debut.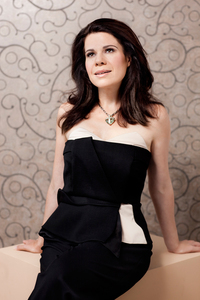 One of the key performances will be given by The Puccini Opera Festival who will be staging a first in the region by presenting the full opera 'La Bohème' by Puccini. It will feature a stellar cast including Ana María Martínez and Ana James. The Puccini Opera Festival is held every summer in Torre del Lago, the town where Puccini lived, and where he was inspired to write his ever-loved melodies. The partnership with the Puccini Opera Festival is one of many forged between the Abu Dhabi Festival and leading international festivals this year, which will see partnership throughout the years to come.
In an oriental evening with Chopin, Hiba Al Kawas will present a new adaptation of Chopin's Concerto No. 1, re-orchestrated for Arabic oriental instruments and orchestra with solo piano. This world premiere has been commissioned for the Abu Dhabi Festival. The Chopin Concerto will be played by the Cairo Symphony Orchestra and conducted by maestro Walid Gholmieh.
Wadih El Safi, a Lebanese cultural icon, often called the voice of Lebanon, will perform a selection of his greatest songs in a new orchestration by composer Hiba Al Kawas. For the first time, his songs will be composed and performed in an international orchestral dimension. He will be accompanied by the Cairo Symphony Orchestra together with musicians from the Lebanese National Orchestra who will join the Cairo Orchestra to be conducted by Hiba Al Kawas.
"Pictures Reframed" will see acclaimed classical pianist Leif Ove Andsnes and artist Robin Rhode come together for a joint performance inspired by Mussorgsky's epic 'Pictures at an Exhibition'. This unique performance brings together original musical compositions and a unique videographer installation, connecting the worlds of classical music and contemporary art.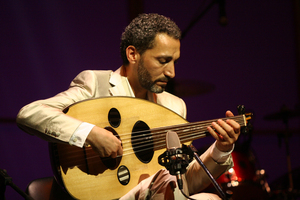 This year's Festival will also see a unique independent performance created by Maxim Beloserkovsky and Irina Dvorovenko, principal dancers from the American Ballet Theatre, bringing together a unique collaboration with principal dancers from both the Bolshoi Theatre and Mariinsky Theatre.
A Festival favourite, the Oud virtuoso Naseer Shamma will return in 2010 to take on one of his most ambitious performances ever by presenting Paganini's Caprice No. 24 on Oud. One of the most complicated pieces ever composed for string instruments, this world premiere will see a fusion of Middle Eastern and Western cultures, whilst highlighting the capacity and potential of the Oud amongst the world strings community.
Closing this year's Festival is the world-famous London Symphony Orchestra, with their legendary principal conductor Sir Colin Davis and fellow maestro Kristjan Järvi. They will be joined on stage by star soloists Arabella Steinbacher on violin and Wayne Marshall on piano.
Throughout the whole Festival, The Middle East Modern Masters exhibition will be held at The Emirates Palace. This year the visual art component of the festival is of the highest calibre, with a joint collection of works by two of the greatest living masters of contemporary Middle Eastern art - sculptors Parviz Tanavoli and Adam Henein.
As part of Abu Dhabi Festival 2010, Flash Entertainment will be presenting a major outdoor concert featuring a globally renowned artist from the popular operatic genre.
John Lickrish, Managing Director of Flash Entertainment comments: "As part of last year's festival we brought the world-renowned tenor, Andrea Bocelli, to Abu Dhabi. That sell-out outdoor concert in the grounds of the Emirates Palace was a cultural landmark for Abu Dhabi through its sheer scale and ambition. This year Flash will be presenting an outdoor concert of the same calibre and we will be announcing details of the artist and how to buy tickets in the next two weeks."
---
Sign Up Free | The WPJ Weekly Newsletter
Relevant real estate news.
Actionable market intelligence.
Right to your inbox every week.
---
Real Estate Listings Showcase