---
(PORTSMOUTH, NH) -- According to Lodging Economics' latest Asia Pacific Pipeline Report, there were 1,841 projects and 438,451 rooms at the end of Q3 in the Asia Pacific marketplace.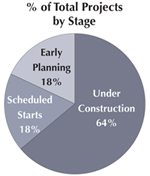 The Asia Pacific hotel pipeline is the second largest in the world and this region has two of the fastest growing economies in the world, China and India. The report stated that this region's new hotel project counts are currently down only 17% and total rooms by 13% from the Pipeline's Q2 2008 peak.
Amidst a global economic slowdown many global hotel companies are continuing to ramp up expansion in this region, with the ten leading companies making up 43% of total Pipeline rooms. This is particularly true in China and India, which combine for 81% of Asia's total Pipeline projects and 83% of total rooms.
China's Hotel Market
The fastest growing economy in the world, China remains the focal point of lodging construction in Asia Pacific. With 1,068 projects/293,639 rooms in its pipeline as of Q3, the country is home to 58% of Asia Pacific's total projects and 67% of total rooms. China also has the world's highest percentage of its pipeline projects currently under construction at 73%, or 784 projects and 208,847 rooms.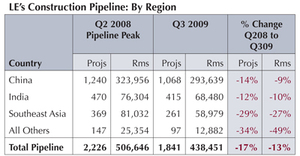 The global economic slowdown, financing difficulties and double-digit declines in occupancy and RevPAR had impacted developer sentiment in Q4 2008 and Q1 2009, resulting in fewer new project announcements into the pipeline and a peak in cancellations and postponements. However, rapid government action to stimulate the economy and further direct lending for real estate development appears to have reduced the severity and duration of the impact of the global recession experienced by the rest of the world. GDP growth in 2009 will be lower than it had been previous to the world's economic crises, but is currently projected to return to a very strong 9.0% in 2010. Because of this, China is still extremely attractive and will remain the number one development growth area, aside from North America, in the expansion programs of most global lodging companies and brands.
Pipeline totals surged earlier in the decade as China was preparing to host the 2008 Summer Olympics in Beijing, the upcoming 2010 World's Fair in Shanghai, as well as the accelerating profile of Shanghai as a leading world financial hub. As a result, new hotel openings peaked at an exceptionally high 856 hotels/140,852 rooms in 2008. New openings have since moderated, but will remain at elevated levels through 2010 due to the large concentration of projects under construction. A total of 413 hotels/82,219 rooms are projected to open in 2009, and then 399 hotels/93,713 rooms in 2010. In 2011 there will be a drop in new openings, yet they will remain substantial with 152 hotels/47,784 rooms to come online.
India's Hotel Market
India has the region's second largest total pipeline, with 415 projects and 68,480 rooms, making up 23% of total Asia Pacific projects and 16% of total rooms.
With the second fastest growing economy in the region, India experienced less impact from the global economic crises, as it is less dependent on exports and manufacturing. Developer interest in India continues to be strong, particularly in the leading cities where global companies and brands are very active.
45% of India's total pipeline rooms are located in the top 5 markets: Bangalore, Pune, Mumbai, Chennai, and New Delhi.
41% of India's total pipeline projects are under construction. Because of this, new hotel openings are set to reach highs much later in the development cycle, starting in 2010. LE's forecast for new hotel openings expects a total of 61 hotels/8,298 rooms to open in 2009. New openings will then soar to reach a projected peak of 92 hotels and 15,627 rooms in 2010, with a further 72 new hotels and 12,965 rooms to open in 2011.

SOUTHEAST & OTHER ASIA PACIFIC MARKETS
Being dependent upon manufacturing and exports, most other Asia Pacific countries experienced negative GDP growth in 2009 as they were more directly affected by the global economic slowdown. Governments here were less able to institute broad stimulus programs while international financing dried up. Several countries expect a minor rebound in GDP in 2010, but recovery will be long and uneven. As such, the current development cycle has ended here. LE expects pipeline totals to continue to decline, especially as new hotel openings reach cyclical highs. 97 hotels and 18,569 rooms are to open in 2009, then peak with a further 95 hotels and 21,016 rooms in 2010. New openings will then start to decline, but remain high in 2011 at 66 hotels and 14,278 rooms.
---
Sign Up Free | The WPJ Weekly Newsletter
Relevant real estate news.
Actionable market intelligence.
Right to your inbox every week.
---
Real Estate Listings Showcase