---
China's first wave of new hotel openings peaked in 2008 as the country prepared to host the Olympics that year. Since then, the rate of new openings has declined, but remains at historically high levels. A second wave of new openings is now poised to impact in time for the World's Fair in Shanghai this year.
LE's Forecast for hotel openings expects 463 new hotels/85,703 rooms to open in 2010, with another 274 hotels/83,235 rooms exiting the Pipeline as new supply in 2011. For both years, China will have the highest number of rooms coming online of any country in the world. New openings are expected to remain elevated thereafter, as the government further develops its cities, particularly Shanghai which it wants to position as a world-class financial center.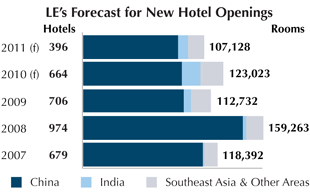 India's Construction Pipeline has only recently begun to unfold, with new hotel openings expected to reach a cyclical high this year. The country will have the third highest number of rooms coming online in 2010 and 2011. LE is forecasting 106 new hotels/17,202 rooms to open for 2010. This upward spike is double the number of new openings that occurred in 2009. New openings will taper off in 2011 to 57 hotels/9,374 rooms, however they will likely resurge in 2012 and beyond, as India's Pipeline has 40% of its total projects in the Early Planning stage, one of the highest percentages in the world.
Southeast Asia and other areas of Asia are projected to see 95 new hotels/20,118 rooms opening in 2010, a new cyclical high. Much of this new supply is in Thailand, Singapore, Indonesia, and Malaysia. LE's Forecast expects new openings to then decline to 65 hotels/14,519 rooms in 2011.
With a total of 1,846 projects/457,944 rooms, the Asia Pacific Construction Pipeline is at a 5-quarter high by projects and 6-quarter high by rooms in Q1. This is the second quarter in a row that the region has surpassed the United States for Total Pipeline rooms. Most global brands consider Asia Pacific to be the most attractive growth area for lodging development, mainly in the rapidly growing countries of China and India. Both weathered the global economic crises with limited impact, bounced back quickly, and are have returned to pre-recessionary growth rates, with further aggressive GDP growth projected through mid-decade. Lodging operations in both countries are also showing a quick and definitive rebound, with double-digit growth in both occupancy and RevPAR.
At 1,087 projects/310,438 rooms, China has the second largest Pipeline in the world and makes up 58% of all Asia Pacific projects and 72% of rooms. Pipeline totals are at their highest since Q2 2008. Both construction starts for projects already in the Pipeline and new project announcements into the Pipeline are at their highest levels in 9 quarters, reflecting robust developer enthusiasm. Global brands are actively expanding with larger, high-end hotels in the top cities, resort destinations and manufacturing centers, while domestic Chinese companies and brands continue to vigorously build up the economy sector in the country.
As the Chinese government moves to slow down real estate development to prevent the economy from overheating, it is expected that the Pipeline will moderate in size. However, China will remain the global hotspot for hotel construction.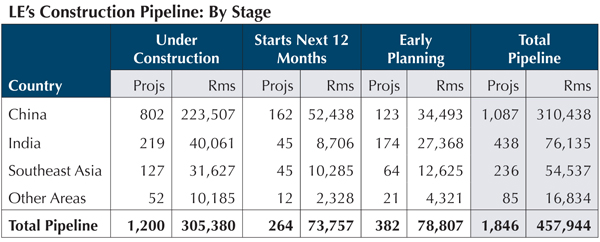 With 438 projects/76,135 rooms, India's total pipeline is at a four-quarter high. It is the third largest pipeline in the world, although development activity there is about a third of what it is in China. Global companies have focused their higher-end projects in the country's major commercial centers. Some global companies also see great opportunity for their smaller-sized, upscale and mid-market brands, as there are fewer domestic Indian companies operating in those sectors.
At 219 projects/40,061 rooms, India's 'under construction' totals are the highest LE has ever recorded and reflect the growing number of construction starts, which rose sharply in Q1. India also has a high proportion of its pipeline in early planning, with 174 projects/27,368 rooms or 40% of all projects. This is a result of accelerated activity by global companies to gain a foothold in the country, which has led to the recent surge of new project announcements.
China
74% of total projects are Under Construction, the highest percentage for any country in the world.
27% of all Pipeline projects are in 5 markets: Shanghai, Sanya, Tianjin, Hong Kong, and Beijing.
China has the third highest average project size of any country at 286 rooms.
At 201 projects, Economy brands have the largest share of the Pipeline. Chinese brands such as 7 Days Inn, Motel 168 and GreenTree Inn are among the most active.
Upper Upscale brands, at 150 projects, have the second largest share of the Pipeline. 5 global brands, Hilton, Hyatt Regency, Marriott, Sheraton, and Westin, combine for 56% of those projects.
India
39% of India's total Pipeline projects are in 5 markets: Bangalore, New Delhi, Chennai, Mumbai, and Pune.
6 cities have over 20 Pipeline projects. The remainder of the projects are widely spread throughout the country.
A very high 72% of total Pipeline projects are 200 rooms or less.
Of all global companies operating in the country, India's Taj Group has the largest Pipeline with 61 projects/8,994 rooms. The company is particularly active with their Taj Luxury label and their economy brand, Ginger.
At 108 projects, Upscale branded projects make up the largest share of the Pipeline. Hilton Garden Inn, Hyatt Place, Crowne Plaza, Courtyard by Marriott, Novotel, and Radisson account for 68% of those projects.
---
Sign Up Free | The WPJ Weekly Newsletter
Relevant real estate news.
Actionable market intelligence.
Right to your inbox every week.
---
Real Estate Listings Showcase