---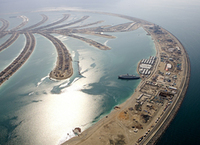 According to Lodge Economics, after peaking in 2008, the rate of New Hotel Openings in Europe has been decreasing as Total Pipeline counts have declined. In 2010, LE is forecasting a still moderately high 202 hotels/31,804 rooms to enter as new supply, but then expects a drop off to 169 hotels/27,774 rooms in 2011. As the Pipeline continues to contract, New Hotel Openings will fall further in 2012 and remain low through mid-decade.
Conversely, after a long build-up, the Middle East's Total Pipeline is now unfolding in earnest. New Hotel Openings are expected to reach cyclical highs over the next two years. LE projects that 2010 will see 82 hotels/21,488 rooms open, then reach a further high of 97 hotels/28,333 rooms in 2011. Dubai alone will peak in 2010 with 25 hotels/7,160 rooms opening, while Abu Dhabi will peak with 21 hotels/7,298 rooms in 2011. Region wide New Openings will then decline in 2012 and continue to for the next few years.
New Hotel Openings in Africa are also set to reach cyclical peaks over the next two years, with 43 hotels/8,764 rooms opening in 2010, then a further 47 hotels/8,869 rooms in 2011. In 2012, New Openings will begin to drift lower, reflecting falling Pipeline totals.
Europe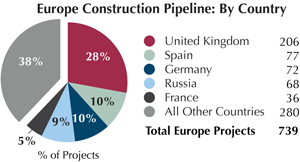 Total Construction Pipeline counts in Europe continued to decline in Q1 2010 and are now at 739 projects/124,383 rooms. This is the lowest Pipeline room count LE has recorded for the region. Lack of available lending is still impacting new hotel construction, keeping New Project Announcements (NPAs) into the Pipeline at low levels, Can­cellations/Postponements elevated and stalling the forward migration toward construction of projects already in the Pipeline. There are, however, positive signs emerging, as hotel operations showed larger than expected improvement this quarter, particularly in the capital cities. As the surge in New Openings that began in 2008 is now ending, the industry should be able to more easily absorb the earlier influx of new supply should operations continue its recovery unimpeded.
As is typical at the back end of the real estate cycle, practically all of Europe's Luxury and Upper Upscale projects in the Pipeline are now already Under Con­struction, with very few projects in the Scheduled Starts and Early Planning stages. Developer interest is instead focused on small, Midscale and Economy proj­ects with globally recognized brands, as these are less difficult to finance. Increased project activity with brands like Hilton Garden Inn, Hotel Ibis, Holiday Inn, Express by Holiday Inn, Courtyard by Marriott, and Park Inn, as well as the UK's Travelodge and Premier Inn, has bolstered counts in the Early Planning stage.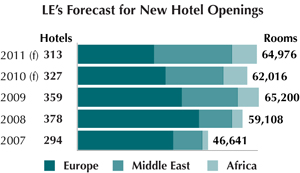 Middle East
With 52% of total projects currently Under Construction, the Middle East will see a surge of New Hotel Openings in 2010 and 2011. This will further draw down the region's already declining Construction Pipeline over the next few years. With 434 projects/120,433 rooms at the end of Q1, total counts are currently the lowest since LE began tracking the region in 2007. The large amount of supply coming online, combined with slowing room demand and the fallout from the region's sovereign debt problems, is keeping NPA's in a low channel, where they are likely to remain for the next few years.
Africa
Of all global regions, the Construction Pipeline in Africa is the smallest with 177 projects/33,836 rooms in Q1 2010. Pipe­line counts continue to fall from the Q2 2008 peak, but the declines have been muted compared to other parts of the world. A very high 57% of projects are Under Construction. That will lead to cyclical high New Hotel Openings in 2010 and 2011, which will hasten further Pipeline declines through the middle of the decade.
'

---
Sign Up Free | The WPJ Weekly Newsletter
Relevant real estate news.
Actionable market intelligence.
Right to your inbox every week.
---
Real Estate Listings Showcase