Thailand Hotels on the Rebound in 2011, Says STR Global
According to STR Global, hotel performance across Thailand has bounced back after a troubled year.
Year-on-year revenue per available room (RevPAR) for the first six months of 2011 is up in all major markets across the country.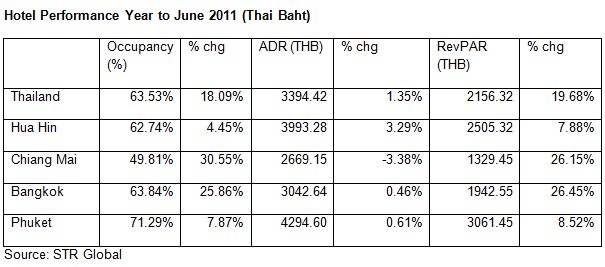 Bangkok, whose image suffered most during the well-publicized political demonstrations and violence of last year, has seen occupancy recover by 26 percent for the year-to-May 2011, albeit compared to a weak previous period. Whilst average daily rate (ADR) for the same period has shown weaker growth (0.5 percent) there has been a stronger recovery in ADR over the last three months.
The percentage change in Bangkok's ADR was 4 percent in April, 15 percent for May and 11 percent for June. This has resulted in recent year-on-year RevPAR growth for Bangkok, exceeding that of the Thai market as a whole for the first time since the beginning of 2010 (see chart below). However it should be noted that the ADR for the first half of 2011 of THB3,043 is still some 16 percent below the most recent peak of THB3,621 for the same period in 2008.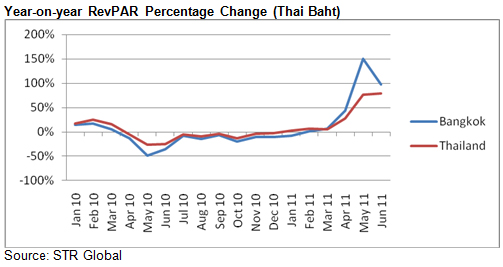 "After a difficult few years when the global economic slowdown was exacerbated by violent demonstrations, the Thai hotel industry is on a recovery path", said Elizabeth Randall, managing director of STR Global. "As overall demand and international tourist arrivals picked up again, more and more guests will again experience the Thai hospitality".
STR Global has 150 hotels in Thailand participating in its benchmarking survey.
---