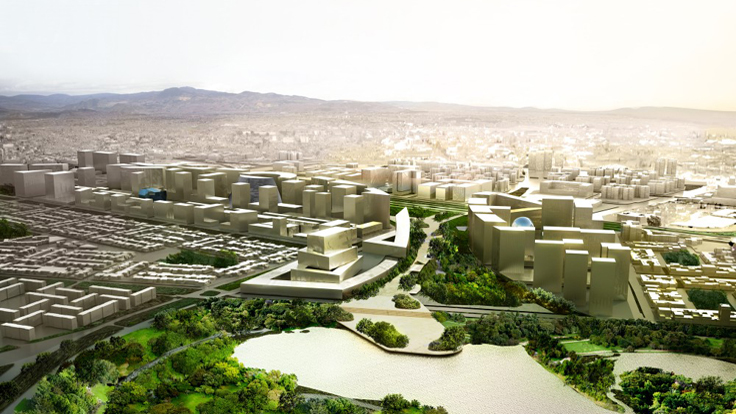 OMA to Design New Bogotá City Center
OMA, the architecture firm headed by Rem Koolhaas, has won an international competition to design a 680-acre mixed-used civic center for the Colombian capital of Bogotá, described as the largest institutional master-plan in Latin America in 50 years.
The OMA design calls for a "curved, public space axis" connecting parks, government buildings, retail space, apartments, offices and a university. The different districts on the sites along Calle 26 will be linked by a green path and the park will feature "cultural attractions and a bike path that will extend to Bogota's highly successful pedestrian CicloVia network," according to OMA.
"Our proposal enables Bogotá Centro Administrativo Nacional (CAN) to be a lively node, providing a continuous public domain that curves through the site to connect the park, the university and Calle 26," Shohei Shigematsu, OMA's lead designer on the project, said in a statement. "With a single gesture, the arc achieves a clear urban identity while accommodating programmatic diversity."
Bogotá already has a place in the history of modern architecture and urban planning. Le Corbusier master-planned the existing historic downtown center between 1947 and 1951.
The current Bogotá project is the largest attempt to master-plan a public area in Latin America since Oscar Neimeyer's Brasilia in the 1960s, OMA's literature notes. The development will cover a site the size of the National Mall in Washington D.C.
The current design calls for more than 900,000 square meters of government office space, as well as 600,000-square-meters of residential. Seventy-two acres of the 680-acre site is set aside for public open space.
"The suggested mix of uses promotes continuous activity and encourages the creation of distinct districts," the competition jury wrote. "The curve towards Calle 26 provides a clear urban face to the project, making it institutionally and commercially more attractive."