---
According to a new report by Jones Lang LaSalle (JLL), Bogota's commercial markets are slowing rebounding due mainly in part to both an emerging middle-class economy and Colombia's overall positive macroeconomic trends.
As with many emerging countries around the world, Colombia had a turbulent 2013. The economy grew by 3.7%, its slowest pace since 2009. A strengthening currency over the past two years has hurt the manufacturing and agriculture sectors, and led to nation-wide protests and strikes in August over declining output and wages in these sectors.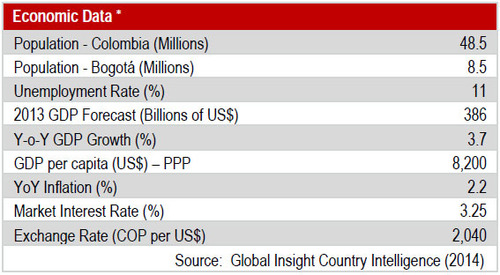 The peace agreement being negotiated between the government and the FARC has failed to meet its original deadline and looks uncertain. Finally, the US Fed tapering has generated pessimism over emerging markets in general, which has led to a sharp decline in the Colombian peso in Q4. Any competitiveness gains in manufacturing and agriculture that would normally have come out of a depreciating currency have been eliminated as many regional peers have had the same experience.
Still, prospects for 2014 remain positive, says JLL.
Monetary and fiscal policies have been prudent and supportive as the central bank will look to control exchange-rate volatility and keep inflation low. Credit is growing strongly in all segments of the economy. The strengthening US recovery should also help export sectors this year. Unemployment has been falling as growth in services and retail have offset losses in manufacturing and agriculture. The economy is expected to grow at between 4 - 4.5% in 2014 and remain at that pace in the medium term. This will be driven primarily by domestic demand and consumption as well as foreign direct investment - especially in the extractive industries - which is expected to top USD $15 billion in outlays for the third straight year.
The Santos administration has ramped up investment significantly in a few key sectors of the economy that it deems particularly strategic. One area is road infrastructure, where USD $8 billion in private concessions have been awarded in the past year to improve the substandard highways. Other areas of focus include mining, housing development, education, and technological innovation. The government plans to finance these initiatives through expanded trade, foreign investment, and the privatization of key assets such as its majority stake in the electricity firm Isagen. Recently-signed Free Trade Agreements with the US, the European Union, and the Pacific Alliance (Mexico, Peru, and Chile), as well as anticipated agreements with South Korea and Israel, should help facilitate these objectives.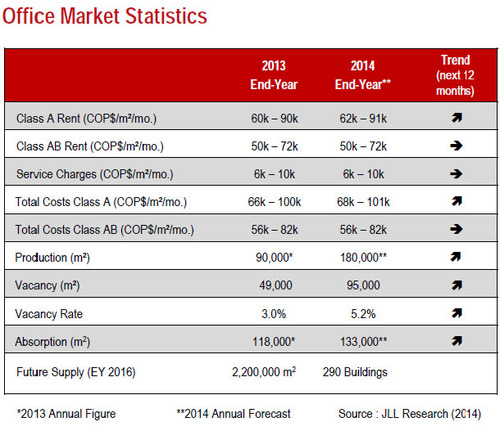 Electioneering is in full swing as the May 2014 presidential election draws near. Juan Manuel Santos has seen his popularity recover thanks to recent fiscal stimulus initiatives, however the election is expected to be largely a referendum on the peace negotiations with the FARC - Colombia's largest and oldest guerrilla faction. The two sides were expected to come to an agreement by November 2013; however the process has taken longer than expected. Santos has proposed a new deadline that coincides with the presidential election so that the agreement can be proposed in a national referendum, effectively betting his second term on the issue.
However the zoning code remains in place for the time being, and it has greatly impacted the office market in two ways: 1) it forced developers to push their projects through and seek permits before the law was passed. This is the primary reason for the expected spike in production in 20 15-2016, when these projects are expected to be completed; 2) the new zoning law will limit commercial development in dense, "non-main" avenues in the El Norte sector, and will instead drive this development to high-volume avenues in other parts of the city.
Annual office production totaled 90,000 m2 in 2013, making this the first year since 2 008 that the market failed to reach the 100,000 m2 mark.  This is largely coincidental and not very significant, as it is attributable to the postponement of a few key projects that will be delivered in Q1 2014. Production will pick up in 2014 and 2015, buoyed by the projects approved before the change in zoning code. Total stock is up to 1,638,000 m2, and vacancy is down to 3%% - its lowest mark since 2008.
Demand
Demand continues to be strong in Bogota; however office seeking companies are often stifled due to the limited supply. The high presence of strata-title buildings makes it difficult to find and negotiate large spaces because most buildings have been pre-sold and divided into small pieces, making large areas difficult to find.
Net absorption totaled 118,000 m2 in 2013, outpacing new supply and putting downward pressure on vacancy. The most active submarkets in 2013 were Saltier and "Other," or the city's decentralized areas mainly in the Northwest (40,000 mm2 each in net absorption), and Chico (224,000 m2). The see three submarkets account end for nearly 90% of total office demand in 2013.
Supply
Production in 2013 was down from previous years, totaling 90,000 m2 in 166 new properties. The sectors that saw the most new production were "Other" (33,000 m2), Saltier (299,000 m2), and Chico (16,000 mm2). Considering how tight the market is right now, office demand is mostly dependent on where new supply is - which explains why the same submarkets that saw the most anew supply also saw the most absorption.
Production looks poised to bounce back in 2014 and 2015 as the supply side responds to the pent-up demand. Over 550,000 m2 of anew supply will hit the market between 2014 and 20016. 70% of this production will be concentrated in Saltier, Chico, and "Other" (mainly the Northwest), the same submarkets that have been most active in the last two years.  Jones Lang LaSalle forecasts that this anew production will put upward pressure on vacancy, which could finally stop the strong rising rental trends.
The "Other" submarket (mainly the Northwest) will continue to show strong g production and absorption in the years to come. This will happen because tenants are increasingly reluctant to pay the high rents demanded in El Norte and are looking for something closer to the CBD than El Saltier, where commutes can be difficult and amenities not as abundant.  The decentralized areas offer cheaper and larger parcels, which translate into cheaper rents and larger, more efficient floor plates. The average project size in these areas is over 12,000 m2, while buildings in El Norte are averaging just over 5,000 m2 each.
Vacancy
The vacancy rate currently stand s at 3%, down from 4.9% a year ago and down to its lowest point since 2008. Most of the available area is contained in offices smaller than 300 m2, despite the growing demand for offices larger than 500 m2. This disconnection between supply and demand leaves many companies with no other option than to pre-lease a building under construction. Given the boost in office production expected from 20014-2016, vacancy should rise steadily and approach the 7-9% range by 2016.
Rents
Rents are growing fastest when quoted in Colombian pesos, especially in El Norte where Class A offices are renting between COP $65,000 to 85,000/m2/month. This is the result of a confluence of factors, most importantly the high density, high desirability, and lack of developable land in this area. In El Saltier prices have remained in the COP $50,000-68,000/m2/month range.  However when quoted in dollars rents have moderated due to the weakened peso; COP $75,000/m2/month a year ago translated to USD $38.50, but this year translates to $36.75. Sale prices are between CCOP $8mil to 14mil / m2 (UUSD $3,900-6,800/m2) for Class A space and between COP $5.5mil to 9mil/m2 (USD $2,600 to 4,500/m2) for Class AB. Cap rates are between 8--12% depending on the class asset (A or AB), tenant's credit and lease term.
Market Outlook
The outlook in Bogota remains positive thanks too Colombia's solid macroeconomic indicators, a growing middle class, and general optimism on the part of investors and consumers. The prospects of a US economic recovery should bode well for struggling Colombian exporters, and the new free trade agreements should create anew markets and investment opportunities. A growth in new supply should accommodate the pent-up demand over the next few years, providing tenants with more options and leverage in negotiations. While rents have fallen recently in dollar terms due to the weakened peso, they have been rising rapidly in local currency (which is what rents are quoted in). The expected rise in vacancy over the medium term should stabilize rents.
Sign Up Free | The WPJ Weekly Newsletter
Relevant real estate news.
Actionable market intelligence.
Right to your inbox every week.
---
Real Estate Listings Showcase