---
According to a new report by JLL, Lima's office market is enjoying strong office demand as landlords have delivered a significant amount of new office inventory over the last twelve months.
Jones Lang LaSalle Latin America reports that the strong economic growth that Peru has seen over the past decade continued in 2013. An expanded export sector, foreign direct investment, and increased domestic consumption were key factors in the country's 5% annual growth rate. The recent economic boom is attributable largely to rising prices and production in the extractive industries - especially for gold, silver, copper, and hydrocarbons. The outlook for Peru remains optimistic thanks to strong macroeconomic fundamentals and prudent fiscal and monetary management, however the nation's dependence on extractive exports means that the prices of these commodities will often dictate the flow of the business cycle.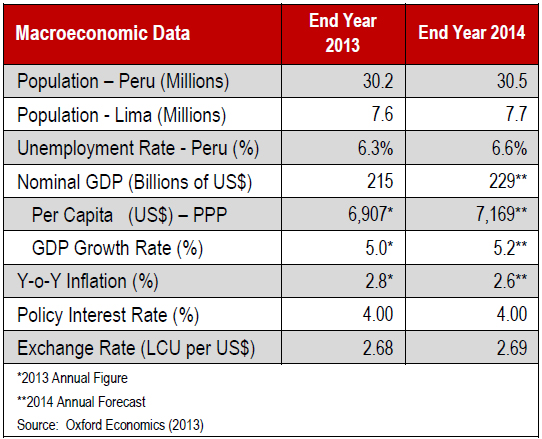 The government's pro-business policy orientation has been a key factor in Peru's success. Inflation targeting policies by the Central Bank have kept prices under control, providing a stable environment for consumers and businesses to make investments. Low public debt, now below 20% of GDP, gives the government room to run temporary deficits and stimulus to guard against swings in the global economy. Meanwhile, the spending that the public sector has taken on has been prudent and long-term oriented, mainly focused on infrastructure, education, health, and sanitation projects.  President Ollanta Humala has increased taxes on mining operations to generate revenues for these projects. 
Low interest rates have fueled the expansion in credit; bank loans to the private sector increased 20% Y-o-Y, and should drive an increase in consumer spending over the next few years.  The Central Bank surprised the markets in November by dropping the interest rate from 4.25% to 4.00%, suggesting a focus on growth as the economy slows. However any further rate cuts over the next few years are unlikely. 
Recently ratified free trade agreements with the United States and European Union should create more opportunities for Peruvian exporters. These accords should improve access to services and investment markets, thus facilitating technology transfers and improving productivity. They will also broaden Peru's market share for commodity and food exports. 
Peru has proven to be a shining star in Latin America over the past decade; however it still faces a myriad of complex problems. The government and private sector must work towards making the extractive sector more responsible and accountable, so as not to alienate the indigenous communities where the projects are often located. Improved transparency and reform are also needed in the legal system, which is not independent from the executive branch and is therefore prone to corruption and cronyism. Finally, continued and increased investment is needed in the education, health, and transport systems. Long-term growth will depend on the government's ability to invest the windfalls of the past decade on the development of its human capital and infrastructure.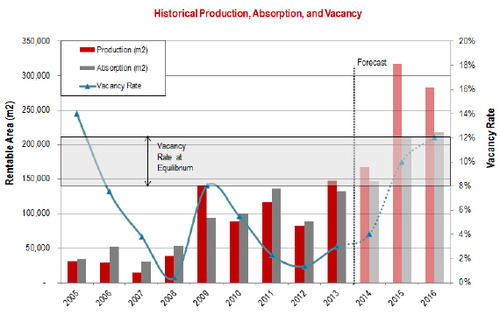 The office market in Lima is extremely dynamic right now. Of the 140 properties considered to be Class A or AB, more than half were built in 2009 or later. Lima's office stock of 1,050,000 m2 is concentrated in 4 submarkets: 37% in San Isidro CBD, the financial hub; 26% in Este, which encompasses the municipalities of Surco, San Borja, and La Molina; 21% in San Isidro West; and 13% in Miraflores. Another 3% is distributed in the historic downtown and decentralized areas. 
JLL reports that 2013 saw the delivery of nearly 150,000 m2 of office space, almost double last year's production and representing the highest yearly total the city has yet to see. Approximately 135,000 m2 of office space were absorbed, matching the 2011 total. The citywide vacancy rate has increased from 1.4% at the end of 2012 to 2.8%, making Lima one of the region's tightest markets. Companies looking to expand into spaces of over 250 m2 often have no choice but to negotiate a pre-lease in a building that is presently under construction.
Years of extremely low vacancy and rising prices suggest that there is a significant pent-up demand, and Lima is finally entering a period of supply response. Production will spike over the next three years, as over 700,000 m2 will enter the market, expanding the stock by an astonishing 70% from 2013 to 2016. Office absorption over the next few years will be a function of growing foreign direct investment and the accumulated pent-up demand over the past few years that has had to wait for new projects to hit the market. Due to these two sources of demand, JLL estimates that demand grow strongly over the next few years and exceed 200,000 m2 in 2015 and 2016. Still, production will far exceed it. This should create more availability in the market and give tenants more leverage, thus stopping the rising rental trends. 
Supply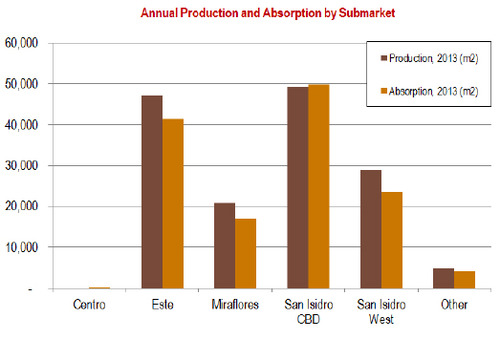 Of the 150,000 m2 that were completed in 2013, the majority came in San Isidro CBD (50,000 m2) and Este (48,000 m2). This is consistent with production trends over the past five years, as these are the two largest and fastest growing business sectors of the city. Approximately 28,000 m2 were completed in San Isidro West and another 21,000 m2 in Miraflores. 
The two most important deliveries of the year - the 26,000 m2 Torre Begonias in San Isidro CBD and the 20,000 m2 Edificio Capital in Surco (Este) - illustrate the further consolidation of the city's most important business clusters: Avenida Javier Prado in San Isidro and Avenida Manuel Olguin in Surco adjacent to Jockey Plaza. Recent construction trends indicate that the market is creeping westward. More than 120,000 m2 in office development are in the pipeline near the border of San Isidro and Magdalena del Mar, the municipality immediately northwest of San Isidro. 
Demand
The vast majority of office movement in Lima continues to happen in brand new buildings, given the extremely tight conditions in the market. New buildings this year were delivered with an average of 80% occupancy, a testament to the pent-up demand. Companies looking for large offices have no choice but to pre-lease several months before building's delivery to secure a space. Landlords are well aware that they have the leverage, and they are responding by raising rents for all types of assets, especially Class A buildings where rents have increased 15% per year from 2011 to 2013. 
2013 has seen about 135,000 m2 of net office absorption, representing more than a 50% increase from a year ago. The most active submarkets have been San Isidro CBD, where about 50,000 m2 have been rented and Este, where 45,000 m2 have been taken up. Jones Lang LaSalle estimates that absorption will increase sharply in the next three years, reaching between 150,000 - 200,000 m2 annually as more new buildings become available.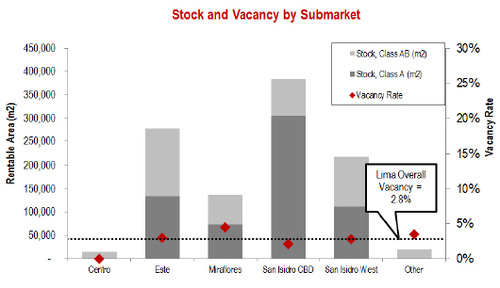 Vacancy
Lima's vacancy rate rose slightly Y-o-Y from 1.4% to 2.8% as demand fell short of supply, but still remains one of the lowest in the region. Of the city's major submarkets, vacancy is highest in Miraflores at 4.5% and lowest in San Isidro CBD at 1%. Over the next three years the overall vacancy rate should rise sharply considering the boom in new supply that the market is experiencing. JLL estimates that it will reach 10-12% by the end of 2016. 
Rents by Submarket
Rents in Lima are climbing fast, having risen 15% on average over last two years. Rental rates are currently between USD $21- 31/m2/month for a Class A space and between USD $19- 26/m2/month for a Class AB space. Rents are at the same level in San Isidro and Miraflores and are a bit lower in Este. The scarce spaces that can be found in Centro and other decentralized areas are much more economical. Prices are likely to stabilize in the short-term but then slightly decrease when the supply begins to outstrip absorption.
It is worth noting that parking is quoted apart from rent, but it is obligatory for the tenant to rent a certain amount of parking spaces in order to getting municipal approval to operate in the space. The parking requirement usually corresponds to 1 space per 40 m2 of rented area, which adds about USD $4-5/m2/month to the rental rate.
Comparison of key Latin American Cities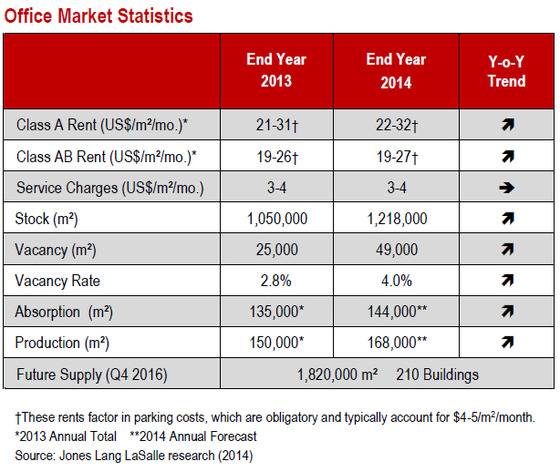 With 1,050,000 m2 of prime office space, Lima currently ranks 8th in Latin America behind Mexico City, São Paulo, Santiago, Rio, Bogotá, Buenos Aires, and Caracas. Lima's 480,000 m2  in expected production between 2014-2015 rank 5th  behind Mexico City, São Paulo, Santiago, and Rio de Janeiro. Lima also performed strongly in terms of annual net absorption when compared to other major markets in the region, ranking 5th for the year. With Class A rents in Lima averaging USD $26/m2/month (including parking), prices are generally on par with cities such as Buenos Aires, Mexico City and Santiago says JLL.
Sign Up Free | The WPJ Weekly Newsletter
Relevant real estate news.
Actionable market intelligence.
Right to your inbox every week.
---
Real Estate Listings Showcase