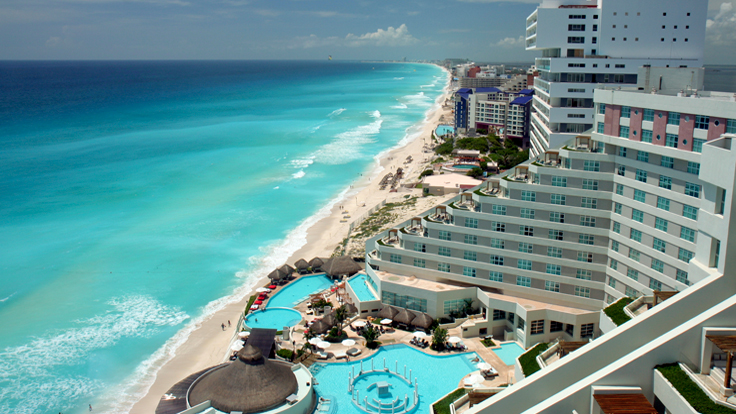 JLL Predicts Increase in Mexico Hotel Investments
Hotel investment in Mexico is expected to increase in the next two years, thanks to new financial vehicles, consultancy Jones Lang LaSalle predicts.
Traditionally, the Mexican hotel market is dominated by local investors. But the development of Fideicomiso de Inversión en Bienes Raíces (FIBRAs) should help spur more foreign interest, JLL forecasts.
FIBRA operate similarly to real estate investment trusts (REITs), offering an easy financial vehicle and specific tax advantages to investors. Two FIBRA focused on Mexico hotels were formed last year--FIBRA Hotelera Mexicana and Fibra Inn--and more FIBRAs are expected this year, JLL reports.
"FIBRAs offer a strong investment play for the hotel investment market in Mexico," said Clay Dickinson, executive vice president of JLL's hotels & hospitality group. "More capital means hotel asset prices will likely increase fueling more transaction activity through FIBRAs, while freeing up banks to redeploy capital as these loans are repaid."
(Note: FIBRAs are different than the
fideicomiso used by foreign buyers
to purchase residential property along the coast.)
The emergence of Certificados de Capital de Desarrollo (CKDs) should also fuel more hotel activity. The CKDs are "comprised of securities that allow investors to participate in private equity projects through long-term public funds," which will be used for both investing in existing hotels and developing new ones, JLL reports.
Mexico City's hotel market is expected to see the largest initial impact from the new liquidity, followed by Cancun and the Riviera Maya. The Cancun and Riviera Maya region has traditionally attracted the most investor interest, generating $900 billion in transactions in the last decade.
Mexico hotels are reporting steady growth in revenue per room and average daily rates, JLL reports. In Cancun the revenue per average room increased 12 percent in 2012 and is up 15 percent in 2013.