---
Vertical communities are moving ever higher as a new generation of high-rise buildings concentrated mainly in China, the Middle East and South East Asia show developers competing to build to record heights.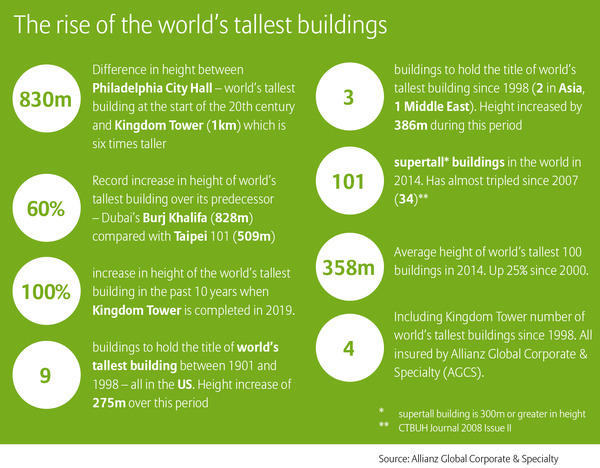 Cities occupy only two per cent of the earth yet are home to 53 per cent of the world's population with experts predicting that figure will increase to 75 per cent by 2050. As limited land meets a rising population, often the only way is up.
The term 'skyscraper' was first used in 1885 to describe the 55-meter (180 feet) Home Insurance Building in Chicago. As the price of steel fell the number of skyscrapers rose culminating in 1931 with the Empire State Building whose 381 meters (1,250 feet) held the record for the world's tallest building for 41 years.
Today, advances in technologies and high quality materials coupled with a strong local appetite in many parts of the world for high-rise buildings means things are moving at pace. Over half of the world's tallest buildings have been built since 2010 and the completion of the Jiangxi Nanchang Greenland Central Plaza in China this year means that worldwide there will be 100 super-tall buildings - those standing over 300 meters (984 feet). The total super-tall category has almost tripled in just seven years.
Looking to the East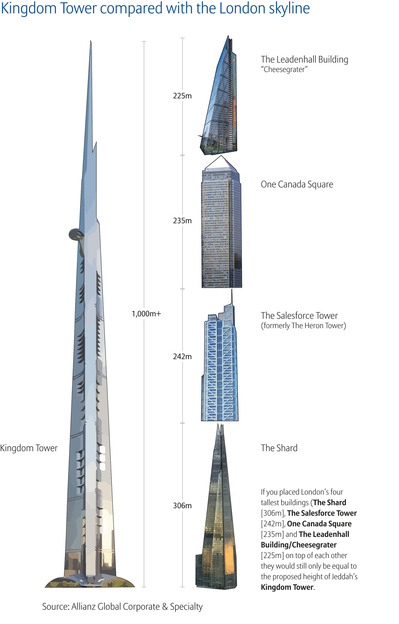 Asia and the Middle East are leading this high-rise boom with 90 per cent of recent super-tall projects, a strong eastern geographical shift from the traditional skyscraper dominance of the USA. While in 1930 99 per cent of the world's tallest buildings were in the USA that figure has fallen to 16 per cent today.
Dubai alone is home to 20 per cent of the world's tallest 50 buildings while 30 of the tallest 100 buildings worldwide are concentrated in 15 Chinese cities.
Plans are already under way for the first one-kilometer tall building, the Kingdom Tower in Saudi Arabia, set to open in 2019. This will dwarf the current tallest building, the 828 meter (2,716 feet) Burj Khalifa in Dubai and mean that the height of the world's tallest buildings has doubled in just one decade.
Risk Analysis
New heights bring new challenges. Allianz Global Corporate & Security (AGCS), corporate and specialty insurers, point out that the unique complexity of these super-tall structures demand flexible risk analysis. AGCS are the lead insurer on the four tallest buildings constructed since 1998 including The Kingdom Tower which will take five years to build and involve 10,000 workers and 100 sub-contractors.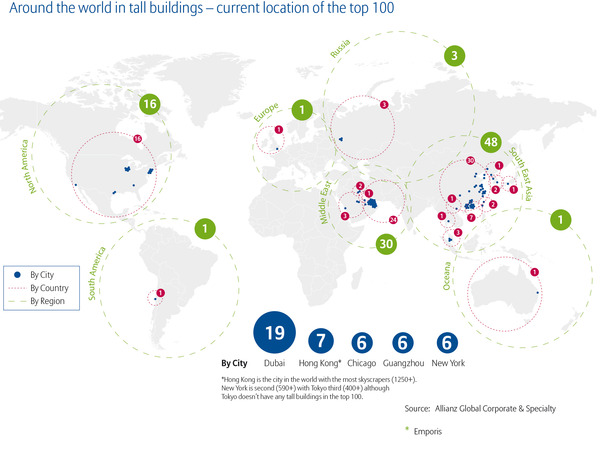 "All project construction phases can be insured," says William Henthorne, Inland Marine Underwriting Manager in AGCS's New York office. "On very high-value projects one insurer may not have the available capacity or want to provide the full limits necessary to cover the completed project value. Today's newest and largest buildings easily exceed $1 billion or more in value."
As AGCS points out in its Supertall Buildings Risk Bulletin, once construction is complete, risks remain. Henthorne highlights the recent case of the "Walkie-Talkie" building in London. The 37-floor building at 20 Fenchurch Street had to have a permanent sunshade fitted when the glare of reflected sunlight on its facade caused severe damage to cars parked nearby.
Future Heights
The completion of the world's first mile-high building is still 20 to 30 years away according to Adrian Smith, the Chicago-based architect of the Kingdom Tower and the Burj Khalifa. Cost remains a major obstacle along with the need to source new building materials to replace steel and concrete.
Moving people around efficiently in super-tall buildings is another issue for architects and engineers. Elevators currently reach to 600 meters at most and combining sufficient speed with handling the rapid changes in air pressure is one reason why the prospect of a mile-high building remains, for now, on the drawing board only.
The World's Top Ten Highest Buildings:
1. Burj Khalifa
, Dubai 828 meters. 2,717 feet, 163 floors.
2. Shanghai Tower
, China. 632 meters, 2,073 feet, 121 floors.
3. Makkah Royal Clock Tower Hote
l, Saudi Arabia. 601 meters, 1,971 feet, 120 floors.
4. One World Trade Center
, New York. 541 meters, 1,776 feet, 104 floors.
5. Taipei 101
, Taipei 509 meters, 1671 feet 101 floors.
6. Shanghai World Trade Cente
r, Shanghai. 492 meters, 1,614 feet 101 floors.
7. International Commerce Centre
, Hong Kong. 483 meters, 1,584 feet, 118 floors.
8. Petronas Towers
, Malaysia. 452 meters, 1,483 feet, 88 floors.
9. Zifeng Tower
, China. 450 meters, 1,476 feet, 89 floors.
10. Willis Towers
, Chicago. 442 meters, 1,451 feet, 108 floors.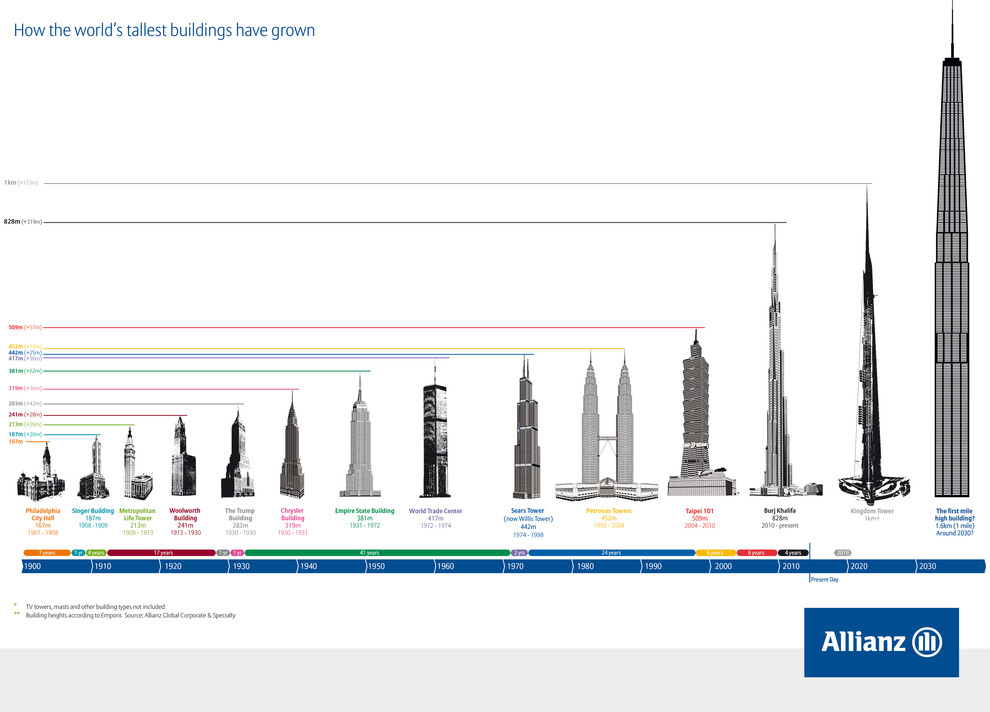 Sign Up Free | The WPJ Weekly Newsletter
Relevant real estate news.
Actionable market intelligence.
Right to your inbox every week.
---
Real Estate Listings Showcase