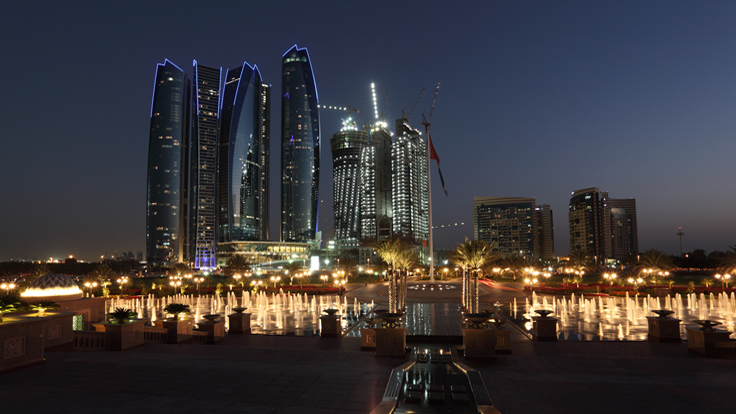 Hotel Occupancy Rate Jumps in Abu Dhabi
Hotels in Abu Dhabi reported an 18.3 percent increase in occupancy rates in February compared to a year earlier, the largest gains in the region, according to new data from STR Global.
The U.A.E. capital, which is growing as both a business and tourist destination, also showed a 24.2 percent jump in revenue per available room to $143.41, STR reports. The occupancy rate hit 76.4 percent for the month.
"The emirate's upper midscale, midscale and economy segments collectively saw the highest ADR growth [in the Middle East/Africa region] in both February and year-end 2012 data," STR Global managing director Elizabeth Winkle said in the report. In total, the region's occupancy rate increased 6.4 percent to 66.4 percent. The average daily rate increased 2.9 percent to US$176.55 and the region showed a 9.5 percent increase in RevPAR to $117.24.
Year-over-year comparisons from the Middle East and Africa report:
Double-digit RevPAR increases also include: Muscat (+15.8 percent to $205.47); Jeddah (+10.5 percent to $179.95); and Dubai, United Arab Emirates (+10.4 percent to US$238.36).
Amman, Jordan, fell 31.9 percent in occupancy to 53.6 percent, posting the largest decrease in that metric.
Jeddah, Saudi Arabia, increased 10.3 percent in ADR to $227.49, reporting the only double-digit increase in that metric.
Beirut, Lebanon, reported the largest ADR decrease, falling 19.8 percent to $156.07.
Amman (-25.8 percent to $83.83) and Beirut (-25.6 percent to $83.27) reported the largest RevPAR decreases for the month.
Markets with double-digit occupancy increases: Muscat, Oman (+16.2 percent to 83.0 percent); and Cape Town, South Africa (+13.1 percent to 83.6 percent).