---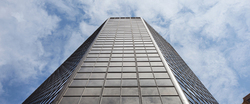 According to the latest data from CBRE Econometric Advisors (CBRE-EA), the U.S. office vacancy rate improved in the fourth quarter (Q4) of 2011, declining 20 basis points (bps) to 16%.
The national industrial availability rate continued to drop, also decreasing 20 bps during Q4 2011 to 13.5%, according to CBRE-EA. The quarter's decline caps the first full year of industrial availability improvement since the recent recession ended.
CBRE Report Highlights:
U.S. Office Vacancy Rates Drop to 16% in 4Q, 2011.
Industrial Availability Continues to Decline; Now 13.5%.
Retail Availability Holds Steady.
Apartment vacancy Falls Amid Robust Demand.
In Q4 2011, the retail availability rate held steady at 13.2%, according to CBRE-EA.
Apartment demand continued to increase at a strong pace, with the national vacancy rate slipping to 5.3% in Q4 2011 - a 70 bps drop from a year ago.
"The vacancy reductions across property types in Q4 is consistent with our expectations of a gradual recovery," said Jon Southard, Director of Forecasting, CBRE-EA. "While the drop in vacancy is a positive sign, Q4's performance underscores that 2012 will be marked by slow improvement, rather than a quick end to any lingering troubles in the markets."
Office Sector
The office market improved steadily throughout 2011, ending the year with a vacancy rate down 50 bps from year end 2010, at 16%. Downtown submarkets slightly outperformed their suburban counterparts compared to Q4 2010, with a decline of 60 bps compared to a 40-bps drop for the suburbs.
Market-level performance in Q4, 2011 showed mixed results, with occupancy improving in 37 of 63 markets tracked, indicative of an uneven recovery. As with previous quarters of 2011, some housing-bubble markets, despite facing continued weak housing market conditions, made significant occupancy gains as tenants took advantage of lower office rents. Jacksonville was the best performer as its vacancy rate fell by 210 bps in Q4. Other housing-bubble markets among the top performers in Q4 were Riverside, Miami and Orlando. Markets with heavy technology exposure also continued to perform well as evidenced by San Francisco and Seattle's vacancy declines of 90 and 100 bps, respectively.
"The moderate decline in vacancy during Q4 suggests that the office market continues down a slow path to recovery," Mr. Southard said. "On a year-to-year basis, vacancy rates fell in about two-thirds of the markets, suggesting that office markets have been able to weather economic and political headwinds, including uneven employment growth, government budget gridlock, and volatile financial markets. Although total employment growth has been lackluster in 2011, office-using sectors, such as professional and business services, have been among the best performers in this regard and have provided just enough support to keep the office market moving toward recovery."
Industrial Sector
Industrial availability ended 2011 at 13.5%, a 80 bps decline from prior year end. With most local markets seeing improved availability in Q4, it appears that modest economic growth is continuing to spur demand for industrial space. During Q4 2011, 34 of 59 markets tracked reported lower availability rates. Among larger markets, Ft. Worth dropped by 90 bps, Miami and St. Louis each decreased by 70 bps, while Chicago, Detroit and Dallas all fell by 60 bps. Some larger markets reported notable weakness, however, including Oakland, Philadelphia, Cincinnati and Seattle.
Retail Sector
At 13.2%, Q4 2011 retail availability - while unchanged from the previous quarter -- was 20 bps higher than the rate at the end of 2010. However, the stabilization of retail availability during the second half of 2011 marked an end to the relentless increases that characterized the retail real estate market since the recent recession.
Local market availability rate performance was mixed during Q4. Tampa, San Francisco, Orlando and Sacramento were among the markets that recorded availability rate declines, while Seattle, Orange County, Cleveland, Columbus and San Antonio saw their availability rates continue to rise. Only two markets nationally --Indianapolis and Kansas City-- today have retail availability rates more than one percentage point below their Q4 2010 level.
Apartment Sector
Q4 2011 results highlight the continued strengthening of apartment fundamentals, fueled by occupancy gains as more former homeowners elect the rental option. The Q4 2011 vacancy rate of 5.3% was a 70 bps drop from Q4 2010. Compared to a year ago, vacancy rates declined in 52 of 60 markets tracked.
Markets with the biggest year-over-year declines in vacancy (150 basis points or more) included Dayton, Memphis, Cleveland, Detroit, Kansas City, Houston, Columbus, Dallas, Charlotte, Cincinnati and Los Angeles.
Markets with the lowest (4 percent or less) vacancy rates at the end of Q4 2011 include Pittsburgh, San Diego, Minneapolis, San Jose, Boston, Newark, San Francisco, Miami, Oakland, Los Angeles, Cleveland and Portland. Effective rent growth remained strong, with the national apartment index rising at an annualized rate of almost 5 percent. The apartment sector itself is now in an expansion phase, with effective rents surpassing their pre-recession levels nationally and in most major markets.
Sign Up Free | The WPJ Weekly Newsletter
Relevant real estate news.
Actionable market intelligence.
Right to your inbox every week.
---
Real Estate Listings Showcase